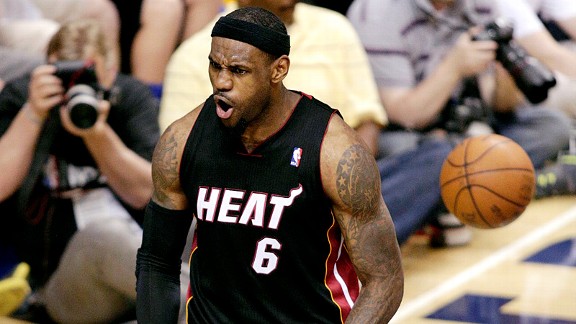 AP Photo/AJ Mast
The numbers say that LeBron James' outing on Sunday was one of the best of his playoff career. Duh.
LeBron James' 40 points, 18 rebounds and nine assists in Game 4 hadn't been done in a playoff game in over a half-century, according to Elias Sports Bureau.
But was it even James' best playoff game of his career?
Believe it or not, it might not have been.
At least statistically.
Considering the context of the series and the Heat's desperation with Chris Bosh sidelined, James' outing might be more impressive than his box score implies. But strictly looking at his numbers, how does his Sunday performance stack up?
Using a box score metric devised by our own John Hollinger called Game Score, James' Game 4 was just the seventh-best of his career.
Yes, seventh.
Here are James' top performances in the playoffs.
LeBron James' numerical bests in the playoffs
It's human nature to hail the latest achievement as the greatest achievement, but according to this measure, James' performance on Sunday wasn't even a top-5 outing. It ranked seventh by Game Score, which you can think of as a one-game player efficiency rating (PER).
Why wasn't a 40-18-9 outing ranked higher on the list?
For one, it's a testament to James' career. James receives a strong dose of criticism for his playoff duds, and after his Finals performance last season, much of it is warranted. But James has put up some mind-numbing games over his career.
If we're nitpicking, he tallied five turnovers Sunday and never made a 3-pointer. Granted, he didn't miss a 3-pointer, either, but the 3-pointers help efficiency in a big way. If you personally feel that rebounds are extra valuable, you might regard James' Sunday performance as his best. Feels silly to find flaws in a nearly spotless game like that.
Our own Brian Windhorst, who has covered James' entire career, believes that James' Sunday outing ranks as his best playoff performance since Game 5 against Orlando in 2009, when James put up 37 points, 14 rebounds and 12 assists. Game Score called it James' 10th-best performance.
More than anything, that James' game might not have been his statistical best speaks to an up-and-down playoff career that has the highest of highs and the lowest of lows.
All in all, LeBron's outing was just about as good as it gets.
(Data provided by Basketball-Reference.com)