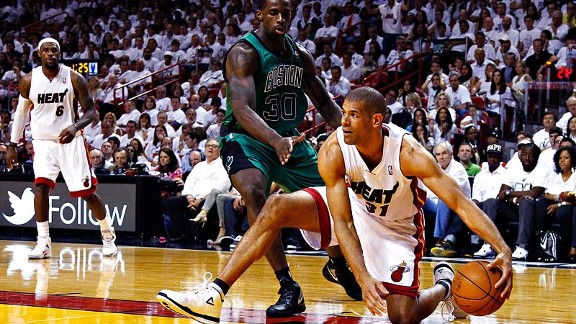 US Presswire
Shane Battier had his first career playoff double-double (10 points, 10 rebounds) in Game 1.
MIAMI -- When Shane Battier signed with the Miami Heat as a free agent this offseason, he knew his primary role would be to spread the floor and defend.
Starting out of position at power forward and giving up as many as 25 pounds a night in his matchups wasn't exactly in the initial job description. But that's where Battier found himself for the second straight postseason series when Miami opened the Eastern Conference finals against the Boston Celtics.
Apparently, it hasn't take Battier long to adjust to what has been a far more demanding role than he imagined when he joined LeBron James, Dwyane Wade and Chris Bosh in Miami. Battier notched his first career playoff double-double to complement another strong set of performances from James and Wade in Bosh's absence as the Heat took a 1-0 series lead with Monday's 93-79 victory.
With Bosh still out indefinitely because of a strained abdominal muscle, the Heat have desperately searched for role players to collectively fill the void. James finished with 32 points and 13 rebounds and Wade added 22 points and seven assists, and Battier was the third Heat player in double figures with 10 points and 10 rebounds to go along with two assists, two blocks and a steal.
"Shane is everything," Wade said. "He does it all for our team. Me and LeBron, we love Shane on this ball club. Not only his defensive effort, he does all the little things. He's pesky. He gets under other guys' skin a little bit. He does a great job of blocking out. He was able to capitalize."
The Heat have won four consecutive playoff games since falling into a 2-1 series hole in the conference semifinals against the Indiana Pacers. The dominant play of James and Wade in that stretch has set the tone. But in each victory, a different role player has provided a much-needed boost.
After spending the last series matched up against the much bulkier David West, Battier remained in the starting lineup against Boston and was assigned to Brandon Bass. The 6-foot-8, 225-pound Battier, is giving up considerable size to Bass in again after yielding two inches and 15 pounds to West.
The power shift hasn't exactly been smooth and seamless for Battier, who has played small forward for the majority of his 10 seasons in the league. He probably hasn't spent this much time consistently at power forward since his days as the college player of the year as a senior at Duke.
"I take a lot of pride in that -- I haven't had 10 rebounds in about three years," Battier said. "It's starting to become a little more natural. It's still a little unnatural. It's just a different mindset because of your pick-and-roll coverages. But it's getting there."
There remains some discomfort with his shooting touch, but Battier is never one to evaluate his performance based on the numbers on a postgame statistics sheet. So it was easy for both his teammates and him to look beyond his 2-for-9 shooting from 3-point range on a night when the Heat missed 20 of their 25 attempts from beyond the arc.
Still, Battier was involved in the perhaps the most pivotal swing of the game. With the score tied 50-50 midway through the third quarter, Battier rotated over to block a Rajon Rondo layup at one end before racing to the other end to knock down a 3-pointer in transition, igniting a 22-9 Heat run.
He also contributed to Rondo's frustrations when the two got tangled up under the basket. Rondo shoved Battier during the third quarter and was assessed a technical foul.
Celtics coach Doc Rivers could have probably anticipated the type of games James and Wade would have, but Boston couldn't compensate for Battier's impact. He was instrumental in two phases of the game: The Heat outrebounded the Celtics 48-33 and had 11 blocked shots to Boston's one.
"[If] we guard him, that would be nice," Rivers said when asked how the Celtics might account for Battier moving forward. "Take away some of the easy shots. I thought Shane had three or four easy shots that hurt us. Those are baskets we have to take away. You're not going to take everything away. They have two sensational players. But we gave them both. We let Wade, we let LeBron play in extreme comfort, and we gave the other guys everything they wanted as well."
Heat coach Erik Spoelstra had the option of resetting his rotation and starting veteran Udonis Haslem at power forward. He instead chose to stay with Battier. Spoelstra said the decision is based on Battier's defensive versatility and his ability to be an offensive threat with his shooting out to the 3-point line. The strategy has worked so far.
"We're calling Shane and LeBron forwards; neither one is a small forward or power forward," Spoelstra said. "They will both be guarding multiple positions. Shane gives us that flexibility to play both those guys in the same lineup."