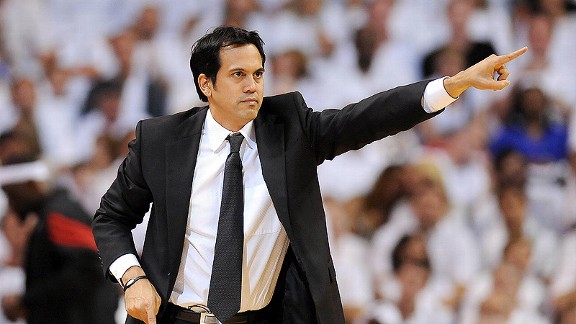 Steve Mitchell-US PRESSWIRE
With Kevin Garnett thriving in the paint, can coach Erik Spoelstra point the Heat in the right direction?
BOSTON -- Miami Heat coach Erik Spoelstra described the two days he and the team had to stew after a Game 3 loss to the Indiana Pacers as "a nightmare."
As it turned out, though, it wasn't. It may have been tough to wait for the next game while holed up in a hotel, but Spoelstra did some of his best work of the season during that downtime. The tweaks he made to the Heat's game plan -- at that time he was trying to find a method to play without Chris Bosh -- helped turn the series back in the Heat's favor.
Spoelstra is back in the same position this weekend in rainy Boston, where the Heat are again dealing with a Game 3 loss and in need of game-plan changes. The pressure is on Spoelstra again to use the time before Game 4 to make adjustments that could turn the tide of the series.
His rival, Boston Celtics coach Doc Rivers, has effectively done that over the past two games as he's thrown in some wrinkles that have been effective. Coaching is at a premium at these times during playoff series, especially for a team coming off a loss. The Heat are still ahead 2-1 after the Celtics' 10-point win on Friday night, but Rivers, right now, is ahead on the coach's card.
"This is where the coaches get paid big money," Dwyane Wade said before the Heat's practice Saturday at TD Garden.
"Today is where our coaching staff gets their checks, not on the first [of the month] but on the second. We look forward to coming in and hearing what our leader has to say and his adjustments."
Spoelstra had his alternations ready Saturday afternoon, his thick file with all the paperwork on the series cradled in his arms and a series of clips queued up and ready to show during a film session. The coach and his staff likely did not sleep much between the end of Friday's game at the start of practice. No time, as it were, for nightmares.
"We've got to review it and own it," Spoelstra said. "We have to be tougher in the effort areas, in the big-muscle areas."
The biggest issue bothering Spoelstra is what to do about Kevin Garnett. He has been exploiting the Heat's lack of size all series, averaging 21.7 points and 9.7 rebounds on 50 percent shooting in the first three games. In Game 3, the Celtics racked up 58 points in the paint -- which Spoelstra's overnight research revealed was the second-best interior effort of the season for Boston and second-worst the Heat have allowed all year -- and much of it came from what Garnett was able to do or what the Heat's reaction to Garnett opened up.
This is what Wade means by Spoelstra earning his money. The Heat are at a size disadvantage, and Garnett's agility makes him a lot harder to deal with than centers such as Tyson Chandler and Roy Hibbert, who the Heat battled earlier in the playoffs. Spoelstra may have to get more creative in how to defend Garnett, which so far has been mostly focused on trying to deny him the ball. That hasn't worked that effectively.
"Garnett presents a different challenge," Heat forward Shane Battier said. "You have to give him different looks, you can't give him a steady diet like we did with Hibbert or [David] West or even Carmelo [Anthony]."
The other area that sticks out is how to re-engage Wade. The Celtics, again because of a change Rivers made after Game 1, have frustrated Wade with double-teams. There are ways to free players from such situations; coaches have been going back and forth with such matters since James Naismith cut the bottom out of a peach basket. None of it is high-level science, but there is an art to finding the best way to manage it, and that is what Spoelstra must do.
Without Bosh, the Celtics are gambling that letting LeBron James (who is averaging 33.3 points on 53 percent shooting in the series) go and focusing on Wade is a winning formula. It almost worked in Game 2, when Wade was held to 15 points in regulation before carrying the Heat offensively in overtime, and did work in Game 3, when he had just 18 points.
Spoelstra may have to change his lineup, such as increasing Udonis Haslem's playing time to give Wade a better pick-and-roll partner, and change the sets, such as having Wade get screens away from the ball to help free him up. Whatever he chooses, an adjustment is needed.
"We have to figure out ways to exploit the double-teams," James said. "He's going to attract two, as his teammates we have to make ourselves available."
After the Pacers series, Heat players were complimentary of the game plans that Spoelstra came up after they fell behind 2-1. James went so far as to call the job Spoelstra did in that series "spectacular."
That, of course, was then, and this is now. The Heat have a chance to take a stranglehold on this series, as they did with a Game 4 win in Boston last year, or have it turn into a marathon. And the crux might just be what Spoelstra comes up with before Sunday night.
"We don't have a lot of issues," Spoelstra said. "There's some things we can build on, we have to play with more force."