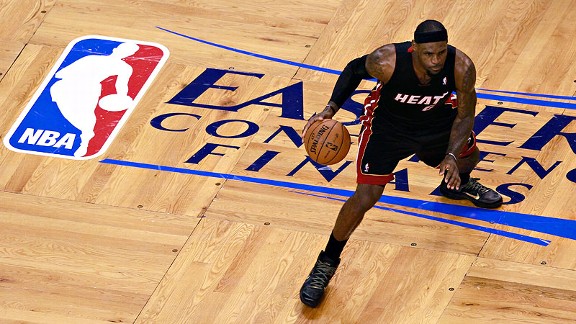 Jared Wickerham/Getty Images
From highs in Detroit to lows in Cleveland, Game 5s have defined LeBron James' up-and-down career.
MIAMI – Say the words "Game 5" and "LeBron James" and you will get a variety of strong reactions depending on where you are.
Say it in Cleveland and there's a strong chance you'll hear the word "quit" uttered around curse words. Say it in Detroit and you'll hear the word "amazing" uttered around adjectives. Say it in Dallas and you'll hear the word "shrinking" uttered around gloating.
On Tuesday, James will play in the eighth Game 5 of his career when the series is tied 2-2 and he'll do it for the third time against the Celtics. These situations have very much defined him to this point.
James has played in only two Game 7s and lost them both, each time in the conference semifinals as the No. 4 seed on the road against the No. 1 seed. It hasn't happened since 2008, also against the Celtics. But pivotal Game 5s have constantly been in front of him and have brought out both his best and worst.
The point is arguable but it could be said that James had both his greatest game and biggest letdown when playing in Game 5s with the series tied 2-2. And that only further illustrates just what could be at stake this time around.
James' teams are 4-3 in such Game 5s and won the series three times in those instances. After each Game 5 loss, however, his team never recovered. The most recent win was two weeks ago when the Heat took Game 5 in Miami to break a 2-2 tie with Indiana.
James' performance, of course, had a major role in each of the games. Here's a look: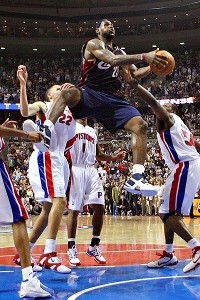 Ned Dishman/Getty
This game-winner was just two of James' 48 points in Detroit.
2006 vs. Washington: This qualifies as one of the best playoff games of James' career. In just his fifth playoff game he had 45 points, seven rebounds and six assists in a thrilling overtime duel with the still spry Gilbert Arenas, who had 44 points. James came up with the game-winning basket when he drove for a layup with 0.9 seconds left to give the Cavs a 121-120 win. The Cavs then won Game 6.
2006 at Detroit: After falling down in the series 2-0 to the top-seeded Pistons, James led a remarkable rally to take Game 5 at The Palace of Auburn Hills and put the Cavs ahead 3-2. Detroit was smothering him with double- and triple-teams and he didn't have much help, but he scored 32 points on 30 shots with five rebounds and five assists. The Pistons came back to win Games 6 and 7.
2007 at Detroit: This night still stands as the most amazing game of James' career and ranks among the best individual playoff performances of the past decade. James scored 48 points with nine rebounds and seven assists in a double-overtime victory on a hot May night with the Palace air conditioning not working. He famously scored 29 of the Cavs' last 30 points, including 25 in a row. He was so exhausted afterward he needed an IV in the locker room. The Cavs then won Game 6 to advance to the Finals.
2008 at Boston: Playing a skin-tight series with the eventual champion Celtics, James put up 35 points against Boston's stout defense. The Cavs had a lead at halftime but Boston was able to overcome it. The series eventually went seven games with James' 45 points in Game 7 back at TD Garden also coming up short.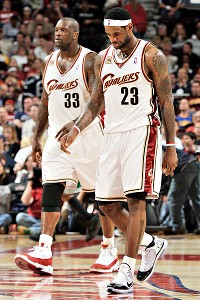 David Liam Kyle/Getty
James' Game 5 in 2010 will remain in Cleveland infamy.
2010 vs. Boston: In his final game in Cleveland as a Cav, James had an unexpected and still unexplained dud. The top-seeded Cavs lost by 32 points to the surging Celtics and James displayed a lethargy that befuddled his teammates and enraged confused fans. He scored just 15 points on 3-of-14 shooting -- the lowest scoring total of his career in a home playoff game. He had a minor right elbow injury at the time but declined to blame the performance on it. After James signed with the Heat six weeks later, Cavs owner Dan Gilbert would say that James had quit during the series.
2011 at Dallas: Coming off another passive performance (eight points in a Game 4 loss), James played with more aggression in a game that he called the biggest of his career to that point. He ended up with a triple-double, the most recent one he's recorded, with 17 points, 10 rebounds and 10 assists. But he was still outplayed by Dirk Nowitzki and some felt outdueled by Jason Terry in the Mavericks' nine-point win. The Heat would lose Game 6 and the Finals two nights later in Miami.
2012 vs. Indiana: Part of a historic three-game stretch co-starring Dwyane Wade, James buried the Pacers with 32 points, 10 rebounds and eight assists in a 32-point victory. He shot 12-of-19 as the Heat set a franchise record with 61 percent shooting. The Heat closed out the series two nights later on the road.
Add all the numbers together and James has averaged 31.8 points, 7.1 rebounds and 6.9 assists in these crucial games. He has been excellent in this current series, averaging 32 points and nine rebounds on 51 percent shooting. With Wade struggling a bit – he's shooting just 38 percent over the last two games – and uncertainty with Chris Bosh, the focus and expectations will again be on James to deliver a huge performance.
His history in these spots shows that both a masterpiece or a dud are possible. The only thing guaranteed is pressure. And most likely drama.