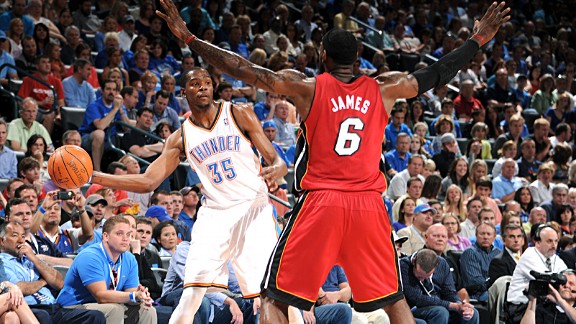 Garrett W. Ellwood/NBAE/Getty Images
Dwyane Wade believes LeBron James will benefit from having to guard Kevin Durant.
OKLAHOMA CITY -- Fans, journalists and historians have spent the last few days getting excited about the LeBron James-Kevin Durant Finals matchup. In short, such a marquee head-to-head battle between players at the same position at the Finals is exceedingly rare.
Among all the commentary offered in the standard build-up, one observation stuck out. It came from Dwyane Wade about his teammate, and what the challenge of covering Durant will mean to James. It wasn't something you'd expect to hear, which made the remark so interestinog.
"I'd rather for him to be guarding Kevin Durant than to have to guard DeShawn Stevenson or Shawn Marion like last year where he wasn't as involved," Wade said. "With Kevin Durant, you've got to have your antennas up at all times. I think that's going to bring out the best out of both of them."
References to last year's Finals often make the Heat a little nervous and James a bit short. Without totally retracing old ground, it was clearly the worst series in James' career and that was a major reason the Mavericks won the title. James' play was the target of much criticism, specifically that he didn't exhibit his normal aggressiveness and, at times, looked detached from the moment.
As James said Monday in a mildly curt and certainly once-and-for-all way: "I didn't play well. I said that a hundred times this year."
Heat players don't often speak of last year's Finals and, for obvious reasons, don't often elaborate when asked -- all of which made Wade's comments on the value of having Durant to engage James more intriguing. Facing Durant, Wade seems to believe, will force James to stay locked into the action.
"I'm glad that (James) has that challenge because it's going to make him focus more," Wade said. "It's going to make him play a little different."
Just how much time James will spend guarding Durant is yet to be seen. Thunder coach Scott Brooks seems prepared to use Durant on James nearly exclusively, and is not worried about foul trouble or fatigue on his star.
"Kevin's job is to play whoever we have him guard; he's not one to hide," Brooks said. "You can't be a good defensive team when you have one guy not playing defense and he has to be able to commit to that end."
When the teams last met in a wonderfully played game in Miami in April, James and Durant put on a show during the second half. They guarded one another exclusively, each striking blows on the other, like boxers working the jab and trying to set up the hook. James ended up with 34 points, Durant with 30 as the Heat won by five points.
Heat coach Erik Spoelstra, though, isn't so willing to say he'll have James dedicated to defending Durant. With James logging heavy minutes -- he averaged 46 a night in the conference finals against the Celtics -- Spoelstra hinted he may look, at times, to other players to handle Durant in order to ease the burden on James.
"That's part of the versatility we have with our roster," Spoelstra said. "We have some proven wing defenders and we were tested with that in the last two series. (James) did the bulk of the work on (Danny) Granger and (Paul) Pierce, but Shane (Battier), Dwyane and even (Udonis Haslem) and Chris (Bosh) were able to help. I anticipate that a lot in this series."