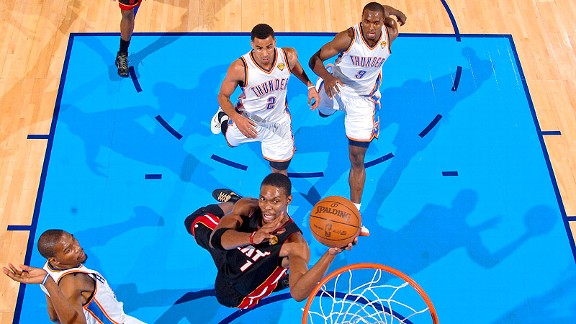 Andrew D. Bernstein/NBAE/Getty Images
Chris Bosh (16 points, 15 rebounds) returned to the starting lineup with great results in Game 2.
OKLAHOMA CITY -- For days, Chris Bosh downplayed his desire to be back in the Miami Heat's starting lineup after coming off the bench since he returned from an abdominal injury that knocked him out of the playoffs for three weeks.
Apparently, after the loss to the Oklahoma City Thunder in Game 1 of the NBA Finals, Bosh could no longer stomach the back-up assignment. The converted Heat center never approached coach Erik Spoelstra to discuss abandoning the reserve role.
Instead, Bosh made a statement by taking a simple step.
After the Heat watched film of Tuesday's 105-94 loss and prepared for Game 2, Spoelstra called for his red team -- the starters -- to take the court to begin Wednesday's practice.
"And Chris walked right out and put his head under the rim [at center]," Spoelstra recounted Thursday night. "And so that told me what we were doing in terms of starting him. He gave us a lot in the paint, and we need that again and again and again. We needed every bit of his 'big' and that's what he brought."
With Bosh stepping back into his comfort zone as a starter alongside Dwyane Wade and LeBron James, the Heat set a dominant tone in the first half Thursday before scrambling to hold on for a 100-96 victory that tied the series 1-1. With the win, the Heat snatched home-court advantage away from the Thunder, with the next three games in Miami.
Bosh had 16 points, a game-high 15 rebounds, two blocked shots and a steal in 40 minutes Thursday during his first start since he sustained the abdominal strain May 13 in Game 1 of Miami's second-round series against Indiana.
It was the kind of aggressive performance Bosh vowed to deliver after he struggled to make much of an impact at all 48 hours earlier when the Thunder pounded the Heat in the paint and eventually ran away for the victory in Game 1.
After missing seven of his 11 shots and grabbing just five rebounds in 34 minutes Tuesday, Bosh said he was frustrated with his performance, but insisted he would regroup in Game 2, with Miami still having a chance to "change the complexion completely" of the series.
Then, he delivered.
"It was a big game for us, and I kind of put it in my mind that I knew I had to really give the effort that I had been giving before, whether I was ready or not," Bosh said of regaining his form from prior to the injury. "Fortunately, things went well for us [and] it went well for me, individually, and we did what we were supposed to do."
The Heat opened with an 18-2 run and led by as many as 17 in the first quarter, when Bosh had four points and three rebounds, including two on the offensive glass. It was the second consecutive game Miami opened with a solid first half, although Bosh came off the bench in Game 1.
The difference, however, was how committed the Heat were to attacking the lane on one end of the court and defending it on the other. Both had plenty to do with it.
Re-inserting him as a starter was just one of several adjustments Spoelstra made that paid off for the Heat.
In addition to getting Bosh into a rhythm from the outset, the Heat also put guard Dwyane Wade in position to get into the lane more on offense after he also struggled on Tuesday with his shot. Spoelstra extended his playing rotation after playing only eight players in Game 1.
But the biggest benefactor from those tweaks was clearly Bosh, who had embraced his role off the bench during his first few games back midway through the Eastern Conference finals against Boston. At the time, Spoelstra wanted to limit Bosh's minutes and work him back gradually into the mix at a time when James and Wade had established a productive chemistry in his absence.
Bosh never complained. And when he came off the bench to nail a career-high three 3-pointers on the way to a 19-point performance in the Game 7 win against Boston, James even suggested keeping Bosh in a reserve role as a spark plug off the bench might be best for the Heat overall.
But with no real threat of an inside scorer or interior defender with length to match up against the Thunder, the dynamic changed for the Heat in the NBA Finals. At 6-foot-11, Bosh's length and scoring ability offer an matchup advantage against the heavier but slower Kendrick Perkins that Miami now wants to exploit from the start of the game.
"I just wanted to be more aggressive, coming out starting," Bosh said. "I knew it's been such a huge deal the past day or so. But that's my comfort zone. That's what I've been doing. Either way, if I'm out there I'm going to be effective -- and everything would take care of itself."
Wade said it was essential for the Heat to set a more aggressive tone early in Game 2 by having their best players on the court from the opening tip.
That meant getting Bosh going early. Eventually, Bosh would have every aspect of his game working. He scored inside and on the perimeter to go 6-of-13 from the field. He got the free-throw line, where he made 4 of 5 attempts. And seven of Bosh's 15 rebounds were on the offensive end.
"Chris came out just like the rest of us, very aggressive, and that spreads the floor," Wade said. "He's a great shooter, so he gives us more gaps to get to the paint. We're glad he's back playing his regular minutes, and that's going to be key for us the rest of the way."
But it wasn't just Bosh's soft touch that made a big difference for the Heat. The blows he landed in the paint by attacking the offensive glass and extending possessions for Miami were what gave the Thunder even more problems.
Bosh had already eclipsed his Game 1 rebounding total by the second quarter in Thursday's game. It was the combination of activity and intensity that allowed Bosh to reach a double-double -- 10 points and 10 rebounds -- by halftime, when Miami held a 12-point lead.
His impact was obvious to the Thunder. Bosh had as many rebounds as Oklahoma City's starting front line of Perkins, Kevin Durant and Serge Ibaka.
"He did a great job of rebounding," Oklahoma City guard Russell Westbrook said of Bosh. "He helped them out, tipping balls, getting extra possessions, just doing his job."
But first, Bosh had to reclaim his job.
As a starter.
That allowed him to redeem himself from those struggles.
"Those are the things that stuck with me the most," Bosh said of his subpar play in Game 1. "If we play our best basketball and we get beat, that's a whole different story. You're sick in another kind of way. But to know that you could have picked it up and played a lot better, it was really bothering us. We didn't want to have any regrets. We wanted to come out and play a very complete game."