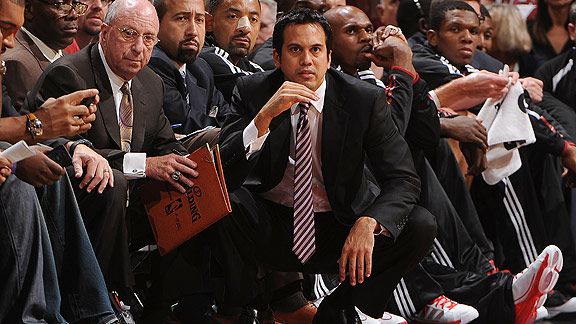 Andrew D. Bernstein/NBAE/Getty Images
It wasn't pretty, but Erik Spoelstra drew up some good-looking sequences to help seal the victory.
MIAMI -- The game had been over for a good 25 minutes, but Erik Spoelstra was still playing defense.
Scanning the box score that was pinned under his right hand following the Heat's rough 95-87 victory over the Bobcats, the Heat coach waved a figurative finger at those who might misinterpret what he felt happened in the game.
First it was:
"People will look at this box score and say, 'Oh, LeBron James willed them to win'."
Then it was:
"Some cynics will look at Dwyane [Wade]'s line and didn't think he had an impact or an off night."
Not exactly the persona you'd expect from the man who recently declared his team had become like Teflon when it came to criticism.
Let's start with the facts: James had 32 points, the first time in nine games against Larry Brown that he's cracked the 30-point barrier. Wade was riddled with a flu bug and was a gametime decision -- and it showed. He shot just 4-of-13 and looked zapped by the fourth quarter. And the Heat blew a 21-point lead before clawing back with a productive final four minutes to win.
Now for the critic's review.
Despite the somewhat normal ebb-and-flow of a standard NBA blown lead, the Heat showed some remarkable effectiveness on several vital defensive possessions. These are the types of moments that will decide playoff games, in fact. Above all else, that might have been the most notable item to take away from the Heat's third consecutive win.
In NBA shorthand they are called "ATOs." These are plays that take place after timeouts. Teams closely track these sequences to look for opponents' tendencies, everything from strategy to lineups. There's good reason for that -- ATO plays often decide close games.
Player execution is certainly the biggest factor, but those end of game timeouts are where a significant amount of a coach's salary is earned. It's the snapshot in a game when coaches can either shine or become a goat.
Friday night, Spoelstra went 4-for-4 in the fourth quarter against Brown, who happens to be one of the all-time ATO luminaries.
Three of these plays came when the Heat were on defense after Brown had called timeouts for the expressed purpose of setting up offensive sets. All three came well after the Bobcats had turned the game into a full-on, playoff-like battle.
On two of them, Brown set up screens to free Gerald Wallace for drives to the basket with the hope of a hoop or a foul -- or both. Both times, Heat players were perfectly positioned and stepped into Wallace's driving lane and drew charges.
The first to step up was Chris Bosh. Drawing Wallace's fifth foul was a contribution from Bosh nearly as important as his 22 points and 14 rebounds. The second stalwart was Udonis Haslem, who barely got to the spot outside the no-charge zone before Wallace sent him into the basket standard.
That was the All-Star's sixth foul and it frustrated him so much that he was ejected after complaining about the call. But the replays showed Wallace was in error. That play came with 1:04 left and the Heat up only five.
The other big ATO stop belonged to Wade two minutes earlier. He perfectly read a lob play designed for Stephen Jackson after Brown had called a timeout to set it up. Jackson had scored on the same play earlier in the game and the Heat were warned they might see it again.
"I love those plays," Spoelstra said. "What I was mentioning to the players in the timeouts was we're probably not going to win this game offensively."
He was right. The Heat shot just 33 percent in the second half as their offense stalled. But Spoelstra set up an offensive play that sealed the game in his final timeout.
After James and Bosh had run three consecutive pick-and-rolls in the flow of the offense to help the Heat grab their final lead, Spoelstra called for the ball to go to Wade on the opposite side of the floor from James and Bosh. The Bobcats loaded their defense to defend the "Big Three" and Wade drove and kicked to a wide open James Jones for a 3-pointer that finished off Charlotte.
The players made it happen, as they always do. But Spoelstra earned his paycheck, at least according to one cynic.
"It was not smooth, but we found a way to win a grind-out game," Spoelstra said. "These games are good for us right now."