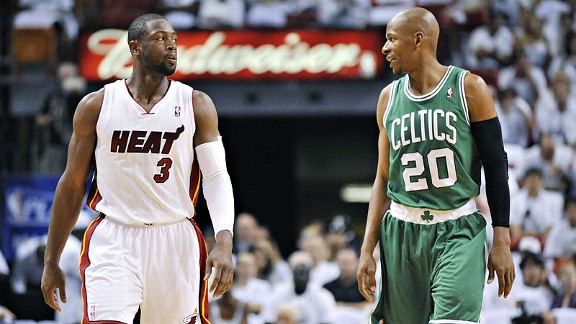 David Dow/NBAE/Getty Images
Dwyane Wade is going to work on his shooting while he recovers. That new guy might help.
MIAMI -- For nine years, Dwyane Wade's NBA career has largely been defined by overcoming odds off the court combined with graceful skill and athleticism on it.
It's been a virtual spin cycle of knock down, get up, bounce back. Repeat.
But at least one of his characteristics has been understated along the way: impeccable timing.
That was never more the case than Monday, when Wade underwent arthroscopic surgery on his long troublesome left knee to correct an ailment that deeply affected his play during the Heat's march to an NBA title this season.
Well, for LeBron James and the rest of the Heat, it was a march.
For Wade, it was more of a laboring limp. At least by his lofty standards.
Wade repeatedly downplayed the issues with his knee throughout the playoffs. But after ESPN.com's Heat Index first reported he had the knee drained during Miami's second-round series against Indiana, Wade could only do his best to disguise the problem and play through the soreness.
But, privately, he could no longer honestly deny it.
By having surgery, Wade has chosen to attack the problem that has been the cause of so much pain, discomfort and distortion in his game that many have started to question whether the only "prime" remaining in his career is affiliated with late-night dinners at the Prime One Twelve restaurant on South Beach.
From a timing standpoint, Wade's projected rehab and recovery schedule from Monday's surgery is expected to last up to two months. Barring a setback, that timetable should allow Wade to be ready to join his Heat teammates for the start of their title defense when training camp opens in late September.
Heat president Pat Riley sounded more hopeful than absolutely confident that Wade would be completely ready for action when the Heat gather for what is expected to be an earlier-than-usual camp, in anticipation of Miami being selected for one of the NBA's preseason trips overseas.
Somewhat overlooked in all of the analysis of Ray Allen's impending free agency addition to the Heat's roster later this week is the impact the sharp-shooting guard's signing will have on Wade's progress. Like Wade, Allen will also be coming off summer surgery when the season starts. But Allen is already well into the recovery stage from having bone spurs removed from his ankle last month -- just days after the Heat eliminated his former Celtics team in the conference finals.
On the surface, Allen gives the Heat yet another knockdown, 3-point shooter who happens to have made more treys than any player in NBA history. But beyond that, Allen, 36, is also an early-season insurance policy of sorts for Wade at shooting guard. Conventional wisdom would suggest that each player should lessen the physical burden on the other next season.
Minutes, as in playing time, won't be a pressing problem.
Instead, maintenance should -- and will -- be the priority.
In some ways, Wade has already gotten a jump-start on the recovery process. He has had several sessions with noted NBA personal trainer Tim Grover even before the decision to undergo surgery. Wade and Grover have worked together for the past five years, ever since Wade first had surgery on that same knee in 2007.
But the Heat will be in no rush to work Wade back into heavy game action when he's cleared to resume basketball related activities. This is why bringing in Allen was as big a move for Wade as it was to complement LeBron's ability to break down opponents and set up shooters for wide-open looks on the perimeter.
Neither the Heat nor Wade will acknowledge it, but there very well might be concerns that the issues with Wade's left knee could be chronic. That it could require extensive maintenance along with reduced wear and tear. That so many years or relentless and remarkably reckless attacks on the basket might have finally started to catch up to Wade, who refers to it as his "explosion knee ... the one I jump and cut off of to explode and attack."
It's fair to wonder just how much spark and spring are left in a knee that has required two known surgeries, controversial shock-therapy treatments and at least a couple of excess fluid draining procedures over the past five years.
But again, Wade's career has been defined by the cycle.
Knocked down. Get up. Bounce back. Repeat.
But this time, Wade should be motivated less by what he may feel he needs to prove and more by what he needs to preserve at this point in his career.
In other words, his approach needs to be completely different than the last time his knee issues lingered. After sitting out the final months of the 2007-08 season, as Miami wrapped up a franchise-worst 15-67 finish, Wade opted for the shock-therapy treatment a year after his initial surgery in May 2007.
At that time, he was determined to get his body -- which had also endured 2007 shoulder surgery -- right by the time the 2008 Olympics rolled around. Not only did Wade steel his body through rigorous rehab, he also stole the show in Beijing that summer to lead Team USA in scoring and on to a gold medal.
This time around, instead of pushing to get his body prepared for the Olympics, he wisely chose to skip next month's Olympics to get his body prepared for the Heat's title defense. Wade also has talked about hiring a shooting coach to work with him this offseason for the first time in his career.
Which brings it all back to Wade's perfect timing.
There might not be a better shooting coach in the league than the free agent Miami is set to sign when the league's moratorium ends Wednesday.
Well before Allen is worked into the Heat's playing rotation, he could prove his worth in potential offseason workouts with Wade. Few players in NBA history have adjusted their games with age more productively than Allen.
He wasn't always the sweet-shooting "Sugar Ray" we've seen these past five seasons in Boston, where he helped the Celtics win a title in 2008.
There was a time when Allen would drive and dunk on defenders just as seamlessly as he would dice them up from deep with his jump shot. But Allen gradually altered his game to finish with far more finesse than athletic fury.
Right now, it's hard to imagine Wade ever becoming the kind of jump shooter who could consistently beat teams with his range. The same could've been said at one time about Michael Jordan, Patrick Ewing, Jason Kidd and several other elite players who evolved their skills amid declining athleticism and aging.
Wade's track record of comebacks from setbacks suggests he still has plenty left as one of the top-10 players in the league. But his history with that balky left knee also means he shouldn't take anything for granted from this point on.
So as Wade looks to alter his game after another adjustment and recovery process, Allen's presence should offer more than early-season relief.
He'll also be a worthy resource.
For Wade, the timing couldn't have been better.