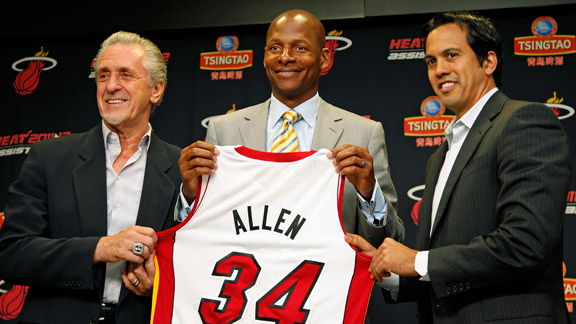 AP Photo/Lynne Sladky
To open, Ray Allen will don the Heat uniform and face his old team.
MIAMI -- With the release of the 2012-13 NBA schedule, the path has officially been charted for the Miami Heat's title defense. Here are five regular-season can't-miss matchups along the way as LeBron James, Dwyane Wade, Chris Bosh and company look to return to the NBA Finals.
Oct. 30, Celtics at Heat: The last time the Heat opened defense of their championship in 2006, Dwyane Wade, Shaquille O'Neal and crew were blown out by 42 points on their home floor a few hours after the ring ceremony. Don't expect the Heat to come out so flat this time around. Expect plenty of sparks when the Heat and Celtics meet to start the 2012-13 season on the same AmericanAirlines Arena floor where Miami finished off Boston in Game 7 of the Eastern Conference finals. One team has ended the other's season in each of the past three years in the playoffs. Adding to the bitter rivalry is Ray Allen's move in free agency from Boston to Miami, which will make his first visit to Beantown on Jan. 27 in a Heat uniform just as intriguing.
Dec. 25, Thunder at Heat: A Christmas Day rematch of last season's NBA Finals clash will certainly be a gift to basketball fans. After losing Game 1 in OKC, the Heat pulled away in the series and coasted in the Game 5 clincher for LeBron's first championship. LeBron James and Kevin Durant are the two premier players in the league and might have sparked this generation's version of the old Magic Johnson-Larry Bird rivalry that plays out with multiple titles at stake. James and Durant are spending time as teammates at the Olympics in London. But don't expect their competitive fire to cool much at all when they return to their respective NBA teams.
Jan. 17, Heat at Lakers: There's never a shortage of star power when Kobe Bryant and LeBron James share the marquee in what many consider the most attractive showdown in the league. The storylines are endless, considering how the Lakers have revamped their offense with the addition of proven veterans in Steve Nash and Antawn Jamison. Nash should provide a spark to a roster that seemed to be growing stale with Pau Gasol, Andrew Bynum and Metta World Peace toiling through frustratingly inconsistent seasons. And if there's any way Dwight Howard is added to the equation via trade, the odds are we could be looking at a preview of the 2013 NBA Finals. Did we mention this game also happens to fall on Dwyane Wade's 31st birthday? Expect a party one way or another.
Jan. 30, Heat at Nets: Speaking of Dwight, there's a strong possibility the disgruntled Orlando Magic center could be dealt by this date in that long-discussed trade to the new-look Brooklyn Nets. Arguably no team has made a bigger splash this offseason than the Nets, who have assembled one of the most lethal starting fives with Deron Williams, Kris Humphries, Brook Lopez and Gerald Wallace all re-signing in free agency and perennial All-Star guard Joe Johnson arriving in a trade from the Atlanta Hawks. What also makes this game potentially interesting on this date is that Lopez will be eligible to be traded as early as Jan. 15 after signing his new contract this month -- hence, the door possibly reopening for Dwight's arrival. Perhaps just in time for the Heat's first visit to Brooklyn's elaborate new arena.
March 20, Heat at Cavaliers: There was plenty of venom and bad blood in Quicken Loans Arena when LeBron made his first visit to Cleveland early in the 2010-11 season after breaking the city's heart and bolting for Miami. But now that he accomplished what he set out to do by winning a championship, what kind of reception could the Ohio native expect to receive when he returns as a champion? Will LeBron still be a villain? Are Cavaliers fans capable of accepting the Heat's title run and LeBron's Finals MVP as validation for his decision to depart? Has enough time passed for some of the wounds to heal? Those are all legitimate questions surrounding what might actually otherwise be a snoozer of a game on the basketball court.