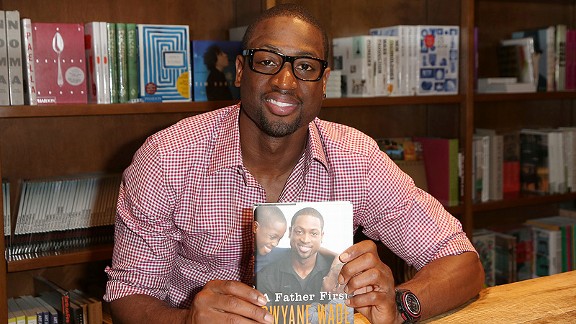 Alexander Tamargo/Getty Images
While promoting his new book on fatherhood, Dwyane Wade says he hopes to play in season-opener.
MIAMI – Some lessons, of course, won't make the book.
But patient parenting for Miami Heat star Dwyane Wade didn't end with the recent release of his memoir, "A Father First: How My Life Became Bigger Than Basketball."
The book's publication proved a destination of sorts. But parenting, essentially, is a never-ending journey. You're always on the job, regardless of any other occupation.
That was the case when Wade arrived to greet hundreds of fans for a book-signing appearance over the weekend at Dolphin Mall in Miami's western suburb of Sweetwater. On the ride over, Wade told his oldest son, Zaire, that they were headed to a fond and familiar place.
Zion Wade, the youngest of Wade's two sons, was just a few months old when his parents split in 2008 amid a bitter divorce and custody battle that dragged on for three years. But Zaire was already in grade school by then and remembers what it was like when the family was together.
"I was telling (Zaire) on the way here, 'Hey, we used to shop at this mall when you were one or two years old,'" Wade said. "And he was like, 'Oh yeah, that's when everything was great.'"
Wade's voice cracked and softened as he relayed the quick exchange with Zaire.
"He felt a lot and he endured a lot," Wade continued. "He's had a tough three years, from (age) five to eight. He'll even tell you. But he's getting back to where he's happy and he's good with the situation he's in right now."
That goes for them both.
Wade's book in large part chronicles the often painful process of gaining custody of his sons, who are pictured with him on the cover. But Wade also details the path from his own tough upbringing on Chicago's southside to becoming a two-time NBA champion.
Despite his success on the basketball court, it was the outcome in family court that's had the biggest impact on Wade's life as he prepares for his 10th NBA season when the defending champion Heat open training camp this month.
Promoting his story and advocating the role of fatherhood as a single parent keeps Wade on the road these days about as frequently as the trips the Heat will make this season. After stopping in Miami for three consecutive days of book signings this past weekend, Wade is scheduled for promotional tour stops this week in Atlanta, Chicago, Milwaukee and Los Angeles.
Along the way, he's mixing in workouts with teammates and coaches in addition to rehab sessions to recover from July knee surgery. Wade insists he remains on track to be ready for the Heat's regular-season opener Oct. 30 against Boston, but was non-committal about his availability for preseason games.
"My body will tell everyone what we will do," Wade said. "We have a plan and we're going to follow our plan to be ready and right for the season. I'm confident we'll be right. I'm working my way into it."
Working his way into it could also describe Wade's approach to being the primary caregiver to his sons and a young nephew who also now lives with the family in Miami.
Wade will tell you that completing the book and tirelessly traveling the country to be an example of a strong, caring and committed father exceeds anything he has accomplished, on or off the court. His decorated playing career includes two championship runs, perennial All-Star appearances and a NBA Finals MVP. He's dating a beautiful actress and he's regarded as one of the world's most fashionable and stylish athletes.
But none of that defines him as much as his 'round-the-clock role as a single parent. He's even changed his registered name on his Twitter account to, "Dad."
Wade's story hits the market at a time when several of his peers and celebrity friends are also coping with the challenges and triumphs that accompany fatherhood.
Last month, R&B singer Usher was awarded custody of his two sons after a brutal court battle with his ex-wife that was similar to what the Wades went through. After the ruling was reported, Wade sent a message of support to Usher among their nine million combined Twitter followers.
But there are cases that hit much closer to home for Wade – like within his own locker room. Heat teammate Chris Bosh was in court earlier this summer and has been engaged in a custody-related dispute with an ex-girlfriend over their toddler daughter for nearly two years.
"I understand the importance of fatherhood in my life and the importance of mentors," Wade said. "I felt this is something that we all deal with. It's not just in the black community. It's in every community. Fatherhood has no color, in a sense."
Breakups can be especially difficult on children. But Wade said his purpose for writing the book is to show there are fathers willing to fight for their parental rights.
That projects a far different image than the 1998 Sports Illustrated cover story that exposed multiple paternity lawsuits and child abandonment claims that targeted several NBA stars and other professional athletes.
Wade isn't alone in presenting the other side of this story. Former NBA center Etan Thomas, who played 10 seasons before he recently retired, released his "Fatherhood" book this past spring. Thomas' project features essays from dozens of athletes, actors and politicians, including NBA stars Kevin Durant, Chris Paul, Grant Hill and Baron Davis.
Some wrote about the joys of being there to raise their kids. Others chronicle how they've overcame the hurt, anger and frustration of not having fathers in their lives for consistent guidance.
Wade simply adds another voice to these visions.
"Just to let them know that it's OK to go through these things," Wade said. "I went through them. I'm better for it."