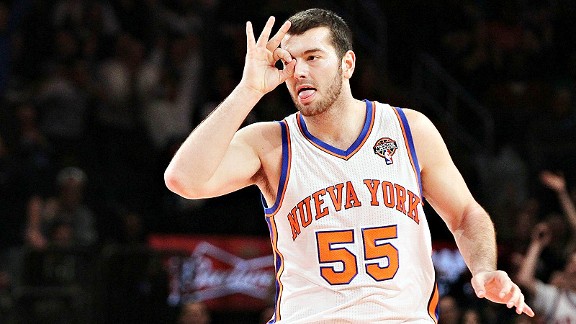 Jim McIsaac/Getty Images
A center who can shoot 3s? The Heat may have found a diamond in the rough for their new attack.
If Pat Riley asked the basketball gods to construct a flier for the Heat to sign for training camp, that flier would probably play a lot like former Knicks center Josh Harrellson.
On Monday night, the Heat announced that they signed Harrellson to what's believed to be a nonguaranteed deal and will be bringing him to training camp along with 17 others. There's a chance that Harrellson doesn't make the regular season roster when the Heat are forced to trim down to 15 players next month. The 23-year-old will be presumably battling with invitees Mickell Gladness, Terrel Harris, Dexter Pittman and Garrett Temple for two spots on the team.
But judging from what Harrellson's done in the league so far, the Heat inking Harrellson to a non-binding deal makes all the sense in the world, especially for what Erik Spoelstra is setting out to do this upcoming season.
The road to Miami
Harrellson, who goes by the name of "Jorts" for his taste in jean shorts, achieved near cult status in New York last season. If you want an idea of what he meant to Knicks fans, browse their reaction to Monday's news on Twitter. Hard to argue when he sports a mustache like that.
But Harrellson is much more than a novelty. The guy can play.
What Harrellson brings to the table is something that the Heat have highly-coveted for a couple years now: 3-point shooting, 3-point shooting and more 3-point shooting. The 6-foot-10, 275-pound Kentucky product shot 33.9 percent from beyond the arc in his rookie campaign, a shade under the league average last season but stellar for a guy who can play center. (It's worth noting that Harrellson shot better from downtown last season than Carmelo Anthony, Kobe Bryant and stretch-4 Antawn Jamison.)
The pursuit of Harrellson has been weeks in the making. When the Heat brought Harrellson to Miami for his first workout this offseason, the coaching staff came away impressed by his shooting display, enough to bring him in for a second workout for Riley to see (Riley had been away from the AmericanAirlines Arena for the first time around).
But after a second look at the burly big man, soon enough Harrellson was inked to a deal.
How he fits in with the Heat
It's easy to see why the Heat are intrigued by Harrellson's talents. Even if his 3-point tries don't go in, he'll be useful for the Heat offense that puts a premium on spacing. Under then-coach Mike D'Antoni's lead last season, Harrellson wasn't shy about setting up around the perimeter and shooting to his heart's content. As our own John Hollinger points out in his Heat player profiles, no center took a higher proportion of his shots from downtown than Harrellson.
Pulling up Harrellson's game film reveals why he's going to be a fascinating player to watch as he tries to cement his spot on the roster. Simply by camping out in the corners, Harrellson presented his big man defender with the following dilemma: should he sag into the paint and prevent Carmelo Anthony or Jeremy Lin's penetration and risk a kickout, or should he stick to Harrellson and leave the driving player unattended?
That's a tricky proposition made nearly impossible if Harrellson's even an average 3-point shooter and LeBron James is barreling down the lane. Remember, if you're willing to leave a 33.9 percent 3-point shooter open, you'd better be willing to leave a 50.9 percent two-point shooter open. Statistically speaking, the payoff is exactly the same. It's why 3-point shooters are deadly when handcuffed to elite dribble-penetrators.
This confirms what our eyes told us when we watched the Thunder frantically try to defend the Heat in the Finals when Miami spaced the floor with Chris Bosh, Shane Battier and Mike Miller. Dealing with those shooters, James posting up and Dwyane Wade slashing through the paint? Good luck.
Pursuing Harrellson was a logical step for the Heat as they try to see how much extra space they can create for James, Wade and Bosh to do their thing. With Bosh penciled in at starting center, the Heat could use an unconventional backup who reinforces their "pace-and-space" attack and to pull opposing centers out of the paint. Resident backup Joel Anthony is the anti-Harrellson in this sense. Harrellson's range extends 25 feet; Anthony's range extends 2.5 feet. Harrellson rebounds like a center; Anthony rebounds like a small forward. Then again, Harrellson moves laterally like a full shopping cart; Anthony moves laterally like a 6-foot-8 crab.
The hard numbers
Floor-spacing has been a buzzword for coaches for decades now, but it's hard to see its benefits simply by looking at the box score. But a recent statistical study by Kevin Pelton of Basketball Prospectus shed some light on its hidden value. He correlated his box-score-fueled player metric with how the scoreboard changed when a player was on the floor. What he found was that sharpshooters tend to have a more positive impact on the score than we'd expect given their box score stats alone. In other words, floor-spacers are more essential than we might have thought. (If you're cool with a dizzying avalanche of numbers, you can read more about Pelton's findings here and here.)
Now Harrellson can shoot, but he's not a one-dimensional player by any means. He's a wide body and, unlike Dexter Pittman, he leveraged his size into rebounds last season, especially on the offensive end. For the 2011-12 campaign, Harrellson pulled down 9.6 rebounds per 36 minutes, which is on par with other centers such as Chris Kaman, Kevin Garnett and Nene. This is a guy that once prompted D'Antoni to quip last season: "He is strong, he is dirt strong ... he's got a little pop to his game that people didn't know about."
That dual skill-set of rebounding and shooting is the pop that D'Antoni might be referencing. It's been mentioned in this space before, but it bears repeating that Harrellson joined Minnesota Timberwolves forward Kevin Love and Milwaukee Bucks forward Ersan Ilyasova as the only qualified players last season to average over nine rebounds and make at least one 3-pointer per 36 minutes on the floor. Not bad company.
The cost-benefit of Jorts
Of course, Harrellson struggled to find a guaranteed deal for a reason (or a few). He has only one season of solid 3-point shooting under his belt (he didn't shoot 3s at Kentucky). It sometimes appears like the soles of his shoes are laced with Elmer's glue and he has almost no post-up game to speak of.
But you can expect Spoelstra to test Harrellson in the preseason, not only to see his game but also his conditioning. The Heat are notorious for their rigorous training camps and the word is that Harrellson wasn't nearly in game shape when they worked him out a few weeks ago. Pittman and Harrellson certainly have that in common.
At best, the Heat found their backup center on the cheap, one that fits perfectly within their already scary offense. At worst, they burned a few dollars to discover that Harrellson's shooting display last season was a fluke. Harrellson's 13.7 player efficiency rating last season put him above Aaron Gray, Greg Stiemsma and Kwame Brown on the PER leaderboard. Those three centers netted multi-year deals this summer; Miami managed to bring in Harrellson on a training camp invite.
That kind of upside is worth a flier for the defending champs. And then some.