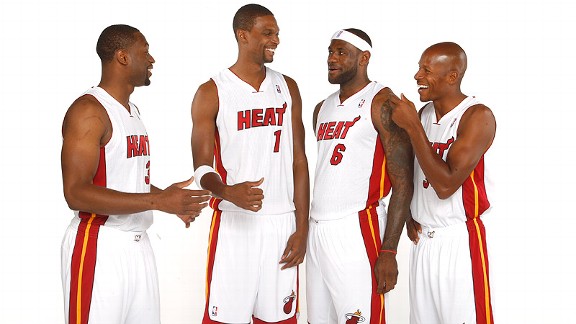 Issac Baldizon/NBAE/Getty Images
After spending five seasons in Boston, Ray Allen is all smiles in his new digs.
MIAMI -- You never really get used to it.
Every season, there's someone who doesn't look quite right in his new NBA threads on media day. Last season, that guy might have been Chris Paul in Los Angeles, Lamar Odom in Dallas or Richard Hamilton in Chicago.
This season, that guy is probably Ray Allen in Miami.
For someone who was so closely associated with Celtics green, it's a bit jarring to see Allen wear the white and red with "HEAT" stitched across the chest. After all, no one has made more 3-pointers over the past five seasons against the Miami Heat than Allen. And here he is.
Despite wearing some shade of green for essentially his entire professional career, Allen maintains he hasn't had any trouble identifying himself with his new organization.
"Once you wear the uniform, you never really look at yourself and understand what uniform you have on, it doesn't matter," Allen said. "It's mostly how other people see you or view you. From here forward, the most important thing for me is what I do in this uniform is always representative of this city, my family and friends, and fans that I play for. Hopefully, I have more people that like the Heat than hate the Heat in the time that I'm here."
That might be wishful thinking, but Allen has taken extra steps this offseason to get used to the change of scenery. He has been shooting in Miami's practice gym for several weeks and has already spent countless hours working with the Heat's training staff to get his right ankle, which was operated on three months ago, as close to 100 percent as possible.
The goal: Be ready to take on his former team, the Celtics, on Oct. 30. He's not ready yet, but you wouldn't know it by watching him, Heat coach Erik Spoelstra says.
"Ray seems like he's in his mid-20s," Spoelstra said, taking part in the annual tradition of media day optimism.
Allen has gone through this before, acclimating himself to a new team while recovering from offseason surgery. Back in 2007 when he was traded to Boston, Allen underwent surgery on both ankles before lacing up his shoes to play for his new squad. However, the 37-year-old won't hide his lingering soreness like he did last time.
"When we assembled together [in Boston] and went through training camp, I was in pain all the time," Allen said. "But I never said anything about it. They didn't really know what I dealt with surgerywise. Here, they know a little bit more of it."
Allen may look like he's in his mid-20s and may be more honest about his ankle soreness, but the truth is that he's still limited by it. When asked whether he expects to play pain-free at all this season, Allen paused before giving his answer.
"Who knows," Allen said. "That's a good question."
Allen wouldn't put a hard timetable on his recovery and says he plans to take it day by day. The idea, as is the case with Dwyane Wade, is to be ready for the opener. But Allen's physical limitations haven't stopped him from mentally preparing for what's on the horizon.
As part of his transition into the Heat organization, Allen has had long conversations with Spoelstra and team president Pat Riley about basketball philosophy and, more specifically, why things will be different in Miami than in Boston. Spoelstra made it clear that he wants Allen to run. A lot.
"[Spoelstra's] philosophies sound a lot like [former UConn coach] Jim Calhoun in college and George Karl in Milwaukee -- getting the ball up the floor, playing fast, not being so particular about positions," Allen said. "I look forward to that."
Notice the name he didn't mention: Doc Rivers. Although the Heat used to be a slow-it-down, wear-you-down offense like the one used by Boston, the Heat changed all that last season when they emphasized a new "pace-and-space" offense. From 2010-11 to 2011-12, the Heat jumped from the 21st-fastest team in pace to the 14th. Boston ranked 22nd last season. Spoelstra hopes the Heat can do more running with Allen in the fold this season.
Last offseason, Spoelstra drew inspiration from Oregon football coach Chip Kelly's high-octane offense and implemented his own "pace-and-space" philosophy that tried to leverage the team's athleticism and versatility. This offseason, Spoelstra spoke in depth with several coaches, including University of Florida coach Billy Donovan; University of Cincinnati football coach Butch Jones; the innovator of Kentucky's "dribble-drive" offense, Vance Walberg; and Oregon women's basketball coach Paul Westhead, famous for his run-and-gun system. Not a conventional list of names, but that's how Spoelstra wants to play this offseason: unconventional.
A lot of that has to do with Allen and his skill set. The Heat see him as a dynamic floor-spacer that they haven't had in years and a spot-up shooter who commands the attention of every defender on the floor, not just his own. But Allen doesn't want the focus all on him.
"There's a fine line between being selfish and unselfish," Allen said. "You have a tendency when you have teams like this where you overpass, because you want to get out of people's way and you want to make sure the other guy fits or is comfortable. I don't want them to do that for me."
That's a battle the Heat had to face when Wade and James shared the court for the first time. Wade has admitted before to being obsessed with making sure he "took turns" with James in their first season together. Allen, however, doesn't want them to force the issue.
"It's a new landscape for me," Allen said. "And I've been looking forward to it."