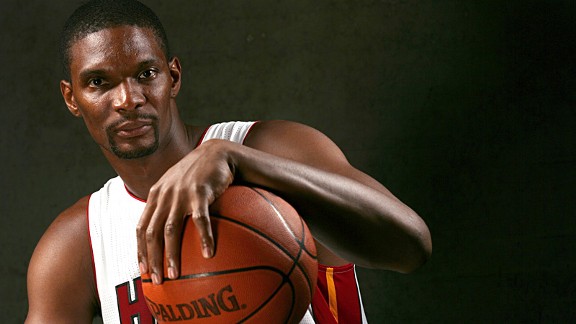 Issac Baldizon/NBAE/Getty Images
Chris Bosh says he isn't concerned about dealing with Dwight Howard and Andrew Bynum at center.
MIAMI – The plan was to write this in the form of a traditional column.
The goal was to offer an aggressive and pointed opinion about whether the defending NBA champion Miami Heat could really make this experiment of converting Chris Bosh into a full-time center actually work to their advantage.
But then came the reality.
The more I listened to Bosh during an extended interview after the Heat finished their first weekend of training camp workouts, the more it made little sense to get in his way.
Bosh was simply that bold, that aggressive, that persuasive.
That entertaining.
If Bosh can transfer all of those effective intangibles onto the court at center, there will be no debating this issue. The 6-foot-11 career power forward (generously listed at 235 pounds) might be giving away as many as 50 pounds to opposing centers on some nights this season.
But he's committed to take on any challenge. In this question-and-answer session with reporters at training camp, Bosh addressed his move to center and other issues as he prepares for the season.
---
How are you adjusting to the new demands at center?
Bosh: It's changed. I still notice the difference from time to time. But it's all for the better sake of the team. I have to work off my teammates a lot more. Whereas (in Toronto), I used to just tell the coach to get me the damn ball down low and move the hell out of the way. But, you know, that doesn't happen much here, because we have so many great players playing within the continuity of the team.
Have you given up trying to bulk up to play bigger?
It's been like that for three years. And after three years, I finally said, 'Forget it. Just be myself.' I'm never going to be big and just bulky like that. I can be strong. But I'm a wiry strong. And that's two totally different things. They need me to be fast, and that's my advantage against other (centers). We want to make teams match up to us. I just put all that to the side and just focused on my game.
Other than Dwight Howard and Andrew Bynum, which centers are you concerned about in terms of matching up?
Not even those two. I've played them before. It's nothing I haven't seen. Yeah, they do have a weight advantage, but that's only in your mind. And you know, if teams feel they have an advantage, tell them to dump it down there if they can. That's my answer to everything. If they say, 'Bosh can't play the five, we have the advantage.' If people think that, tell them to dump it down there and we'll see what happens.
So you're done mentally fighting the position change?
It's just a mindset, and we won a championship.
And if not?
Yeah, I'd still be playing the 4, huh? I just went ahead and stopped fighting it. They say, 'Don't fight it, just invite it.' When I stopped doing that, things just became better for me. Once you accept playing a different position, you learn how to play that position well, instead of, 'Well, I'm just going to be here and I can't wait until such and such subs in, then I can move over.' We have advantages, and we've got to make sure we take those.
How much time do you expect to be planted in the post?
Not much. Not much at all. It's just a number. I'm playing my game. That doesn't change my game. At first, I thought, 'Oh, I have to change my game. It's more pick-and-roll.' But I've been picking and rolling in Toronto – what this is 10 years in, I've been doing it for eight. Even when I was the (power forward), I was picking and rolling.
Do you still feel you're fighting for league-wide respect?
That was last year. I do my best not to get caught up in that. The more you fight for respect, the less you're going to get it. I don't want to be like, 'Oh, I want my respect,' and I'm getting my (butt) handed to me every night. You know what I'm saying? Last year was last year. I want to be a better player this year. That's my goal every night.
Last year, you set a goal to average 10 rebounds and came up a bit short. Any new statistical goals for this season?
Yeah, I was talking too much last year. Every time I set a goal, I never make it (laughs). I don't even want to set private statistics. I didn't even land in the clouds. I was shooting for the stars, and I didn't even get off the ground. We just have so many good rebounders here. And the way we play defense here, I'm still learning.
After adjusting for two years, is this the Chris Bosh breakout season?
I'm always searching for playing as close to perfect as possible. I'm still getting used to the offense. I always watch a lot of film, just to see what I should have done, could have done, what I can do better, where the shots come from. Because I'm the random guy. I don't get many plays called for me, but the public will never know that.
You've been a different player since cutting the dreadlocks on your way to Miami, though.
People were always saying, 'You were nasty when you had the dreads.' And I'm like, 'Yeah, I was shooting 20 times a night (then).' It's a different, different mentality getting the ball. It (was) I've got to get these guys going.
What was the coolest non-basketball thing you did this offseason?
Bosh: I was on a Disney show for this coming up this year. That was probably the coolest thing. It's called 'Jessie'. I didn't really step outside the box too much.
---
Perhaps Bosh is saving that for the season. Stepping outside the box at center will likely be his first step to exploiting more low-post mismatches for the Heat.