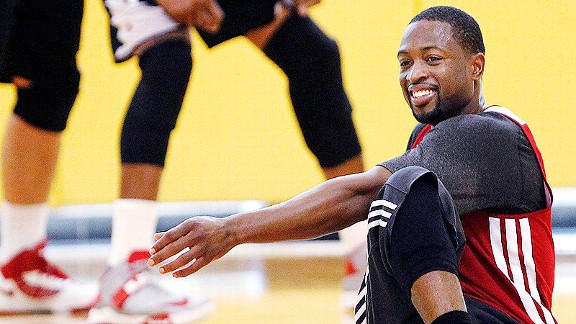 AP Photo/Wilfredo Lee
Dwyane Wade and the Miami Heat may not be up and running at full speed by Oct. 30.
MIAMI -- Two seasons ago when the newly formed Miami Heat held training camp at an Air Force base in the Florida panhandle, the mood was as jovial as the average department of motor vehicles lobby.
Last season, when coming off a Finals defeat while facing a daunting, lockout-shortened schedule, the Heat moved through camp with an almost emotionless precision and focus.
It is not a surprise, however, their disposition now has taken on a new shade. Life as champs has agreed with the Heat and it is showing in the early stages of their camp. It may show in the early stages of the season, too.
There have been no two-a-day practices thus far, coach Erik Spoelstra having canceled the evening sessions. The on-court workouts have been two hours or less. The smiles and laughter have been flowing freely.
"This training camp is a little different than last year, it will be a different journey," Spoelstra said. "This is a veteran group, this is a familiar group. They're bringing it out here for two hours and I haven't felt the need [for two-a-days]."
There's been plenty of platitudes from players and Spoelstra that the early practices have been workmanlike and efficient, thus negating the need for the marathon sessions Pat Riley-influenced teams have endured over the decades.
Dwyane Wade said Spoelstra's training camp demands have taken a "360 degrees-plus turn," which sounds like it's nowhere near as tough as it used to be. Championships have their spoils, it does seem.
"We signed some good guys but we also got older," said Wade, referencing the additions of Ray Allen and Rashard Lewis. "When you sign veterans you bring in professionals that can do their jobs and pick up things fast. But we also signed guys whose body can break down a little faster than the younger guys."
Wade isn't wrong. There is no real need to push it in October when the Heat certainly plan on playing into June. But it does bring in the reality that the Heat may not exactly be priming themselves for a fast start to their attempt to repeat.
For one, the Heat are pretty banged up for a team that hasn't played a game yet. Consider:
Wade is sitting out the contact part of practices as he attempts to prudently return from offseason knee surgery. He's likely to miss several preseason games.

Allen admits he's not 100 percent and is still dealing with some swelling from right ankle surgery he had in June.

Lewis has had multiple platelet-rich plasma procedures on his knees over the past two years to stave off surgery. He also played only 25 games last season in Washington, though he says he's feeling better now. But after not playing much because of the knee problems, Spoelstra said he's taking it slow with Lewis as he works his way back into playing shape and doesn't have a solid role in mind for Lewis yet.

Mike Miller hedged on whether to have surgery on three bulging discs in his lower back and ultimately decided to pass over the summer. Rehab has him feeling better but the Heat will probably be cautious with how much they practice and play him all season long.

Chris Bosh took most of the summer off -- "just chillin'," Bosh called it -- under doctors' orders to let an abdominal muscle heal.

After playing a heavy load in the playoffs and the Olympics, LeBron James is planning on taking it easy during the preseason and said he may not even play much in the team's first preseason game this weekend.
While considering all that, know the Heat are leaving for China this weekend for a goodwill tour to Beijing and Shanghai for a week. It's a worthwhile business trip for the league, but no doubt ruins the flow of camp. When the Heat return they'll be facing some serious jet lag and will have just two weeks before their opener against the Boston Celtics.
It's not exactly a recipe for starting the season on a hot streak, especially with seven of the team's first 11 games on the road.
Last season, with revenge on their minds, the Heat blasted the Dallas Mavericks on Christmas Day and didn't stop. Miami opened last season 9-1, rolling through veteran teams like the Mavs and Celtics who were obviously taking a more laggard approach. This year it could be the Heat who settle into that role.
Not that there's anything truly flawed with that. Playing well in November for a team with the Heat's pedigree hardly has many rewards. Nonetheless, it's worth pointing out that the sense of urgency the Heat displayed in the past two training camps is missing somewhat as they enjoy the last days of their victory lap.
"We're being smart with it," Spoelstra said. "It's been full contact, fully-padded, guys aren't trying to ease into it. I'm looking at this big picture."