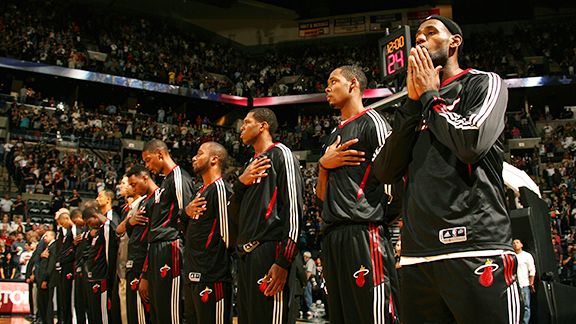 Getty Images
Miami's lined up for a great season, but issues of cohesion are a concern with opening night nearing.MIAMI -- Monday signaled the start of the third week of training camp, which for the Heat means they are now closer to the reality of the Oct. 26 opener in Boston than the memory of that first night on a military base back in the Panhandle.
That's more that just a review of the calendar, it is actually a bit of a concern. Yes, even the talent-rich Heat have their concerns.
It means that two weeks from Tuesday it begins. Not just the season, but the judging and the pressure and the constant comparisons to great teams of the past. It won't be fair but the Heat know they'll be hunted and analyzed from Day 1 and they're not sure they'll be ready to put their best foot forward by then.
"Boston, Orlando and the Lakers are going to be ahead of us," LeBron James said Monday, something he's said as a bit of deflection of expectation since the first day of camp -- but now it comes with more sincerity.
"We're a little behind those teams."
Don't think James didn't see what the Magic did Sunday night, opening the new Amway Center with a breathtaking 54-point throttling of his buddy Chris Paul's Hornets. Yeah, it was a preseason game but it certainly left the impression the Magic are looking rather ready with two weeks to go.
The Heat, who play Boston and Orlando in the season's first week, aren't feeling the exact same just yet. And don't think that those big games, even if they arrive so early in a six-month regular season, won't be a tone setter for all parties.
The Heat know that without Dwyane Wade, who is a week into a hamstring injury that has left him with an uncertain return date, the team isn't making the progress it hoped. Also out is key reserve Eddie House, who will miss at least another 10 days recovering from shoulder injury.
Carlos Arroyo, who was the starting point guard in the preseason opener, is out with a groin injury and won't play in the Heat's next preseason game, which is Tuesday against CSKA Moscow. His competitor for the position, Mario Chalmers, has been dealing with an ankle injury.
Reserve center Jamaal Magliore is also missing time with a sore knee.
"We're still behind," Udonis Haslem said. "Our goals that we set is to be the best but right now we're behind Boston and Orlando."
Coach Erik Spoelstra spent much of Monday's practice with 5-on-5 work because he felt his team needed it more than drills, which is what coaches would usually favor after three days without a practice, as was the case.
With two more back-to-backs of preseason games that will require some off days to recover plus the first game on the schedule for the year, the Heat pretty much have the least practice time of anyone before the tip.
"We need to learn each other, learn our system and to build some continuity," Spoelstra said. "The most important thing for us right now is that we play 5-on-5."
Whether they'd admit it or not, much of the Heat's strategy is an ode to what the Celtics did three years ago. After Boston's big offseason haul to add All-Stars Kevin Garnett and Ray Allen to resident star Paul Pierce, the Celtics embarked on a defining training camp focused heavily on bonding and building a defensive identity. That was part of Doc Rivers' now well known "Ubuntu" philosophy that was hatched during a close-knit training camp in Europe.
Just like Boston, the Heat have two new stars to add to their mainstay in addition to a slew of new role players. Without Europe on the schedule they instead gathered in a remote and isolated barracks to do their bonding. Meanwhile, Spoelstra has attempted to make defense the central focus of his training camp.
All of that is smart and makes perfect basketball sense. But issues outside of the Heat's control are perhaps causing some unplanned hiccups in that team building, on the court at last.
Of course, what the Heat has going for them is a massive talent base that will likely be able to overwhelm most of the competition while they figure out what logistics and personalities might need some oil.
Nonetheless, the need to come together quickly does seem to be on the players' minds a bit.
"As long as the preseason is, it is necessary," Chris Bosh said. "We have to get out there and play together. [Wade] is going to have to hit the ground running when he comes back. We got to play together for three minutes. We all know what he can do but it is going to be a challenge."