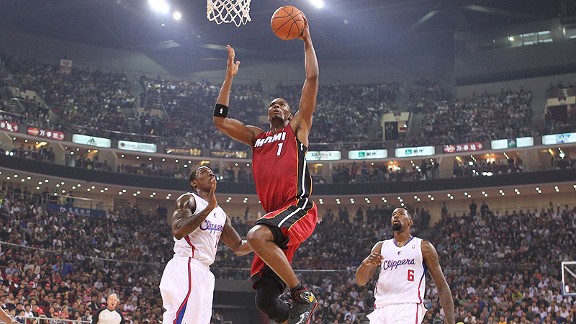 Nathaniel S. Butler/NBAE/Getty Images
Erik Spoelstra urged Chris Bosh to play center this season. So far, he's rising to the challenge.
The sales pitch probably went something like this: "Technically you're going to be the center and you're going to have to guard the other team's center but, really Chris, you're not going to be a center. Seriously, go with me on this ..."
Erik Spoelstra has a public relations plan in operation for his Miami Heat players during this preseason. He calls his modified strategy a "positionless" team, but that's really just a mechanism to attempt to appease his players.
On its face, LeBron James isn't crazy about playing heavy minutes at power forward, Chris Bosh isn't crazy about playing mostly center and Ray Allen, whether he knew it or not when he signed, may end up playing the most point guard he has played since there was an NBA team in Seattle.
But Spoelstra isn't renaming traditional positions as much as he's redefining them. He can't really make it work without Bosh and that's why getting Bosh on board before the season was important.
"I realized a while ago that it was going to happen anyway whether I liked it or not," Bosh said before the Heat left for China. "Coach kept putting me there in the playoffs last year and he's putting me there again this year. He saw an advantage. If he sees it, then there must be something there."
So Bosh arrived for his third season with the Heat realizing he was going to play "center." In the early going, it's obvious why there are quotes around that designation.
Thursday during a preseason game in Beijing, Bosh was matched up with DeAndre Jordan, the Los Angeles Clippers' athletic and active center who loves to stick by the rim and block shots both on his man and as a help defender. But that didn't happen Thursday: Jordan had no blocks and on several occasions got exposed on the defensive end. It wasn't totally his fault; it was because he found himself playing well out of his comfort zone and often nowhere near the rim.
In a traditional sense, the Jordan-Bosh matchup at center would not seem to clearly favor the Heat. But the Heat, and notably Bosh, are not playing traditionally.
Bosh repeatedly victimized Jordan by taking him out on the perimeter and attacking him off the dribble. The Clippers, who it must be said didn't have much of a defensive strategy, had little answer for it. Had it been a real game where matchups are exploited, Bosh probably would have either scored 30 points or Jordan would've been removed for long stretches.
As it was, Bosh had 10 points in 22 minutes, following up on his 22 points in 23 minutes in the preseason opener last weekend against the Atlanta Hawks. The sample is still small, but Bosh already looks to be feeling comfortable offensively in his role of playing on the perimeter against slower-footed centers.
"I don't want Chris burdened by thinking about the conventional box of a center," Spoelstra said last week. "Offensively, he could be playing on the perimeter. He could be playing beyond the 3-point line. So why do you have to call him a center?"
Bosh's advantages are: He's excellent when putting the ball on the floor --the farther out from the hoop, the better. He's an excellent partner in the pick-and-roll because he's a good mid-range shooter. He's continuing to prove he can be effective as a catch-and-shoot 3-point option. And he's 6-foot-11.
Only the last part makes him qualify as a center; the rest fits more in the power forward role he has preferred during his career. But without other options, Spoelstra has decided to make other teams worry about Bosh's advantages while being forced to defend him with their center. Or take their center off the floor, which may be the bottom-line goal of Spoelstra's plot.
"It's about knowing spacing and where I can be effective and at this point in my career, I know where I need to be," said Bosh, who is in his 10th season. "What I've got to do is focus on my advantages and then just work as hard as I can on defense."
It's true that Bosh is going to have some problems on defense. He picked up five fouls in his 22 minutes Thursday because he had to foul Jordan repeatedly when he got inside position. Not every opponent will shoot 1-of-10 on free throws as Jordan did. But most opposing centers are going to have trouble dealing with Bosh when he makes a move 20 feet from the basket without getting help. The problem for defenses is if you help your big man defend Bosh, you'll leave another dangerous offensive option open.
It's not as plain as that. Spoelstra's gambit to take his Finals battlefield creation -- Bosh was moved to starting center in Game 2 as the Heat committed to the small-ball plan they were forced to employ when Bosh got hurt earlier in the playoffs -- and try it out for an entire season may prove to have its pitfalls. It's not the first time the idea of Bosh playing center has been broached; there is nothing new under the sun now that Bosh is 10 years into the league.
But the early returns are showing that Bosh looks to be a good fit for the role and it's something opponents are going to have to learn how to handle. The Clippers, for example, get another try in Shanghai this weekend. Jordan, it can be assumed, might be a little more ready for the changeup that caught him on the chin Thursday.
"I'm not going to be making a big deal about it," Bosh said. "I'm just going to play my game and do my work."