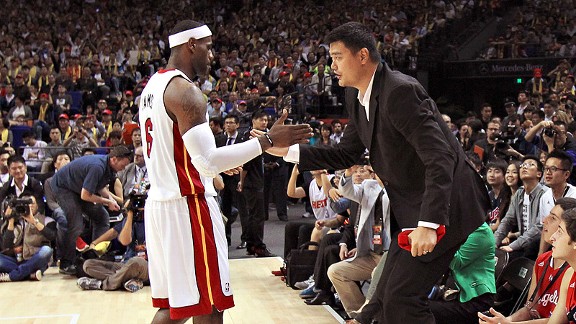 Nathaniel S. Butler/NBAE/Getty Images
LeBron James checked in with Yao Ming in Shanghai. Let's check in with Miami after its China trip.
MIAMI -- After splitting a pair of exhibition games against the Los Angeles Clippers in China and enduring a week of promotional appearances, the Miami Heat returned home Sunday night to cope with their biggest obstacle of the preseason: jet lag.
LeBron James and his teammates logged more than 35 hours of total flight time since they departed Miami for their Oct. 7 preseason opener in Atlanta, a trip that was immediately followed by a seven-day journey through Beijing and Shanghai.
On Monday, the Heat hit the midway point of their training camp and preseason preparation with a much-needed day of rest and recovery. Practice is scheduled to resume Tuesday morning, and the challenge for the Heat will be to get their body clocks reset and their legs restored in advance of home preseason games Thursday against Detroit and Saturday against San Antonio.
In our second installment of the Heat's Monday Progress Report, we break down Miami's primary roster as the team prepares for the Oct. 30 season opener against Boston.
PROJECTED STARTERS
PG: Mario Chalmers: There's still no real way to gauge where the Heat's returning starter stands because he has missed all three of their preseason games with a strained muscle in his leg. Because it's only the preseason, the Heat can afford to take their time to get him healthy. But it's safe to say this has been more than just a precaution; it seems to be a legit concern.
SG: Dwyane Wade: After suggesting he'd try to play in one of the two games in China, Wade pushed through both exhibitions -- and looked surprisingly active and athletic in both, especially on the defensive side of the ball. Wade missed 11 of the 16 shots he attempted in the two games, so his offense is rusty, which is understandable after offseason knee surgery. But he also had 5 rebounds, 5 assists, 4 steals and 2 blocks in what amounted to about three quarters of total court time in two games. Wade certainly had a business incentive to perform in China after launching his new shoe deal with the Asia-based sportswear company Li-Ning. It will be interesting to see how he approaches this week's schedule.
SF: LeBron James: As expected, James put on a show, particularly in the first of the two games in China, when he dazzled the capacity crowd with ferocious dunks and highlight plays on the way to 20 points, 5 assists and 5 steals. In the second game, James basically had it on cruise control and still contributed across the stat sheet. For someone who's played so much the past 10 months, it has to be tough to get up for these preseason games. Complacency will set in for James at some point soon. It is against his nature to want to skip games to rest, so he's likely to play at least some this week. But the more rest coach Erik Spoelstra gives his catalyst now, the better off the Heat will be in the long run.
PF: Shane Battier: Through three preseason games, Battier is shooting an amazing 60 percent from 3-point range on limited attempts. He embodies the definition of hitting the ground running. And it appears Spoelstra will keep Battier in his role from the championship run as the starting power forward to maintain that unconventional look. But the Heat can't hide their struggles to defend and rebound in the lane forever. The Clippers outrebounded the Heat by 31 in two games, with Blake Griffin and DeAndre Jordan combining to shoot 60 percent against Miami's front line. The good news for Battier: He won't have to see players like Griffin and Jordan every night.
C: Chris Bosh: If you're still waiting and hoping for Bosh to be a bruiser who hoards rebounds and forces the action inside the paint when he touches the ball, you should stop wasting your time. Bosh is what he is. Accept it. Just hope for the best -- a few key rebounds here and there and a big shot when James and Wade look his way in the clutch. What we saw from Bosh in China were a lot of fouls defensively and very few paint touches on the offensive end. The Heat should find a way in these preseason games to keep Bosh active and engaged. Otherwise, he's the floating, forgotten man.
KEY RESERVES
G: Ray Allen: It's just a matter of time before the most productive 3-point shooter in NBA history eventually works out the kinks in his transition from Boston. Allen is just 4-of-14 from beyond the arc this preseason. Battier had similar growing pains when he arrived in Miami. But the threat of Allen knocking down a big shot is almost as lethal as making one -- for now. The open looks and spacing are there for him to do his job. At some point, the ball and rim will cooperate.
F: Mike Miller: Perhaps Pat Riley wasn't joking after all. Maybe the Heat will find a way to simply keep Miller on ice until the playoffs and hope he can put together a few of those explosive shooting nights like he had in the Game 5 title clincher against Oklahoma City. In reality, Miller seems to be a charter member of this season's "maintenance" program. Spoelstra has vowed to bring Miller along gradually from offseason back rehab, so the 32-year-old forward was limited to sightseeing in China.
F/C: Udonis Haslem: Another member of the team's preseason M.A.S.H. unit. Haslem has yet to play because of a leg strain, which is a surprise considering he came into camp saying he was in the best shape he's been in three years. Haslem will have to play catch-up in the position-less system when he's healthy. But there should be a place in the rotation for the team's best rebounder.
ROTATION BUBBLE
PG: Norris Cole: Obviously, Cole brought back more into his second NBA season than the high-top fade and pork chop sideburns that have him looking like a young Artis Gilmore. He's also developed a solid stroke from 3-point range to better his chances of getting -- and staying -- on the court this season. Cole was perfect in China from 3-point range on his four attempts. But he has more than twice as many turnovers as assists this preseason starting in place of the injured Chalmers, which is a major problem.
F: Rashard Lewis: On the heels of the failed Eddy Curry experiment, the Heat seem determined to give Lewis every chance imaginable to make this latest reclamation project work in Miami. So far, the rust is overwhelming just about everything Lewis is trying to do on the court. Lewis' potential is promising, because of the skill set he's shown in his career. But it's going to require plenty of time and patience for this to work for the Heat.
LONG SHOT TO WATCH
F/C: Josh Harrellson: After lobbying for a shot with the Heat and landing two extensive offseason workouts, Harrellson finally got a chance to prove what he can do Sunday in Shanghai. In just more than 20 minutes off the bench, Harrellson had 9 points, 6 rebounds, 2 blocks and 2 steals -- and held his own against veterans Lamar Odom and Ryan Hollins. Harrellson, who spent last season with the Knicks, likely is competing with Mickell Gladness, Dexter Pittman and Robert Dozier for one of the Heat's final two roster spots. That potentially makes this a huge week for Harrellson.