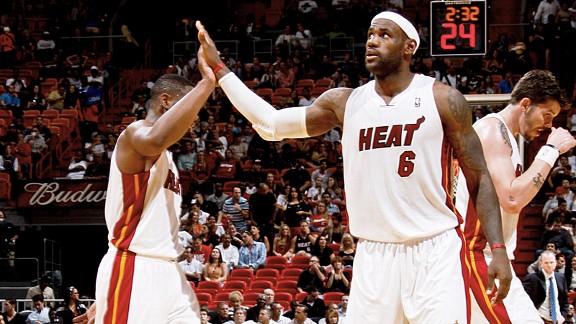 Issac Baldizon/NBAE/Getty Images
LeBron James and Dwyane Wade's play on Thursday caused a Detroit coach to wonder about 82-0.
MIAMI – As LeBron James walked toward the bench with his Miami Heat ahead by 35 points at the end of the third quarter in Thursday's preseason game, a Detroit Pistons assistant approached the scorer's table with a white towel over his shoulder and a befuddled look.
He resisted the urge to throw in the towel.
Instead, he tossed a staggering rhetorical question at the game's official stats crew.
"If they're going to go 82-0 this season, then why the hell are the rest of us even here?" he said, half-jokingly, while shaking his head in disbelief. "We're all wasting our time."
Well, not everyone.
After playing tenacious stretches Thursday as if it were Game 1 of the NBA Finals instead of the fourth of the exhibition slate, the Heat declared themselves a clear work in progress at the midway point of their preseason schedule.
The league might not be ready for the finished product.
On their home court for the first time since they finished off the Oklahoma City Thunder in Game 5 to clinch the title last June, the Heat on Thursday looked like a team that picked right up where it left off from the flickering confetti and Larry O'Brien Trophy presentation.
Don't bother trying to convince LeBron otherwise.
"We have some guys that have not won," James said of his reason for pushing through the preseason as if it's the playoffs. "We have guys that want that feeling again. I am one of the main ones. I'm not satisfied with just one [title]."
Obviously, Thursday's stakes were far less significant. The once-proud, but now perennially pitiful Pistons were victims of a Heat team that will tinker, tease and test-drive lineups all the way up to the Oct. 30 opener against Boston. The next prep test comes Saturday in Miami against the San Antonio Spurs.
No, the Heat won't go 82-0. They probably won't even challenge the Michael Jordan-led Chicago Bulls' record of 72 victories. But one comparison that is already fair to draw between these Heat and the 1995-96 Bulls is the competitive philosophy they took onto the court each day.
The mark of a historically dominant championship team isn't defined by who or when they play as much as it is by how they play, regardless of when they play. Preseason or postseason. It doesn't matter. One couldn't tell by Miami's approach that it was a meaningless game Thursday. The Heat's opponent isn't the next given team on the schedule. They're playing against the standard of their own potential.
"In these exhibition games, you can't play the scoreboard for a lot of different reasons, whether you're up or down," Heat coach Erik Spoelstra said after playing his stars extended minutes – even after the game quickly got out of hand. "You have some things you want to accomplish."
Let's be clear. It would be foolish and irresponsible to overstate a preseason blowout victory on the surface. But it's not difficult to understand Spoelstra's mindset.
This easily could have been dismissed as a throwaway week of preparation, with the Heat still recovering from jet lag off last week's trip to China. Players have said they're still struggling to regain their legs and normal sleeping patterns in the wake of the trip.
Instead of reducing playing time for James, who has been on a relentless run this calendar year, Spoelstra went with his traditional midseason rotations that led to the MVP playing the entire first and third quarters Thursday.
After declaring Wade "day-to-day throughout the preseason" as he works his way back from offseason knee surgery, Spoelstra followed through pregame plans to push Wade to the point of exhaustion Thursday. Wade had 21 points in 23 minutes, showing rejuvenated lift in his legs.
Having endured the extensive travel to China and tested his knee in three consecutive preseason games, Wade said there's less doubt in his mind each time he's on the court.
"I felt terrible. Coach lied earlier when he said I was ahead of schedule. I'm so behind," Wade sarcastically joked before growing more serious.
"You feel yourself getting there. I knew I was going to go out and attack the game, and just try to see where my game was, where my leg strength was. I wasn't even thinking about how I had surgery. It didn't cross my mind. So that whole mindset is gone. Now, I can just focus on getting stronger."
Yet, the Heat aren't even close to full strength beyond James, Wade and Chris Bosh. Mike Miller returned to action Thursday after missing both games in China as a precaution to rest his back. As many as three other rotation players – Udonis Haslem, Mario Chalmers and Joel Anthony – have yet to play in the preseason because of leg muscle strains.
Miami's two key free-agent acquisitions – Ray Allen and Rashard Lewis – are both struggling with their 3-point shooting and are working through the transition kinks.
Trying to establish a second-unit rotation has been almost impossible because of the nagging injuries, and the team still carries the maximum of 20 players from training camp because several end-of-the-roster prospects have yet to distinguish themselves to claim the likely two available slots.
All those issues are easy to mask when James is performing at a triple-double pace, when Wade is attacking on both ends and when Bosh is engaged and aggressive. For extended stretches, that all made a Thursday night in October look a lot like a Thursday night in late June.
"There's a reason why they're champs; they aren't waiting for the regular season," Pistons coach Lawrence Frank said. "It goes way beyond having great players. They defend first and have unbelievable pursuit of the ball. They share the ball, and are a good example of what a champion is."
But the Heat insist they're something else right now, too.
"A work in progress," Bosh said. "Keep finding out how to get better. We need to look at a bunch of different things."
The Heat see themselves as a construction zone, a project.
The view of them from the opposing team's bench is a bit more picturesque.