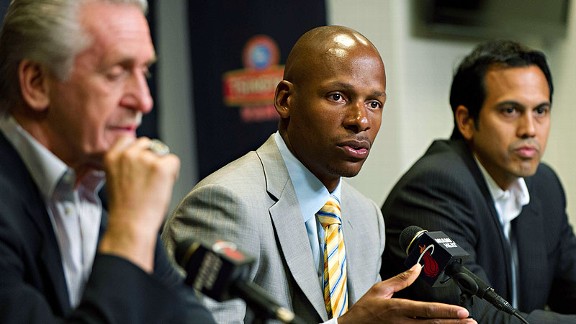 Steve Mitchell-US PRESSWIRE
Pat Riley and Erik Spoelstra hope Ray Allen helps Miami avoid a post-title letdown like in 2006-07.
MIAMI – And so it begins.
Tuesday marks the opening of the NBA's regular season and also the beginning of the Heat's quest to do something that has been done only once in the past decade: win back-to-back NBA championships.
Heat president Pat Riley, who has won five titles as a coach and one as an executive, knows this feeling all too well. In his 1988 book "Showtime," Riley explains the potentially poisonous effect of winning the title and warns of a post-championship hangover he coined "the disease of more."
"Dissension tore up the Lakers in the year following that championship," Riley wrote in reference to the 1980-81 squad that lost in the first round after winning the 1980 title. "Success is often the first step toward disaster. I call it 'the disease of more.' People start thinking, 'I'm really the key ingredient. It was my quality minutes off the bench,' or 'It was my brilliant coaching decisions.' Or 'It was my outstanding defense.' People who were quiet during the lean years suddenly want more money, more playing time, more recognition. And they get aggressive and jealous about pulling in their 'more.'"
Yeah, probably want to nip that in the bud this time around. Heat fans will remember the disastrous repeat campaign in 2006-07, a season that was wrought with overweight players, devastating injuries to its stars and utter disappointment for its faithful. After starting out a woeful 13-17, Riley briefly stepped away from his head coaching position to tend to hip and knee issues. The Heat ultimately lost in the first round of that postseason, just like Riley's 1980-81 Lakers team.
With the so-called "disease of more" in mind, Riley and Heat coach Erik Spoelstra opened up the Heat's training camp with a lesson in less. That is, the importance of sacrifice.
"We talked about that the very first day," Spoelstra said ahead of Tuesday's season opener. "It's a big sacrifice to be a part of this team. That's not just a word ... that's not an empty word. Everybody lives it in terms of salary, minutes, opportunities, whatever it is."
The natural reflex is to compare this 2012-13 squad to the 2006-07 one that tried and failed to win back-to-back titles. But Spoelstra, who served as Riley's assistant coach during that trying season, doesn't see the connection.
"You can't even compare," Spoelstra said. "That team didn't have its health, so it's hard to judge. That's why I don't compare this year to that year. We came out of training camp and we were already banged up."
Ray Allen, Dwyane Wade (a member of that 2006-07 team), Mario Chalmers, Udonis Haslem (also played in 2006-07) and Joel Anthony have all battled injuries and rehab this preseason. Isn't this squad banged up a bit, too?
"Not like that team," Spoelstra said before catching himself. "Knock on wood."
Not surprisingly, Wade agreed with Spoelstra's sentiment, distancing this team from that one.
"Yeah, it's different," Wade said. "That's two totally different worlds. You can't worry about that, different times and different team."
The presence of LeBron James probably has something to do with the different identity. While James is still in his prime and hungry after his first taste of the title, the 2006-07 team's veteran leader was Shaquille O'Neal, who was 33 years old and coming off his fourth title. James Posey and Antoine Walker showed up to camp out of shape and failed a conditioning exam that got them benched during the season.
However, Spoelstra insists the makeup of this team is completely different.
"Virtually every single person on this team has had to sacrifice, and that's a 'we' concept, not a 'me' concept," Spoelstra said. "If you're based solely on 'me,' you're not willing to do those things to help you win."
The Heat's repeat campaign starts on Tuesday against the Boston Celtics, a rival that has learned firsthand how difficult it is to defend the title. Back in 2007-08, the Celtics and their big three of Allen, Kevin Garnett and Paul Pierce took down the Los Angeles Lakers en route to their first title in more than 20 years.
The odds of a Celtics repeat were strong. After being the early preseason favorites in 2008-09, the Celtics blitzed to a torrid 27-2 record that marked the best start in NBA history, in addition to a 19-game win streak. Things were good, and then suddenly, they weren't. Garnett endured a season-ending knee injury shortly after the All-Star break, and the Celtics were defeated by Dwight Howard and the Orlando Magic in the 2009 Eastern Conference semifinals.
So much for the repeat. The Celtics' reign over the NBA was short-lived, much like nine of the past 10 champions who failed to grasp the Larry O'Brien Trophy two seasons in a row.
So why is it so hard? Well, winning a title in the first place is pretty darn hard when there are 29 other teams competing for the same goal. Then there's that pesky target on the back of your jersey that comes with winning it all. Complacency could set in, as it did with Miami's 2006-07 squad.
But when asked if there was a mentality change in that disappointing 2008-09 season, Celtics coach Doc Rivers refuted the very premise of a title defense.
"I never have believed that anybody ever is defending the title because that was last year," Rivers said Monday. "[The Miami Heat] don't own the team trophy this year. That's what I tell our guys here. Miami is defending nothing. You don't give your trophy back. That's in boxing -- you give the belt back. That's defending a title. [The Heat] don't have this year's trophy, so they're not defending it. That's the way we look at it and that's the way we tried to look at it [in 2008-09]."
Spoelstra has embraced a similar tone with his team. Back on media day, Spoelstra stressed the importance of looking forward and not in the rearview mirror, even vowing never to use the word "repeat" when talking about what's at stake this upcoming season.
On Tuesday night, the Heat will be forced to look backward for a few moments. That's when the team will receive some championship hardware during the pregame ring ceremony.
"The hard part is now we have to relive the past," Wade said of the ring ceremony. "That's something we enjoy -- getting our rings -- but we have to do it in the beginning of the season. That's the tough part, reliving the past when we're ready to move forward. We'll try to do our best with it."