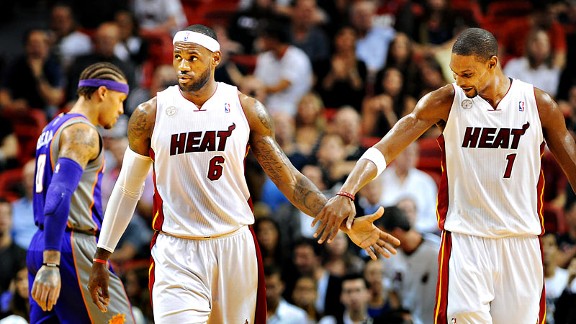 Getty Images
The Heat turned the tables on a franchise that used to push the pace like no other.MIAMI -- What if the Miami Heat employed "Seven Seconds Or Less?"
Well, we saw it on Monday night in Miami's 25-point win over the Phoenix Suns. The Heat pushed the pace, drained 15 of 26 3-pointers and scored a staggering 124 points.
Yes, you could say the Phoenix Suns got a taste of their own medicine in this one.
This is the Heat's blueprint this season, but the seeds were planted during the lockout. Two summers ago, Erik Spoelstra met with Oregon's unconventional football coach Chip Kelly and came away with a high-octane offense built on speed and athleticism that Spoelstra coined as "pace-and-space."
No, it doesn't have the same ring as "Seven Seconds Or Less," but it's essentially the same idea. Push the pace, spread the floor and find shooters. This Heat team might not have Steve Nash, but they make up for it by having up to four -- maybe five, if you count Chris Bosh -- ball handlers on the floor at any one time.
The result? Thirty-three assists, and LeBron James contributed only one of them. In fact, it was only the eighth game in James' career that he tallied one assist or fewer. And yet, this team has never tallied more assists in a game during the Big Three era. When the Heat possessed the ball, it was seemingly for only a moment or two before they found a wide-open shooter.
"Stunned" is the word you would use to describe the Suns' reaction to the Heat's play.
"I don't know what to tell you," Suns coach Alvin Gentry said after the game. "They're a great team."
Judging by Jared Dudley's comments after the rout, the Suns forward could have a side job as the Heat's PR rep.
"That was probably the most unselfish team I've ever played against since I've been in the NBA," Dudley said. "It was drive, kick, swing, penetrate, flair -- I mean they were hitting everyone.
"That's the way basketball is supposed to be played. They perfected it to a T."
Suns point guard Goran Dragic chimed in as well.
"We're playing the world champions," Dragic said. "And they gave us a lesson."
This is nothing like what we saw from this Heat team two seasons ago. In their embryonic stages of Big Three ball, the Heat were a slow-it-down, pound-the-rock offense and they embraced their guerrilla warfare mentality, too.
Two years ago at a Heat practice ahead of a Suns game, Dwyane Wade literally laughed at the mere thought of playing in a Seven Seconds Or Less offense.
"No, no, no," Wade said of the run-and-gun style. "I don't want to run that much. I don't want no part of that. I don't want to play that way."
Nowadays, Wade has changed his tune a little bit.
"That was it," Wade laughed when reminded of his quote years ago. "It's fun to play that way."
Here's the key difference between the Heat's version and the Suns' version of up-tempo basketball: The Heat dedicate themselves on the defensive end, too. Wade made it a point to emphasize that the Heat will struggle to play at this pace and maintain a stellar defense. The Heat racked up 103 possessions on Monday, which is nearly 10 possessions faster than their average last season (93.6 possessions).
Monday's game illustrates the inflationary effect of pace on the bottom line. More possessions mean more scoring opportunities for the defense as well, so the Heat were much better on that end of the floor than the Suns' point total suggests.
Under normal circumstances, no team would boast about giving up 99 points to the opposing team. But these were not normal circumstances. In fact, the Heat's defensive output was their best of the season once you adjust for pace; the Heat's defensive efficiency on Monday was 96.3, far lower than their seasonal rate entering the game of 113 points per 100 possessions. (Reminder: Defensive efficiency is like a golf score -- lower is better.)
Pace doesn't only exist in the vertical dimension -- up and down the floor. Spoelstra emphasizes the horizontal aspect, too, whipping the ball around the court, side to side, preying on the teams' reaction time and wearing them down. Everything built on speed.
Yes, you'll see lots of swing passes this season in Miami.
"Swing, swing, swing, swing, make the extra pass, get the open look," Ray Allen said. "Whether you make it or not, we're exhausting the defense and they're not running as much because they're tired."
Once again, Allen was a main beneficiary of the lightning-quick ball movement. But this time he was doling out the assists, which is not something he did in Boston. Allen had 15 points, 6 rebounds and 6 assists on Monday.
How many times did he do put up that line over five seasons in Boston?
Allen laughed when he was asked the question after the game.
"Not many."
The answer is one. He did it in a game against the Indiana Pacers back in 2010.
"I'm glad I'm in Florida," Allen cracked with a smile.
What's most notable about Allen's assists is that three of them were for 3-pointers. Often times in Boston, Allen would be the only 3-point shooter on the floor, but now he's feeding Rashard Lewis for 3-pointers just like he did in Seattle.
All in all, eight different Heat players knocked down 3-pointers. That's the space part of the equation. And the pace? In addition to registering 103 possessions, three different Heat players tallied at least six assists -- and a de facto point guard such as James wasn't even one of them.
"They are hard to defend when you have LeBron James and Dwyane Wade, two guys that are very unselfish," Gentry said. "That in itself makes it impossible to guard."