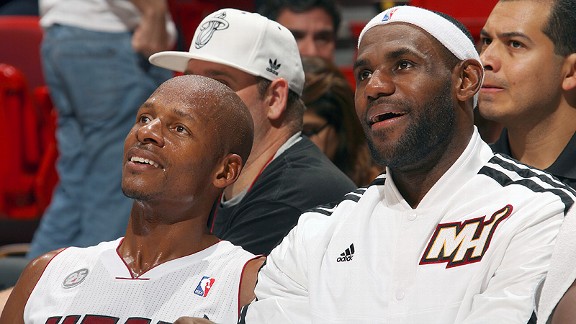 Issac Baldizon/NBAE/Getty Images
Ray Allen's all smiles now that he gets to reap the benefits of playing next to LeBron James.
MIAMI -- Late in the first quarter during the Heat's win over the Denver Nuggets on Saturday, Ray Allen flared off an off-ball screen from Udonis Haslem and darted toward the top of the key. LeBron James, who controlled the ball from the right block, hit Allen with a lob pass. Allen squared up, elevated and drained a 3-pointer.
Just like old times.
That's how Allen scored the majority of his points in Boston, constantly running off screens away from the ball. But what's remarkable about this particular play against Denver is that it represents the only Allen jumper this season that was made off an off-ball screen.
Think about that: 13 made jumpers so far from Allen and only one via an off-ball screen.
It's astounding to see Allen's transformation so early in the season. No longer is Allen routinely curling off pindowns and rubbing shoulders with his teammates in an effort to create space between him and his defender.
Allen is averaging 15.5 points so far off the bench and currently holds the league's best effective field goal percentage (field goal percentage that is weighted for 3-pointers) among perimeter players. But the way he's getting those efficient opportunities is foreign to what we're used to seeing from Allen. According to Synergy Sports tracking, 36 percent of Allen's offense last season was created off screens, his most frequent scoring play type. This season, that percentage here in the early going has been sliced to just 9.5 percent.
"I'm not going back and forth running off screens and trying to get the defense moving," Allen said. "Typically, I was the trigger in [Boston's] offense. Here, everybody has an opportunity to make a trigger."
The talent part of the equation
With defenses collapsing on James, Dwyane Wade and Chris Bosh, Allen can now sit back, relax and wait for the open shot. Seeing all the talent on the roster, Heat coach Erik Spoelstra has infused a mentality this season that emphasizes rapid ball movement to create space. Space that Allen doesn't have to burn 1,000 calories to find.
"I love it, I love it," Allen said of Miami's pass-happy offense. "I'm the recipient a lot, but at the same time, I try to make plays and not be one of those guys who is a ball-stopper."
In Boston, Allen had to expend so much energy off the ball to free himself from his defender because they lacked multidimensional scorers outside of Paul Pierce. Rajon Rondo wasn't a threat from the perimeter; the 36-year-old Kevin Garnett rarely ventured into the paint; Brandon "No Pass" Bass never saw a 20-footer he didn't like.
The result? The NBA's seventh-worst offense last season.
When asked to compare Miami's offense and the one he played for in Boston, Allen pointed out that Miami's triggers weren't "predetermined" by elaborate X's and O's. Instead, the Heat find offense early in the shot clock by playing off each other and not making it overly complicated to find an open shot.
"We had great talent and positions," Allen said of his time in Boston. "But we weren't as great utilizing each other, making sure we got to the spots and made the simple plays."
Of course, it's all about personnel. The simple plays are simpler when LeBron James and Dwyane Wade are your teammates.
"The defense can't really shade to me now like they did in years past," Allen said. "I've had great shooters on the team in years past, but with LeBron and D-Wade on the floor, that has an effect ... the talent is just so immense."
As a result of talent on the floor, Miami's offense is immensely simple at times, too. During one possession against the Nuggets, James dribbled the ball up the court down the right sideline into a half-court set where all five Heat players stood just outside the 3-point arc. Standing in the right corner, James swung the ball to Chris Bosh on the right wing. Bosh swung it to Mike Miller at the top of the key. Miller found Shane Battier on the left wing, then Battier passed it to Allen in the left corner.
After a game of hot potato, Allen spotted up and drilled a left-corner 3. How'd he get so open? Because the Nuggets put two on the ball when James held it on the right corner and they forgot to rotate over to Allen on the other side of the court. Denver's priority list was clear: Stop James, worry about everyone else later.
The deadly Ray Allen left-corner 3
That 3-pointer was one of five shots that Allen has hit this season from the left corner, his favorite and most lethal spot on the floor. Everyone remembers the game winner against Denver, but Phoenix on Monday also found it hard to stick to Allen in the corner. If you leave Allen open in the corner, more often than not it's "curtains" as Allen called it on Saturday.
Spoelstra knows Allen alone in the corner is a devastating proposition for opposing defenses. You can see the chart below, courtesy of vorped.com, where Allen has taken his shots this season (including preseason) compared to 2011-12 in Boston. (Helpful tip: Shaded circles are made shots.)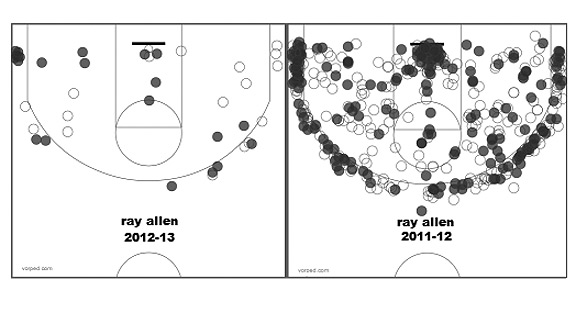 We can see an emphasis on corner shots, but Spoelstra and Doc Rivers are using different means to an end. Allen gets the same looks, but he gets them just by spotting up rather than running off screens. In Miami, an astounding 50 percent of Allen's offense has been generated off of spot-ups. In Boston last season, that figure stood at just 19 percent.
Saving energy for the 'new' Allen
Same opportunities, less work. You can imagine why Allen prefers Miami's offense.
"What we've drilled early is when you get the ball, make a quick play. Make a quick pass, cut, do something that's going to get your teammates open," Allen said. "Most times that I run now, it's in transition. Those are my opportunities to get that physical exertion in."
For a 37-year-old with about 50,000 minutes on his NBA odometer, the preservation of energy is increasingly important, even for a conditioning freak like Allen. It allows him to expend energy elsewhere -- on the defensive end, on the boards and making plays for others.
That last part is something that Allen has taken extra pride in this season: playmaking. Spoelstra has given him the green light in this area, a move which Allen recently called "one of the primary reasons" he joined Miami.
In Monday's game, Allen tallied six assists, a total he reached only three times in all of last season in Boston. And he's hitting players in efficient areas; nine of his 12 assists this season have resulted in a make at the rim or behind the 3-point line. Needless to say, Allen's enjoying his freedom to handle the ball and make plays for others.
"The opportunity to do that, I'm just ecstatic about it," Allen said. "So many guys, they run out at me and try to take me off the 3, I'll go right by you and then make a quick pass and get somebody else an easy shot."
On Monday, James was that "someone else" after Allen kicked it to him in the right corner for a 3-pointer in the third quarter, one of Allen's six assists. Is James surprised to see this "new" Ray Allen?
"Nope, because I knew he always could do it," James said. "A lot of people forget what type of player Ray was before Boston."