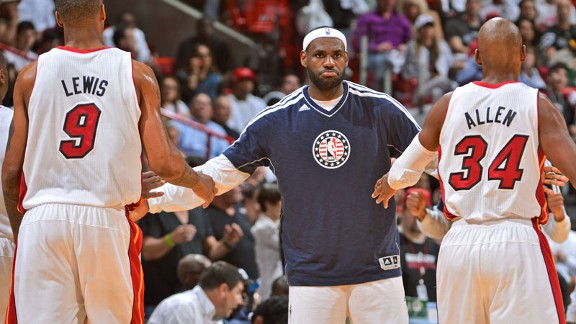 Jesse D. Garrabrant/NBAE/Getty Images
Ray Allen and Rashard Lewis have each hit 3-pointers thanks to LeBron James' hockey assists.
MIAMI -- People must be really getting antsy about the NHL lockout because all anyone could talk about in the Heat locker room Wednesday night was hockey.
Yes, hockey.
Well, maybe not hockey itself, but rather the hockey assist.
What's a hockey assist?
It's a stat tracked in hockey that credits a player who assists the player who assists the player who scores. In other words, it takes the assist one step further. Hockey assists are easily tracked in hockey because there are only a few scoring plays in a game. But basketball? Yeah, that takes some extra work.
But with this Heat team, that extra work might be worth it.
Watch Miami play for a few possessions and it's impossible to ignore the rapid ball movement. The team's "pace and space" brand of basketball is predicated on spreading the floor and quickly whipping the ball around the court. As a result, the Heat are piling up assists like never before. Their current average of 25.4 assists per game would break a franchise record.
The Heat pay attention to hockey assists internally, and that's good news for LeBron James because he was spared from public shaming for tallying only one assist in Monday's game against Phoenix. Believe it or not, it was just the eighth time in James' career that he failed to record more than one assist in a game.
But close observers probably noticed that James was setting up plenty of shots Monday; the key is that it took an extra pass to get there. After reviewing the tape, James tallied three hockey assists in Tuesday's game, including two that resulted in made 3-pointers.
In Wednesday's blowout win against the Nets, much was made of the fact that James was two assists shy of a triple-double. But James tallied two of the team's six hockey assists in the game, which would have given him the requisite assists needed to tally a triple-double.
"Very few players have an understanding what a hockey assist is," coach Erik Spoelstra said. "[LeBron] is able to read the situation and make the hockey assist knowing that it's going to take one or two passes for a wide-open shot. He can make those calculations as fast as any player I've been around."
In fact, a review of the game tape reveals that James has nine hockey assists in five games, which gives him more hockey assists than Mario Chalmers, Dwyane Wade and Ray Allen combined. James' average of 1.8 hockey assists per game would tie Derrick Rose's league lead last season, according to games tracked by 3-D camera tracking by Stats LLC. This season's data was not made available by Stats LLC, but more and more teams are tracking it, by hand or by state-of-the-art technology.
Also interesting is that hockey assists tend to be more rewarding than regular assists. The 26 hockey assists the Heat have tallied this season have led to 16 3-pointers, with an average yield of 2.6 points. A regular assist? Just 2.2 points.
Chris Bosh has only seven regular assists this season, but he has more hockey assists (four) than any of his teammates not named LeBron James. That's part of a big man's job, to kick out to shooters and restart the offense if there's nothing there in the post.
The biggest recipient of hockey assists? That would be Allen, who has made six shots via the extra pass, all of which are 3-pointers.
Hockey assists by the Heat in 2012-13
James first heard about the hockey assist when he was a teenager at St. Vincent-St. Mary High School in Akron, so it's no surprise that he's racking them up.
"We always talked about hockey assists back in high school," James said. "I just come from an unselfish brand of basketball; that's how my little league coaches taught me all the way up through high school."
Wade was introduced to the concept in college playing at Marquette for coach Tom Crean, now the coach of the Indiana Hoosiers. According to Wade, Crean actually placed greater importance on hockey assists than on regular assists because it promoted another level of ball movement. Crean was so big on hockey assists at Marquette that he left a little note on each locker with the player's hockey assist count after each game.
"If you didn't have any hockey assists, you have would have a big doughnut on your locker," Wade said.
Shane Battier, who has been the recipient of four hockey assists this season, can't believe it's not tracked in the standard box score.
"I'm surprised they haven't come up with a 'saberstat' for that yet," Battier said, alluding to the sabermetrics movement in basketball. "That's the way basketball should be played."
Of course, there's a downside to all of this: the dreaded overpass. That's a temptation that often occurs with this Heat team that sometimes features four potential Hall of Famers on the same court. You have to be selfish at times, too.
"There's that gray area between overpassing and making the right pass," Bosh said. "We make sure we get on guys if somebody passes an open shot. That's the worst thing in the world because it kind of stops what we do."
It's taught at the early levels to make a pass to get a better shot. But how do you know if it's a better shot? That's the tricky part. If you ask Battier, you must channel, yes, "the Force."
"When the ball's swinging, you have to have a Jedi sense to feel that next defender," Battier said. "Is he going to rush out at me? Is that passing lane open? It's not something you're taught; it's a feel thing. There is a balance. You can overpass, but it's a much better problem than underpassing."
A textbook hockey assist opportunity fell into the hands of Chalmers on Wednesday night. After making a post move to the middle of the paint, Bosh kicked it out to Chalmers on the left wing when the defense collapsed. Chalmers had a pretty open look, but you know who had a better look? Battier, who was nestled into the left corner. Wide open.
So what did Chalmers do? Touch pass to Battier. Battier shot an uncontested left corner 3, maybe the most efficient shot in the game, and drilled it.
Chalmers passed up a good shot for a better shot. That's the spirit of a hockey assist.
"It's just good basketball," Battier said. "With the shooters and attackers we have, the ball should never be stagnant, it should always hop. Good things happen when that happens."