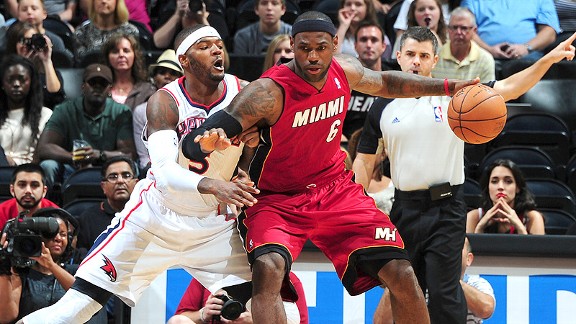 Scott Cunningham/NBAE/Getty Images
LeBron James and Josh Smith face off Friday night. Is he LeBron's toughest matchup?
In another installment of the Heat Index's 3-on-3 series, our writers give their takes on the storylines before the Heat visit the Hawks on Friday and aim to go to 5-1 on the season.
1. Fact or Fiction: Josh Smith is LeBron James' best defender.
Tom Haberstroh: Fact. With James sliding to the block a little more this season, Smith has the size and the athleticism to stay with "big man" James more often than not. You could make a convincing argument for Luol Deng or Andre Iguodala, but if Smith is locked in, James will have to work much harder for his offense.

Michael Wallace: Fact. If I had to start a list, it would most likely be topped by Smith, aka J-Smoove. Nobody stops LeBron, but Smith's combination of size, mobility and athleticism give him the necessary tools to be a bit of a defensive pest if he's motivated. I'd also have Shawn Marion and Metta World Peace on that list too.
Brian Windhorst: Fiction. Smith has the ability to challenge LeBron in the post because of his length and leaping ability. To be honest, there is no defender in the league that LeBron doesn't have success against. Over the years, the guys who have bulk to keep him from getting to his preferred spots have had a whiff of a chance. These are guys like Paul Pierce, Metta World Peace and Rudy Gay. Frankly, though, there is no one-on-one matchup that causes LeBron to blink anymore.
---
2. Over/Under: The Hawks will win more than 45 games this season.
Haberstroh: Over, by a game or two. I'm fully on board the Hawks bandwagon. The addition-by-subtraction element of unloading Joe Johnson's contract will be fascinating to watch this season as Jeff Teague and Al Horford see more sunlight in the offense. Horford remains one of the most underrated bigs in the league. I'm also a big fan of Lou Williams' efficiency coming off the bench. With Indiana taking a hit, I'm ready to pencil the Hawks into a top-four seed in the East along with Miami, Boston and New York.
Wallace: Over. I'd give them one or two more wins. The East simply lacks true beasts beyond the Heat. The Pacers and Bulls are banged up, the Celtics are regrouping, and everyone else of note is still trying to find itself. I wouldn't be surprised if Atlanta takes advantage of some of the conference's instability.
Windhorst: Over. There are two factors I'm weighing in their direction. One is that the East is banged up. The Hawks are already taking advantage, edging past a Danny Granger-less Pacers team earlier this week and winning in Oklahoma City. But I expect them to lose some games they have no business losing. Second is I expect them to be active in the trade market. Atlanta has some assets and flexibility and could be big-game hunting around the deadline.
---
3. Over/Under: The Heat will win four games on this six-game road trip.
Haberstroh: Push. I'm guessing they'll lose two of their six games in nine days and return to Miami with an 8-3 record. You can pretty much guarantee the Heat will drop the game in the Mile High City on a back-to-back. That's just a brutal matchup after running with Chris Paul the night before. Beating the Memphis Grizzlies and the Los Angeles Clippers is possible, but I wouldn't bet on it, especially given Memphis' size underneath. Tough road ahead for the Heat.
Wallace: Push. I've got the Heat going 4-2 on this trip, with the slip-ups coming in Memphis and Denver. Overall, that's still a successful trip.
Windhorst: Just right. I project 4-2. They have to play four games in five nights at the back end, culminating in Denver. If the Heat somehow win in Denver, it should count as two wins. The Nuggets will have had two days off. Plus on a trip like this through four time zones, you always expect even the best teams to have an off night. The Heat are playing great, but 4-2 should be considered a success.