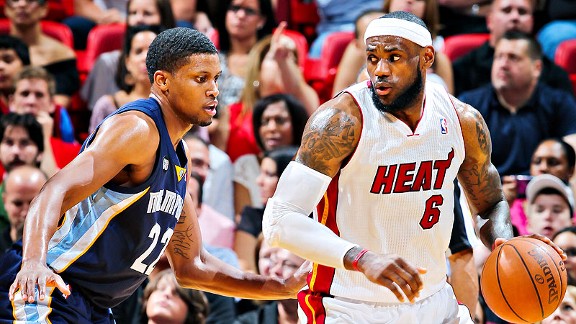 Joe Murphy/NBAE/Getty Images
Will LeBron James get his first triple-double of the season against Memphis' Rudy Gay?
In another installment of the Heat Index's 3-on-3 series, our writers give their takes on the storylines before the Heat visit the Grizzlies on Sunday and aim to improve to 6-1.
1. Fact or Fiction: Memphis is the toughest game on this road trip outside of Denver.
Tom Haberstroh: Fact. A real test for the Heat's small-ball attack. When Erik Spoelstra decided to start Shane Battier at the power forward slot this season full-time, there were two teams that gave him the most apprehension: Memphis and the Los Angeles Lakers. This makes sense obviously given the mammoths up front, but Spoelstra's confident that the speed and spacing will triumph over size. We'll see.

Michael Wallace: Fact. Although the Clippers could get hot and cause headaches with Chris Paul, and you never know when James Harden will erupt in Houston. But the Grizzlies are a balanced, big and rugged team that could expose the Heat's shortcomings in the paint with Zach Randolph and Marc Gasol. They also defend and have versatile playmakers on the perimeter.
Brian Windhorst: Fiction. You could make a case, of course, but I rate the Clippers game ahead of it. Nonetheless, the Grizzlies are the type of team that is supposed to give the Heat trouble because of their interior size. Marc Gasol is the best true center they faced up to this point and he's off to a good start this season. Thing is, though, the Heat have their ways of mitigating size and they convinced me last season that it's a not really a true long-term concern for them when healthy.
---
2. Over/Under: 7 triple-doubles from LeBron this regular season.
Haberstroh: Under. He'll come close to averaging a triple-double on a per-36-minute basis, but he's not playing long enough in these routs to rack 'em up. Considering that LeBron has played 147 games for Miami and only recorded four triple-doubles, seven triple-doubles seems a bit aggressive. LeBron can mess around and get a triple-double every night, but he has to get minutes.
Wallace: Over. I say nine. I realize that may be going a bit high, but he simply makes the entire game look so easy. The addition of Ray Allen to knock down shots will put LeBron in position to get a triple-double almost every other night. He can take care of the points and rebounds himself. So it's just a matter of having guys knock down a couple of more open shots he'll create with his passing.
Windhorst: Under. His increased rebounding and the Heat's array of shooters means he'll get more than the one he had last season. But seven is way too many, especially because it feels like at least a quarter of the Heat's wins will be blowouts.
---
3. Fact or Fiction: Heat would rather play Grizzlies than Lakers right now.
Haberstroh: Fact. As good as the Grizzlies have looked, Dwight Howard remains the biggest antidote to the Heat, even at 80 percent. I also get the sense that the Heat don't want to be the one to wake up the sleeping giant.
Wallace: Fiction. I still think the bright lights and big stage bring out the best in the Heat. And there are no brighter lights than the ones fixed on any matchup LeBron and Co. have with Kobe and his crew. On the other hand, these games against Memphis, especially one like Sunday's matinee tip, have a tendency to lure the Heat into a sleepy, sluggish performance.
Windhorst: Fiction. Everyone wants to play the Lakers now. Nash is out, Howard isn't 100 percent, Phil Jackson is trying to get every road game in an undesirable city off. Get them while the getting is good.