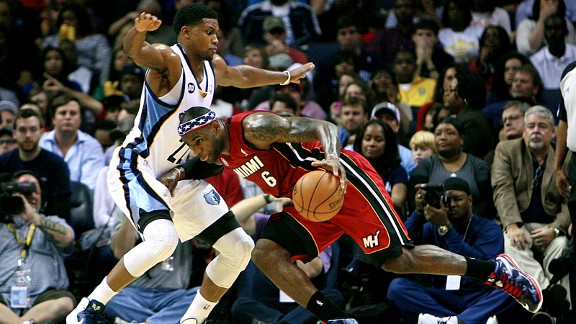 pruce Derden/US PRESSWIRE
LeBron James and the Heat have a hard time contending with the versatility of Rudy Gay and Co.MEMPHIS, Tenn. -- Considering it was a football Sunday, it came as little surprise when Miami Heat coach Erik Spoelstra spoke in gridiron terms when he previewed his team's matchup against the gritty Memphis Grizzlies.
The Heat didn't simply need to hold their own in the paint against Memphis' much bigger frontline. Instead, they needed to …
"Win the line of scrimmage," Spoelstra said, anticipating an all-out interior battle.
And Miami couldn't simply settle for its floor-spacing, free-flowing, perimeter-friendly style of play.
"It needs to be three yards and a cloud of dust," Spoelstra declared.
By most measures, the Heat entered Sunday's matinee game equipped with the proper theme and the right scheme.
And they got blitzed and sacked anyway in a 104-86 loss that was more a testament to Memphis' balance and less of an indictment on Miami's beleaguered state for a game.
A Heat team that prepared for a slugfest in the trenches against heavy hitters in 7-foot-1 Marc Gasol and rebounding beast Zach Randolph was instead shot down from distance by 14 total 3-pointers, including a career-high seven from role player Wayne Ellington off the bench.
In other words, the Heat came in expecting one thing and were forced to deal with quite another. It was a textbook case of the okeydoke. And when it comes to these showdowns with Memphis, results like Sunday's are no longer a fluke. They're becoming a pattern.
The only other team that's given the Heat these type of fits was a Dallas Mavericks squad that beat Miami in six games during the 2011 NBA Finals. That, of course, had much more at stake than regular-season games.
But these Grizzlies have now won three of four meetings against the Heat since LeBron James and Chris Bosh joined Dwyane Wade in Miami. When Spoelstra and the Heat shifted their philosophy to playing small-ball and spreading the floor to beat teams with speed and finesse, this Memphis team was one of the few in the league with the balance and bulk to force Miami to blink in its approach.
On Sunday, we all saw just why.
"You go into the game with a game plan, and it was there for the taking," said LeBron James, who had 20 points, 10 rebounds and six assists in 36 minutes while playing with a bruised right knee. "The game plan coming in was to protect the paint … we paid for it today, though. They shot the ball well. That's where we've lost games so far. We lost because a team shot the ball extremely well."
The Heat are 5-2, with the other loss coming in the second game of the season to a Knicks team that made 19 shots from 3-point range in a 104-84 victory in New York.
Before the game, Spoelstra disputed the notion that the Grizzlies are a team that flies under the national radar and gets overlooked in discussions about contenders out West. He made mention of a sports column in the local newspaper that suggested Sunday's game between the Heat and Grizzlies could be a NBA Finals preview.
"It depends on what you read or who you're talking to," Spoelstra said. "Because a lot of people in the industry still feel that they're a legitimate contender. That's the way we view them. They've proved that the last two years in the playoffs. Just today, in the local paper, they're being predicted to be in the Finals. We're aware. We live in those expectations. Now they have to live with those as well."
The Heat also reside in a league that has gerrymandered them a bit of a favor by stationing these Grizzlies in the Western Conference, violating every geographical piece of evidence that proves they should be in the East.
Exhibit A: The Grizzlies are the only Western Conference team located in a city that sits completely east of the Mississippi.
Exhibit B: Memphis barbeque is distinctly and delectably Southern.
Exhibit C: Even FedEx Forum's other main tenant, the University of Memphis' basketball team, is headed to the Big East next season.
Hypothetically shift the Grizzlies to the East, and they'd clearly be at least the second-best team in the conference and the biggest threat to the Heat's supremacy. They're bigger than Boston, better than Indiana and tougher than Chicago, New York, Brooklyn and Atlanta.
But as a geographical misfit out West, Memphis is a perennial afterthought, stuck in the public popularity standings behind the teams in Los Angeles as well as Oklahoma City, Dallas and, perhaps, San Antonio.
The Heat only have to see these guys twice a season, and one of those occasions is now behind them. Thankfully.
Mercifully.
"They've got a lot of guys that complement each other very well," James said. "You try to protect the paint with this team, because they got so many guys who patrol the paint. Marc and Z-Bo. Rudy Gay is like -- and I don't know if I can say this, because he's so talented -- but when he's like the third option, you have a really damn good team."
And that team also includes Mike Conley, who has carved out a spot as one of the most improved point guards in the league since that rocky start to his career. He picked apart the Heat with 18 points and nine of the Grizzlies 26 assists.
That team also is boosted by a bench that outscored the Heat's reserves 41-26. It's a team that's anchored by a defense that held Miami to just 38 percent shooting, including a 3-of-15 clip from the field by Dwyane Wade, who was still sluggish with flu symptoms after missing Friday's game.
And at the helm is Lionel Hollins, who is every bit the motivator and coach that Doc Rivers is yet lacks the franchise tradition and the media market Boston boasts.
"They're a good team. Plain and simple," Bosh said of the Heat's struggles against the Grizzlies. "We don't get a chance to play them, of course, because they're in the Western Conference. I'm not sure if it's matchups, or things like that because we're a different team than we were last year, and last year, we were a different team than two years ago. You have to give credit to them. They had the same core for a while and they've been improving year by year."
Not many folks outside of Memphis are talking about a potential Heat-Grizzlies matchup in the NBA Finals.
But if styles make fights, this is one certain to give Miami fits.