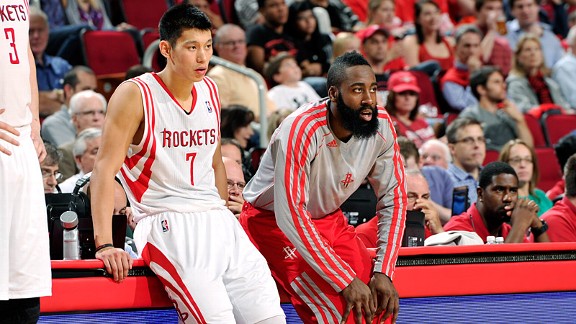 Bill Baptist/NBAE/Getty Images
How much did Miami's championship chances change when James Harden left Oklahoma City?
In another installment of the Heat Index's 3-on-3 series, our writers give their takes on the storylines before the Heat visit the Rockets on Monday and aim to improve to 6-2.
1. Fact or Fiction: Harden trade impacts Miami's title chances more than D'Antoni hire.
Tom Haberstroh: Fact. Is Mike D'Antoni a doctor? If Steve Nash and Dwight Howard aren't 100 percent healthy, the Lakers might as well be coached by a lampshade. Those two players have to get right before Miami has to worry about seeing them in the Finals.

Michael Wallace: Fact. Perhaps. I'm not really sold on the notion that either of these developments impacts the Heat's title chances all that much. James Harden flat-out stunk in the Finals against Miami for OKC. He's no longer there, but it wasn't like he showed up last season in June. And I'll take a wait-and-see approach with D'Antoni in Lakerland. What impact will he have on the Lakers' defense?
Brian Windhorst: Fact. The Lakers' personnel is the Lakers' personnel; they're going to be a big team with some limitations in the ways they can play. Having a different coach will not totally change that. They might end up making another trade, and then the conversation would change. I picked Oklahoma City to win the West even after the Harden trade, which I believe weakened their playmaking ability for the short term. Therefore, anything that happens with the Thunder's personnel has more impact on the Heat.
---
2. Fact or Fiction: Now it's time for Miami to be concerned about defense.
Haberstroh: Fiction. We've seen them recover from a slip like this before, so it's hard to lend to much credence to their issues on that end of the floor. Still, the 3-point assault by Memphis was a product of the Heat's size issues underneath. The Heat can't overcompensate for their size by packing the paint and rushing out to shooters. They must find balance. Erik Spoelstra has shut up the doubters before, so we should probably give him the benefit of the doubt.
Wallace: Fiction. Poor rotations to defend the 3-point line has long been an issue for the Heat. But they're committed to defending the lane, which means they have to give up something at some point. The larger matter in Memphis was an inability to prevent dribble penetration. The Heat will lose occasionally. But only a handful -- or fewer -- of teams are capable of making them consistently pay.
Windhorst: Fiction. I don't think November is the time to be all that concerned about anything. Oops, unless you're the Lakers. Anyway, the Heat made a strategic decision against the Grizzlies to force their perimeter players to beat them. This was a prudent decision. You don't figure on Wayne Ellington having the best game of his career and for Mike Conley to shoot better than Ray Allen. But that happens on a night-to-night basis. I felt the Heat played reasonably well defensively the previous two games.
---
3. Fact or Fiction: Houston is a playoff team.
Haberstroh: Fiction. Not if the Dallas Mavericks and Minnesota Timberwolves continue to win without their superstars. The funny thing about the Rockets so far is that they haven't scored enough. They have the sixth-best defense thanks to Omer Asik, but their complete lack of a scoring big has plummeted their offense to the bottom 10 in the league. Barring a trade for one, they'll probably fall just outside the playoff picture. Again.
Wallace: Fact. The Rockets will find a way to squeeze into one of the final seeds out West behind the Thunder, Spurs, Grizzlies, Clippers, Lakers and Nuggets.
Windhorst: Fiction. Not unless they show me more than they have. They're still very young and haven't played much together. They have three wins so far, and two of them are against the Pistons. I recognize Harden's remarkable scoring ability, but I'm not yet ready to say he can carry a team by himself over the long haul. He may prove that he can, and when that happens, I will gladly recognize it. Also, as a side note, I'd rather have Kyle Lowry than Jeremy Lin running the offense.