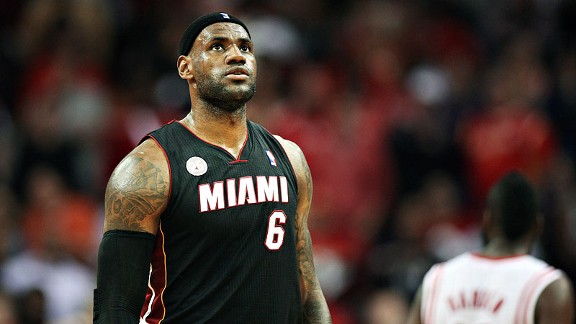 Brett Davis/US Presswire
It's early, but LeBron James has managed to take his game to new heights this season.
Somehow, LeBron James just keeps surprising us.
Now in his 10th season in the NBA (yes, it's normal to feel a sudden rush of oldness), James continues to evolve as a basketball player. Coming off a year in which he won MVP, Finals MVP and an Olympic gold medal, James hasn't become complacent with his game, and it appears the virtually unprecedented prosperity last season has only motivated him to raise the bar.
Here are three parts of James' game that he's elevated so far.
1. He's shooting 3s like Ray Allen.
First, a little story: Several of the team's finest shooters would participate in a shooting contest every day after practice during the season. This has been a daily ritual for years now, but Allen's presence raised the stakes for Miami's sharpshooters such as Mike Miller, James Jones, Shane Battier, Mario Chalmers and other ambitious players.
So, one day after a long shooting competition that wrapped up a preseason practice, Allen walked over to the waiting media huddle, wiped off his sweat with his jersey and began fielding questions.
Predictably, here was the first query: So, did you win the shooting contest?
Allen shook his head and laughed, "Nope. LeBron did, believe it or not."
This has happened a few times. Allen comes over to the media and he admits that James has beaten him in a shooting contest. Wait -- James consistently beating arguably the greatest 3-point shooter in a shooting contest? How is this possible?
I asked myself the same question late Monday night after watching James hit 3-point shot after 3-point shot against the poor Rockets. On the night, James scored 38 points with 15 of those points coming from beyond the arc. James is now shooting 52 percent (13-for-25) from downtown on the season, just shy of Allen's 54 percent rate.
When it comes to the 3-point shot, James has never enjoyed a hotter start. His previous high in 3-point percentage through eight games was back in 2006-07, when he shot 43.8 percent (14-for-32). This serves as a helpful warning sign, because that season, James shot 30.5 percent from downtown the rest of the way. It's a small sample size, indeed.
But it's worth watching as the season wears on, since this sort of efficiency is new ground for James. Put it this way: Guess how many 3-point shots James had made eight games into last season?
Zero.
2. He's rebounding like Dwight Howard.
James has never averaged eight rebounds per game over a full season. Right now? He's averaging 10. In fact, James is currently enjoying a streak in which he's registered at least 20 points and 10 rebounds in five consecutive games. His longest such streak before that? Three games.
So again, we're entering new territory for James, which seems unthinkable considering his decorated past. Actually, his rebounds per game understates his rebounding prowess this season so far. Due to a few blowouts this season, James has posted a career-low 34.5 minutes per game. If we look at rebound rate -- which answers the question "What percentage of available rebounds has LeBron collected while on the floor?" -- we find that James' 17.2 percent ranks higher than that of Tyson Chandler, Kevin Garnett, Blake Griffin and Marcin Gortat so far this season. Not bad.
James has apparently embraced playing bigger this season now that Chris Bosh has shifted to center. Though he hasn't displayed his post game more this season -- Erik Spoelstra promised after the Houston game we'd see more of it soon -- James has hit the glass with reckless abandon thus far.
To wit: You know who else has a 17.2 rebound rate this season? Dwight Howard.
3. He's taking care of the ball like ... well, no one.
What was more impressive last night: James had 32 points in the second half or he handled the ball that much without committing a single turnover all game? Tough to decide.
We've heard a lot about James looking more relaxed, playing care-free basketball and feeling more comfortable in his own skin now that he's been relieved of the "ring-less" burden. But the numbers back up the takes from body language experts out there.
On Monday night, James recorded 38 points, 10 rebounds and six assists without turning the ball over. You know how many times that's happened over the past decade? Four times. Two of those performances belong to James. The other two? Dirk Nowitzki and Vince Carter.
So James' performance last night was pretty rare in the annals of the NBA. But when we look at James' campaign this season, we find that his ballhandling efficiency is off the charts. Until data from 3D video tracking services such as SportVU become more publicly available, we'll have to just estimate how much James is controlling the ball offensively. To do that, we'll look at his shot and assist frequency and compare that to how much he turns the ball over. Not perfect, but you'll get the idea.
James is averaging 18.3 field goal attempts and 6.4 assists per 36 minutes this season. If we look into NBA history and pull up all the seasons in which a player has averaged at least 18 field goal attempts and five assists on a 36-minute basis, we come up with 72 times that it has happened. So basically we're looking at players who have "dominated" the ball as much as James has this season.
Who owns the lowest turnover rate in that group of 72 instances?
James, at 1.8 turnovers per 36 minutes.
The next two? World B. Free and Michael Jordan. The average player on this list turned it over three times every 36 minutes. James is registering a rate almost half that so far.
It's early. Eight games early. But so far, James has never looked this good this early in the 3-point shooting, rebounding and turnover columns in his career.
With all this considered, it's no surprise that James has already separated himself from the field in player efficiency rating (PER).
Here's a chart illustrating where all players stack up so far this season by PER and minutes played (minimum five games and 10 minutes per game).
Powered by Tableau
If James shoots, rebounds and handles the ball this well, what's left?
Data courtesy of Basketball-Reference.