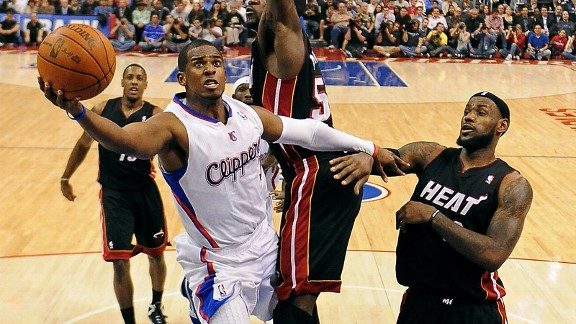 Jayne Kamin-Oncea/US PRESSWIRE
LeBron James has watched Chris Paul grow into a better player following major knee injury in 2010.LOS ANGELES -- It was July 2010 and Chris Paul and LeBron James huddled together following a workout in Akron, Ohio, and discussed a career at the crossroads.
James' free-agent decision came that week, and that might've come up, too. But it wasn't the only important topic the two stars and longtime friends leaned on each other for during that time. Paul was also at a key moment in his career the same summer James ultimately decided to transfer his talents to Miami. At times like those, Paul and James have come to rely on each other.
Midway through the 2009-10 season, as the fires raged around James' future, Paul suffered a torn meniscus in his left knee. When Dr. James Andrews did the surgery, he removed the meniscus from Paul's knee -- a danger point for any NBA player, because the procedure opens up the possibility of future knee problems and can lead to bone-on-bone contact.
Paul wasn't going to be the same player he was before. He was going to have to change his game to remain at a high level. It was a complex transition. And since Paul's teenage days, he and James haven't attacked such major topics without consulting each other.
The men have been friends for more than a decade now. Long before they won gold medals together with Team USA, Paul was throwing alley-oops to James at the 2003 McDonald's All-American Game. Paul rode next to James in his King for Kids Bikeathon charity events. James bowled next to Paul in his charity events. Paul was at the hospital during the 2007 NBA Finals when James' fiancée gave birth to his son Bryce. James was at Paul's side in the summer of 2011 as the best man at Paul's wedding.
These aren't just "NBA friends" -- players who see each other at All-Star Weekend or offseason sponsor events and tap hands before games. Each became a support system for the other. Which is why when James talks about the changes Paul has made in his game in the wake of his knee injury, there's true meaning behind it.
"Chris was faster than everybody," James said. "When you're 16 or 17, you can run by everyone. But he's continued to get smarter and smarter and smarter. After he had the knee injury, there were people who didn't feel he was going to be fast anymore and it was going to limit his game. He came back and he was better."
Paul doesn't go to the basket as much as he did when he was younger, an effort to avoid the pounding on his legs and knee. He has instead developed a top-notch midrange game and is learning to create and score from the elbows.
Paul is also known for saving himself for the fourth quarters, setting up teammates for the heavy lifting before kicking it into gear for when it really matters. Along the way, he's become a master at maximizing possessions and clock management. His scoring, assists and minutes aren't quite what they were before the injury, but his stature in the league has never been stronger.
Paul averaged 22.8 points and 11 assists in 2008-09 with the New Orleans Hornets, the last full season before his injury. He was at 19.8 points and nine assists a game last season, his first with the Los Angeles Clippers. Since the injury, he has further cemented his status as the league's best point guard in an era that is being dominated by players at the position. And he's earned high praise from a close friend.
"Both me and CP have adjusted our games throughout the years," said James, who has taken on a point-power forward role with the Heat this season. "It's not like he's running past people like he used to, but he's doing it with his mind. He's doing it with his determination."
However, don't expect on-court compliments when the Heat face the Clippers in L.A. on Wednesday night (10:30 p.m. ET, ESPN). While James is impressed with how Paul has changed as a player, they are well-known for their intensity when playing against each other. Paul got plenty of attention for his famous 2010 toast at Carmelo Anthony's wedding, when the point guard talked about becoming part of a new Big Three in New York to battle James' version in Miami. That drew criticism, but it was born out of the rivalry the two have with each other.
A rivalry that will continue Wednesday night.
"It gets intense; while we're great friends, we've had some great battles," Paul said earlier this year. "We're not necessarily battling each other. As great a friends as we are, we're ultimate competitors. As great a friends as we are, we hate to lose to each other. When we're together, playing video games or whatever, we hate to lose."
J.A. Adande contributed to this story.