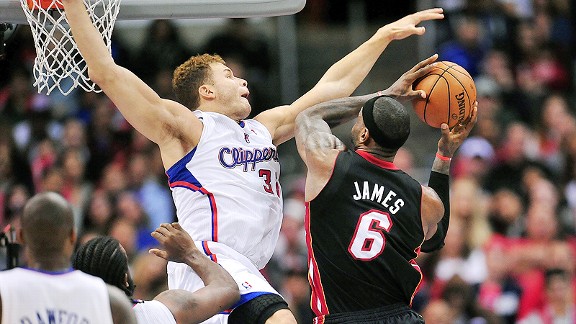 Gary A. Vasquez/US Presswire
Blake Griffin challenged LeBron James during the Clippers' 107-100 win over the visiting Heat.LOS ANGELES – Midway through his nightly routine of talking about playing to an identity, collective spirit and moving on to the next game, Miami Heat coach Erik Spoelstra had a slight break of his usual decorum.
"Look," Spoelstra said with the first real hint of frustration during this young season, "the decisions I've had to make this year on the road are not the decisions I want to make. I'm looking at the scoreboard and saying, 'OK, are we still within striking range or should I get guys out?' These are not decisions that the head coach is drooling about making."
The Heat lost another lopsided road game Wednesday, with the 107-100 final score to the Los Angeles Clippers proving to be a little misleading. It was a 20-point game with five minutes left. Three times in five road games now, Spoelstra has found himself clearing the bench. And it's starting to bother him a little.
Losing to the Clippers in Staples Center is not a high crime. The Memphis Grizzlies and San Antonio Spurs, who are a combined 13-2 and own the two best records in the Western Conference thus far, both happened to lose on the red-and-blue court in L.A., too. The Clippers and their deepened bench are without a doubt a high-quality home team right now.
Not that this is a stunner from the Heat's perspective. They almost always lose to the Clippers here; in the Dwyane Wade era, they've dropped eight of their 10 games against the Clips on the road and all three games since LeBron James and Chris Bosh joined up. But they're also currently 6-3 this season, with five of those games having come on the road, which is not exactly reason for the champs to get aflutter in November.
But the coach's job is to tug his team toward giving as close to a 100 percent effort as possible, and Spoelstra is experiencing some resistance on this road trip. And that, more than anything, is what caused the Heat some angst as they left the coast.
"Everybody gets their ass kicked every now and then," said Chris Bosh. "It's happened one too many times for us right now. We're going to correct it and we'll play better."
The Heat's margin of error has been surprisingly small on the road thus far this season, their two wins not being settled until the final seconds. This is despite an amazing statistical start for James across the board, Bosh's churning out 20-point games and new additions Ray Allen and Rashard Lewis both shooting better than 54 percent on 3-pointers.
The Heat's largely indifferent attitude toward defense thus far has helped. The small sample sizes and calendar minimize all the points (103 per game on the road) and high shooting percentages (46 percent over the past three games) the team is giving up. But the eye test shows plenty of turnstile action by the team's perimeter players defensively, especially Wade and Allen, whom opposite players have started to openly target.
Already playing with a small lineup that stresses interior defense, the Heat's blasé approach to defending is sticking out.
"To be frank," Spoelstra said in another transparent moment Wednesday, "we're not doing a very good job anywhere defensively right now."
Then there's the Wade issue. One of the Heat's goals during the regular season is to keep Wade as healthy as possible. Adding Allen, it was thought, would help limit Wade's minutes. Coming off knee surgery, there was an expectation that giving Wade some nights off during the season to avoid wearing him out would be prudent.
Now, in just mid-November, the Heat might already be there. Wade has played one good half on the road trip. He missed one game with a cold and has laid a few eggs, including a six-point effort on 2-of-10 shooting against the Clippers. Wade played through a sprained foot he suffered in Houston on Monday night and maybe he shouldn't have. Already dealing with a sore thumb, Wade hinted his first "maintenance" day could come Thursday in Denver. And it would probably be a good idea.
Meanwhile, the only player who seems to be truly motivated on this six-game trek is James. After getting blown out in Memphis on Sunday, the Heat looked on the verge of packing it in Monday in Houston before James turned into a one-man comeback by scoring 32 points in the second half.
Wednesday, James refused to come out of the game in the fourth quarter when Spoelstra was prepared to hoist a white flag, scoring nine of his 30 points to force the Clippers to put their starters back in to finish it off. It was certainly the exception.
"We have not been playing our best basketball," Spoelstra said. "Typically, when things are going against us, we show mental toughness and collective spirit to weather those adversities. We haven't been."