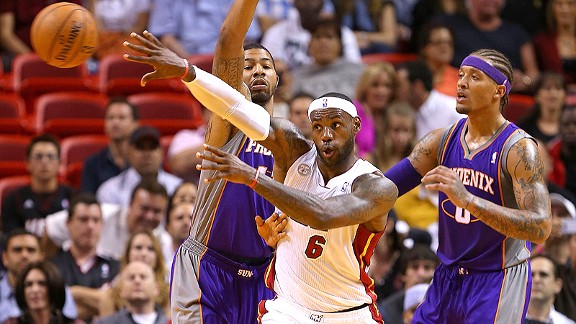 Mike Ehrmann/Getty Images
Will LeBron James be able to hold his own if Dwyane Wade can't play against Phoenix?
In another installment of the Heat Index's 3-on-3 series, our writers give their takes on the storylines before the Heat visit the Suns on Saturday and aim to improve to 8-3.
1. Fact or Fiction: You expect Dwyane Wade to play.
Tom Haberstroh: Fiction. I don't see any incentive for him to lace 'em up if the Heat don't play again until Wednesday. Even if LeBron James sits out because of his #stomachdancing, Miami can get by with Chris Bosh & Co.

Michael Wallace: Fiction. If Wade's bruised foot is really a serious issue, it would make little sense for him to push it tonight. If Wade sits against the Suns, he stands to have a full week of rest before Miami's home game Wednesday. The only way I see Wade playing is if LeBron sits out due to illness.
Brian Windhorst: Fiction. The Heat's next game isn't until Wednesday. Giving Wade another night off would mean he would have a full week to recover from his ankle/foot injury. It was already a mistake to bring him back against the Clippers. Even if LeBron can't play with an illness, I see no true reason to push it. I do feel bad for the Suns fans if they bought a ticket to see the champs and might not get Wade or James.
---
2. Fact or Fiction: A win would make the Heat's road trip a success.
Haberstroh: Fiction. Only if they can get a good performance out of their defense. That's probably more indicative of their success than wins and losses.
Wallace: Fact. Going 4-2 over any stretch is a successful run, especially during a challenging West road swing. There is no shame in ending this trek with wins in Denver and Phoenix after stumbles in Memphis and Los Angeles against the surging Grizzlies and Clippers.
Windhorst: Fiction. A win over the Suns in this state will not determine success. The Heat did a better job defensively in Denver by challenging some more shots and being active. The Heat know they can score. Making strides at the defensive end is what is important at this stage. They could use another acceptable defensive performance, which is what they should be judging this trip on.
---
3. Bigger surprise success: Ray Allen or Rashard Lewis?
Haberstroh: Lewis. Both need serious work on the defensive end. They look like matadors out there. But Lewis has the third-highest 3-point percentage (53.8 percent) among players with at least 25 attempts. After taking him on a flier, the Heat have to be thrilled.
Wallace: Lewis. Although both newly acquired veterans have delivered the goods off the bench, at least on offense, Lewis has been the bigger surprise with his shooting. Mostly because of injuries, it's been a few years since he has had any real impact on a team. Anything he brought to Miami was figured to be a bonus on a veteran's minimum deal.
Windhorst: Lewis. At the start of training camp, Erik Spoelstra was giving him Eddy Curry-type platitudes about being happy just to be on the floor after his battles with knee injuries. But he has been a strong bench contributor, and his 3-pointer, which was flat in October, has rounded into form. Allen is Allen.