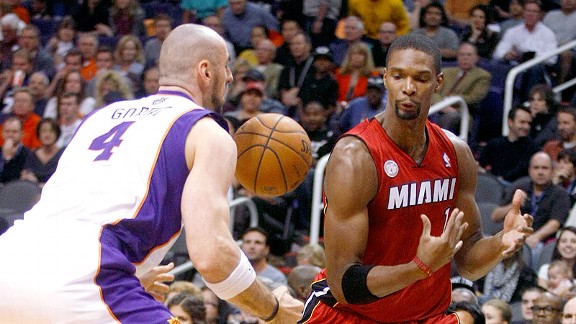 AP Photo/Rick Scuteris
Chris Bosh fumbled a few times on Saturday night, but played big in Dwyane Wade's absence.
LeBron James was sick and Dwyane Wade sat out with a sore foot, but the Miami Heat still managed to pull away from the Phoenix Suns on Saturday night to go 8-3 on the season.

With the 97-88 win, the Heat wrapped up the long road trip with a 4-2 record and survived Wade's injury woes.
What went well for the Heat? What didn't go well? What is still to be learned?
In another installment of Heat Index's 3-on-3 series, our writers give their takes on Miami's eighth win of the season.
1. What is the biggest positive takeaway from the Heat's win?
Tom Haberstroh: After six games in nine nights and James battling the flu, the Heat clamped down on defense and held the Suns to just 36 points in the second half. No, the Suns aren't exactly the Oklahoma City Thunder, but that's still something to build on. The Heat needed a strong defensive effort, and they got one.
Michael Wallace: The road might have been painful for James and Wade, but it certainly was good to the Heat's role players. While James and Wade battled injuries and illnesses from start to finish of the six-game trip, Shane Battier, Mike Miller, Rashard Lewis, Ray Allen, Norris Cole and Udonis Haslem were remarkably productive as a group during the 4-2 stretch. Even seldom-used Joel Anthony had some positive moments in limited action.
Brian Windhorst: The Heat are the champs and loaded, but they faced a great deal of adversity on this road trip. Going 4-2 on this trip may not seem all that impressive at the end of the season. But the challenges of playing four games in five nights in three different time zones while dealing with injuries made it a real accomplishment.
---
2. What is the biggest concern from the Heat's win?
Haberstroh: Not much to be concerned about after a nine-point win to cap the road trip, but I can't imagine LeBron is too happy about playing 41 minutes with the flu. He had to leave the court and head to the locker room at one point, so you know he was out of sorts. You wouldn't know it by his stat line, however.
Wallace: The Heat must find a way to give LeBron the rest he likely needs. I'm talking about some serious down time. There's really no reason for him to have to push through nagging injuries and illnesses the way he has so far this season. At some point, this man will hit a wall -- physically or mentally -- considering all the high-level basketball he has played this calendar year. There should be at least some level of concern about wearing him down far too soon.
Windhorst: There's two. Dwyane Wade is already banged up again. Giving him time off is the right thing to do, but is this now the new normal? Should the Heat just budget that Wade will need periodic rests? Maybe so. The other, of course, is defense. The team just keeps spinning their wheels on that front. The injuries aren't helping, but they're not showing real improvement.
---
3. What is the biggest question going forward for the Heat?
Haberstroh: Can they string together another strong defensive outing against a team whose leading scorer wasn't Markieff Morris? Milwaukee is up on Wednesday, but that's not much tougher.
Wallace: Will Miami now really hit its stride? After wrapping up a successful road trip, the Heat return home where they'll play 12 of their next 14 at AmericanAirlines Arena. With three days off before the start of the homestand, both James and Wade have a chance to get relatively healthy. Now is as good a chance as ever to stack some wins and establish that home-court dominance.
Windhorst: Can Shane Battier keep this up? The guys he has been guarding are putting up big numbers, but I think he's doing a remarkable job fighting on defense and making teams pay for not covering him on offense. But I'm not sure his body can sustain this pounding for an entire season.