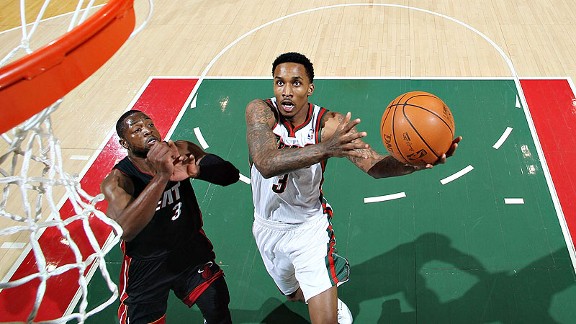 Gary Dineen/NBAE/Getty Images
Should Dwyane Wade play on Wednesday against Brandon Jennings and the Milwaukee Bucks?
In another installment of the Heat Index's 3-on-3 series, our writers give their takes on the storylines before the Heat host the Bucks on Wednesday and aim to improve to 9-3.
1. Fact or Fiction: You're not surprised that Wade plans to play tonight.
Tom Haberstroh: Fact. Surprised? No. But do I think he should play? Not so sure. I'm not a doctor, so any speculation about his condition should be taken with a grain of salt. But still, considering how hobbled he looked in Los Angeles, a good two weeks off would seem like the smart long-term play. Alas, the name's not Dr. Haberstroh.

Michael Wallace: Fact. Despite admitting he regrets having played against the Clippers after injuring his foot the previous game, Wade also said he's not sure if that admission would impact any future decisions to play through injuries. But he's now had a week's worth of rest and treatment entering tonight and two more days off before Saturday's game. Why not test the foot now?
Brian Windhorst: Fact. I was rather surprised he played last week in L.A. He was clearly not feeling that great but he admitted that he wanted to play because it was a high-profile national television game. I've been outspoken that the Heat should regularly give Wade games off, in fact I would consider picking out 4-5 back-to-backs and just deciding he's not going to play in both games regardless of how he feels at the time. I just think lowering wear and tear with an eye toward the postseason is important with him at this point. So when he's got an injury, even a minor one, I say shut him down. Especially in November.
---
2. Fact or Fiction: Chris Bosh will be the Heat's No. 2 scorer this season.
Haberstroh: Fiction. We've seen eight games from Wade. Eight games into last season he looked like a mess, shooting 44 percent from the floor and just 20.5 points per game. The rest of the way? 51 percent and 23 points per game en route to a top-three ranking in player efficiency rating. Chris Bosh has looked sensational, but I'm not sold that Wade won't be Wade again soon.
Wallace: Fiction. The only way this happens is if either Wade or LeBron misses significant time with injuries. When all three play, there are still lengthy stretches when Bosh is either an afterthought on offense or simply not as aggressive as he should be. Wade is a natural scorer, so when he plays he always drops at least 20. His numbers will get back on par in a week or so.
Windhorst: Fiction. I'm concerned I'm a bit behind the curve with this answer because right now all the data and the visuals say Bosh is poised for his best offensive season in Miami and Wade is on track for his worst. However, over the long haul I do expect Wade to rack up a lot of 20-point games and for Bosh's shooting numbers to level out a bit. I may have a different answer to this one in January but right now I'm not ready to say it.
---
3. Fact or Fiction: Udonis Haslem is pound-for-pound the NBA's top rebounder.
Haberstroh: Fiction. As much as Heat fans would like to see a "Fact" here on the night he'll pass Alonzo Mourning on the Heat's all-time rebounding list, Kenneth Faried is the right choice. With just a few pounds on Haslem, Faried has more offensive rebounds than Haslem does total rebounds this season. Guy is a freak.
Wallace: Fiction. He's certainly in my top 10, based on averages per extended minutes and such. But that list has to start with Faried, Zach Randolph and, surprisingly this season, Kevin Durant. But credit Haslem for his toughness and for knowing and accepting his role as he prepares to become the all-time leading rebounder in Heat franchise history.
Windhorst: Fiction. That would be Faried. Haslem is a respected player in the league and he's beloved in Miami for his roots, his toughness and his longevity. But in being fair, he's always been an average or slightly above average performer at power forward when looking at the league landscape. His career numbers are akin to a player like the Sacramento Kings' Jason Thompson, for example. The foot injury two years seemed to have zapped much of the effectiveness of his mid-range shot. But you do have to give him credit for reaching that level as an undrafted, undersized player who had to battle to prove he belonged. He does.