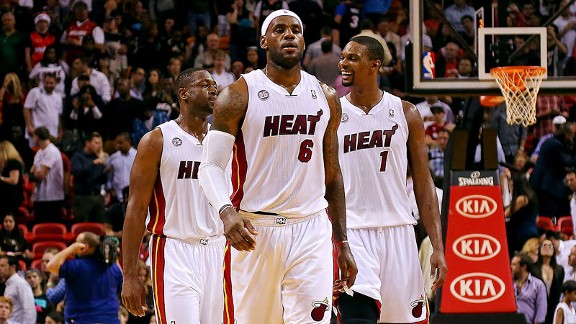 Mike Ehrmann/Getty Images
The Heat have had to fend off career games from some unlikely sources time and again this season.MIAMI -- As strange as it seems, there are moments when three-time MVP LeBron James wishes he had the ability to do what John Henson, Wayne Ellington and even Samuel Dalembert are capable of.
But James will never be afforded the luxury.
"I've never been that guy that can sneak up on somebody," he said Friday. "I've never been that guy, where I can have a career high, and they say, '[Expletive], who is that?' I understand it. But I've always been on the other side."
The Miami Heat are off to their best start at home in franchise history, and James is in the midst of one of the most efficient stretches in his ultra-productive 10-year career.
But neither of those developments have been as surprising to the Heat as some of the stunning performances opposing players and teams have had against the defending champs.
With a roster anchored by perennial All-Stars coming off an NBA title, James and the Heat expect opponents to be highly motivated and use games against them as measuring sticks. But some of the displays the Heat have withstood so far this season go beyond the imagination.
So it won't shock the Heat if that trend continues Saturday, when the Cleveland Cavaliers visit AmericanAirlines Arena without injured point guard Kyrie Irving
In the Heat's blowout loss in Memphis over a week ago, Ellington dropped in a career-high seven 3-pointers off the bench. The third-year guard has made just one shot from beyond the arc since that Nov. 11 outing.
A couple of nights later, Houston's Chandler Parsons scored a career-high 25 points in a 113-110 loss to the Heat. His previous high before that? A 23-point effort against Miami in the regular-season finale last season.
Henson, a backup for the Milwaukee Bucks, became the latest example when he replaced ejected forward Larry Sanders on Wednesday and had 17 points and 18 rebounds -- both career highs -- during an overtime loss in Miami.
The aberrations have been a bit amusing.
"John Henson is a great player and I think he's going to be really good," James said. "But I watched him two nights before that in Charlotte, and he shot [airballs] over the rim a couple of times on jumpers. But every time against us, he made it. And I watched Memphis against Denver the other night, and the kid, uh, Wayne Ellington, wasn't making anything. But he's a great shooter. Against us … at the end of the game, you look at the bottom [of the box score] and it says career-high for John Henson, career-high for Wayne Ellington. And you say, '[Shoot], against us.' It's crazy."
Even veteran journeymen have gotten into the act. James joked Friday about Dalembert, the Bucks' backup center, nailing the first 3-pointer of his career to beat the halftime buzzer in Wednesday's game against Milwaukee.
Don't be shocked if Cavaliers rookie Dion Waters goes off for 40 in Miami on Saturday. Or if Anderson Varejao notches one of those rare 20-point, 20-rebound nights.
But despite those unexpected breakout games, the Heat have still managed to win their first five home games and are in the midst of a stretch in which they play 12 of 14 at AmericanAirlines Arena.
Heat coach Erik Spoelstra has addressed the challenge of guarding against complacency during an odd point in the schedule in which games are spaced out over multiple days, with plenty of time for rest.
"As is the case most often in the NBA, your biggest challenges are from within," Spoelstra said. "You respect the opponents and what they're capable of doing. It really starts from within: Your consistency. Your mental focus. Your mental toughness. We could have been much better with that the last game."
Spoelstra said he doesn't have to go to extreme lengths to shake up a veteran Heat team to help maintain an edge.
"I don't predetermine things artificially," Spoelstra said. "But I did want them to take it to heart that right now we have to understand … we know how to play. It's about how consistently can we do it. Can we do it every possession?"
Heat guard Dwyane Wade remembers when the Heat drifted to similar lethargic moments when team president Pat Riley was coaching. Riley was known during his career on the bench for manufacturing adversity during grueling practices sessions that would sometimes run three hours.
"We're not playing the best basketball in the NBA, as we feel we can be," Wade said. "Coach [Spoelstra] has been doing a good job of bringing us in and getting our work done and getting us out of here as well. Practice has been a different approach. It has been for a while. We do still practice more than other teams, maybe 95 percent of the teams. But it's less than what this [Heat] culture is used to."
Wade said Spoelstra's strength is his ability to share in the dialog with his key personnel. Right now, the message from the coach for his players to keep pushing for consistent energy and effort regardless of the competition.
"There's a time to be intense," Chris Bosh said. "We know we're going to get everybody's best. So not only do we need to be on our game all the time, which is extremely difficult, but we have to play everybody else at their best. Do we want to strive for perfection? Absolutely."
But that's often easier said than done.
The Heat have had to shake their heads in disbelief after defending well for 23 seconds on a possession only to see a suddenly hot player hit an unlikely basket to beat the shot clock. And it has happened one too many times already this season against Miami.
James isn't familiar with that side of the equation.
"I've always had a bull's-eye on my chest," James said with a laugh. "It's always been, 'I can't wait until we play the Cavs, so I can go against LeBron.' Or, 'I can't wait until we play the Heat, against LeBron.' Or, 'I can't wait until we play St. Vincent-St. Mary's.' A lot of guys come to play great, great games against us. We understand that. We just have to fight fire with fire."