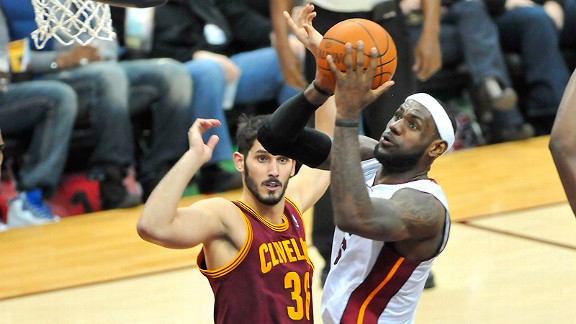 David Dermer/Getty Images
Will LeBron James pick Saturday's foe as his next destination down the line?
In another installment of the Heat Index's 3-on-3 series, our writers give their takes on the storylines before the Heat host the Cavaliers on Saturday and aim to improve to 10-3.
1. Fact or Fiction: Anderson Varejao will still be a Cav next time they play MIA.
Tom Haberstroh: Fiction. Classic case of a player being worth more to a contender than a rebuilding squad. At 31, Varejao may be expensive, but come trade deadline, teams vying for the title may not care given this guy's energy and efficiency. If Cleveland was in the mix for a playoff spot, it might be more inclined to hold on to him, but Kyrie Irving's nagging injuries have stunted the team's short-term growth.

Michael Wallace: Fact. But I'm not completely convinced, because I'm certain at least part of the decision will depend on whether Kyrie Irving is healthy and if the Cavaliers are in position for a playoff spot. Varejao's combination of age and salary doesn't really fit with the youth movement Cleveland has committed to. But even young, developing teams need a proven, productive veteran.
Brian Windhorst: Fact. The Cavs have listened to offers for a while on Varejao but haven't accepted a deal for a reason. They ask for a premium price, especially in draft picks. But Varejao isn't a true center and it makes it hard to establish his value. He'll be in demand, but the Cavs will have to be impressed by an offer. They don't need to trade him.
---
2. Fact or Fiction: LeBron's most likely next team is CLE.
Haberstroh: Fact. Simply because that's the only team that he has hinted at playing for one day. It's a fun parlor game, but we're throwing darts at this point. Put it this way: I think he's more likely to take his talents back to Cleveland than to Los Angeles.
Wallace: Fiction. There's no telling what the NBA landscape will look like when LeBron has a chance to make his next "Decision." But for as much as he still considers - and will always consider - Ohio his home, I believe he'll stay in Miami through at least one more contract. He may retire in a different uniform like Joe Montana. But I don't see him popping around like Deion Sanders.
Windhorst: Fiction. It's an impossible question to address now. I have said several times I believe LeBron will change teams again and that he'll one day play for the Cavs again. But it isn't reasonable to predict anything except that he'll be in Miami through at least 2014 and the Heat will be title contenders until then.
---
3. Over/Under: 26, wins for CLE in 2012-13. (82-game equivalent of 21 wins in 2011-12)
Haberstroh: Under. Especially if the Cavs deal Varejao, who in my mind is one of the more overlooked players in the game. I'm bullish on their long-term future, but they're still years away from getting anywhere close to where they were with Miami's No. 6.
Wallace: Over. But refer to my answer in No. 1. This all hinges on Irving's health. With him on the court, they're in contention for perhaps the final playoff spot in the East. Without him, they're bobbing for a shot at the most pingpong balls in the draft lottery again. All things relatively even, I'd give the Cavaliers a strong shot at 30-plus victories.
Windhorst: Over if Kyrie Irving was healthy. He's not and the Cavs seem more interested in developing their other young players than winning. So right now it looks under.