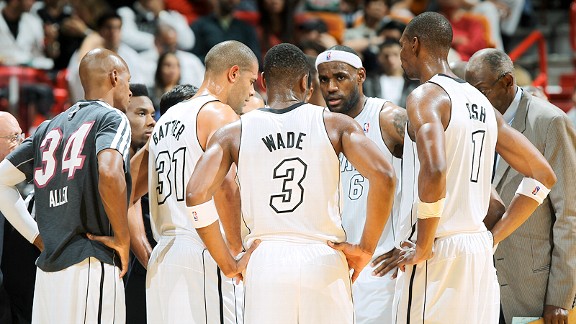 Joe Murphy/NBAE via Getty Images
With LeBron James running a Tom Bradyesque two-minute drill, the Heat survived the Cavaliers.
MIAMI – On nights in November, when even the defending champions are a work in progress, the formula for success is not as important as the ultimate result.
For 46 minutes, LeBron James and the Miami Heat flirted with disaster, did everything they could through defensive lapses to push their coach to the brink of a coronary breakdown and were yet again on the verge of an embarrassing loss on their unblemished home court.
Apparently for the Miami Heat, there's comfort amid the chaos.
"Our guys absolutely salivate in those situations – you can see it," Heat coach Erik Spoelstra said Saturday night, desperately trying to turn an alarming trait about his team into a characteristic worthy of chest-pounding bravado. "They come to life. They want to make big plays on both ends of the court. You can't teach that quality."
But one certainly can be tortured by it.
When the Heat reconvene for practice and Monday's film session, Spoelstra will have plenty of evidence of miscues and teaching points from which to draw – especially if he breaks down the first 46 minutes of Saturday's game against the Cleveland Cavaliers at AmericanAirlines Arena.
But then James engineered a two-minute drill that would make Tom Brady envious. Facing a seven-point deficit with 1:58 left on the clock, the Heat used a relentless 9-0 run to storm back for a 110-108 victory over the Cavaliers.
Granted, it shouldn't have come to that for a Heat team at full strength, facing a young and rebuilding Cleveland squad missing its best player in Kyrie Irving to an injury.
But the Heat have accomplished nothing to this point in the season if not making matters much harder on themselves in these early-season games than they need to be.
So for the second time in a week, Spoelstra, James and the rest of the Heat's primary players were left to temper their enthusiasm from a remarkable victory with cautionary statements about having to divert a near disaster.
On Wednesday, the Heat rallied on their home court from a five-point deficit in the final minutes of the fourth quarter to force overtime en route to a victory against Milwaukee. Three nights later, different opponent. Same script.
"We don't make excuses. We don't say what we could have or should have done," said Chris Bosh, who with James, Dwyane Wade and Ray Allen combined for 88 of Miami's 110 points and all but two in the fourth quarter. "We just go out there and get the job done. It's great for us to learn how to win in those situations again. We're going to have to figure out a way to not be in those situations too much. Down by seven with two minutes left, we don't want to be in that situation all the time and expect to win."
When the quarterback is essentially James, it's possible.
When Wade is executing the running game, it's likely.
And when Allen is on the receiving end of passes from James for wide-open looks beyond the arc, it's inevitable.
In other words, Saturday's two-minute drill defined everything that is so lethal about the Heat – even on nights when they're frustratingly lethargic for extended stretches.
"I'm happy I'm able to be the Tom Brady of the play," James said of his assist that set up Allen for the go-ahead 3-pointer with 18.2 seconds left. "Big-time shot. We know how to win. Good teams, great teams find a way to win."
There was practically no margin of error down the stretch.
"We had to pitch a shutout," James continued. "We got a couple of stops. We needed those big-time stops. We knocked down a couple of threes. I was able to get into the lane, get a layup. D-Wade made a couple of plays. We just had to make a couple of plays offensively and defensively. We just needed everything to go right."
And it did.
It started with a layup by James on one end that was followed by a blocked shot by Bosh on the ensuing defensive possession.
Cavs 108, Heat 103.
On the next offensive trip, Allen converted a traditional three-point play with a a layup and free throw to pull Miami to within two. Another defensive stop led to the transition play when James found Allen spotted up on the wing for the crushing 3-pointer that made it 109-108.
While James and Allen handled the scoring and playmaking on one end, Wade joined Bosh's block party by rejecting Jeremy Pargo's potential game-tying shot in the lane with three seconds left.
Another defensive stand by Wade prevented Pargo from getting a shot off when Cleveland inbounded the ball with six-tenths of a second left and trailing by two.
In the end, the Heat's recklessness was overcome by resolve. Their early defensive indifference transformed into lock-down dominance.
"Most teams lose [in that situation]," Wade said of the calm and business-like approach the Heat took during a timeout just before their two-minute drill commenced. "Nothing dramatic. Just a regular go-about-your-business type of huddle. We're a confident team."
Sometimes, too confident.
It was just two seasons ago when folks questioned the Heat's ability to win close games. There were issues about who would take the last shot, and James was often criticized for passing up many of them in clutch moments.
But that was then.
The way the Heat picked up two wins this week might not translate into a formula for long-term success in June against opponents more equipped to finish games.
But in late November, it's certainly the recipe for escape.