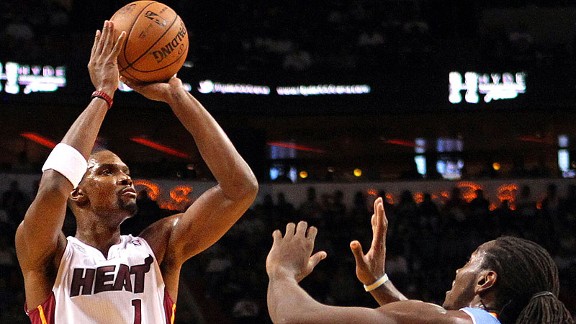 Icon SMI
Chris Bosh may be on a hot streak, but he cares more about the scoreboard than the box score.
MIAMI – There were times back in Toronto when Chris Bosh would put up monster numbers in a game and take pride in the direction his career was going even though his team often wasn't really headed anywhere.
Back then, averaging a double-double three times over four seasons and making annual trips to the All-Star Game were the highlights on his Raptors résumé.
Stats mattered more to Bosh than they do now.
Much more.
So when Bosh recently shrugged off the increased media attention he received after scoring 24 points and grabbing 18 rebounds during an overtime win against Milwaukee, it wasn't a completely humble-brag, disingenuous gesture.
He'd like to think it's part of his new normal.
"I notice it and I'm like, 'Yeah, this is a good job,'" Bosh said. "But I'm not like telling my family what I did yesterday or anything like that. It hasn't been the first time I've had those kind of numbers. But you want to be effective. And stats sometimes show you that. But most importantly, I can look at the stats after getting a win. It's not like 24 and 18, but we got blown out by 20, and I'm like, 'Yeah, I got mine.' That's not the right way to be."
Producing a huge game every now and then is no longer a big deal to Bosh in his third season with the Heat. It's more about stringing them together more consistently, to the point that his double-doubles no longer warrant a double-take when examining the box score after games.
Off to one of the most efficient starts to his 10-year career, Bosh is quietly becoming the steady source of two-way dominance the Heat has long needed in the post.
While much of the recent buzz around Miami's start has been focused on LeBron James' masterful facilitating, Ray Allen's clutch shooting and Dwyane Wade's battles to overcome nagging injuries, Bosh has started to piece together one of his most productive stretches with the Heat.
A win streak that has moved the Heat (10-3) into first place in the Eastern Conference has seen Bosh average 23.7 points and 11.3 rebounds while shooting 66.7 percent from the field over the past three games.
The challenge for Bosh is to continue that level of play as the competition in Miami's homestand grows tougher, with Tim Duncan and the San Antonio Spurs visiting Thursday and the improved Brooklyn Nets coming to town Saturday.
Heat coach Erik Spoelstra has tweaked his rotation in recent games, in part, to prioritize Bosh at the start of the second quarter as James and Wade rest on the bench. Under normal circumstances, Wade rests late in the first quarter and opens the second quarter with Bosh and three reserves.
Spoelstra wouldn't commit to maintaining his latest pattern, and the Heat's rotation could be in flux again if starting power forward Shane Battier is forced to miss time, as expected, to recover from a sprained right knee ligament.
But Bosh has progressed far enough into a rhythm and comfort zone that should keep him aggressive regardless of the rotation adjustments being made around him.
"He understands he has to be big for us," Spoelstra said. "And 'big' translates into a lot of different areas, not just rebounding. But it's defending big, rebounding big, providing big plays at the rim, as far as offensively. He's been providing that for us very consistently this season."
In Saturday's win against Cleveland and the league's rebounding leader Anderson Varejao, Bosh did more than settle for perimeter jumpers. He attacked the paint -- twice dunking emphatically in traffic despite contact -- and his 13 free throw attempts were the most by a Heat player this season. In the previous win against the Bucks, the 18 rebounds by Bosh were the most he's grabbed in three seasons in Miami.
He's scored at least 20 points in seven of the Heat's 13 games, including 40 in a Nov. 3 win against Denver. That's well ahead of his pace from last season, when he scored at least 20 points on 21 occasions in 57 regular-season games.
Teammates have not only noticed a slightly more aggressive approach from Bosh, they're also committed to keeping him in position to sustain his recent play.
"If we can get it from him [more], we would love to have it," James said as he reflected on Bosh's 24-point, 18-rebound game. "I'm going to try to do my part and Chris is going to help out with that as well. I mean, 24 and 18 -- that's a monster game. Not too many guys in this league can do that. Off the top of my head, it would be Dwight [Howard], Kevin Love, Blake [Griffin], Z-Bo [Zach Randolph]. If C.B. can get in that class, it would be great."
Given the Heat's roster makeup and preferred style of play, James knows there also may be peaks and valleys for Bosh.
"We don't expect him to do it every night, but we do expect him to rebound," James continued. "He wants that out of himself. He's told you guys he wants to be a 10-rebound-a-game guy at some point. He's done it in his career before."
That, of course, was when specific numbers and statistical goals mattered to Bosh. Even as recently as last season, he publicly declared he aimed to average 10 rebounds for the season. He has yet to hit that mark since he's been with the Heat, but he does have championship validation.
Now, he simply goes with the flow -- albeit more relentlessly. Bosh values tenacity over numerical totals.
"It's just a weird thing, man. Sometimes that ball is funny," Bosh said. "I remember trying to be super-duper aggressive, and I'm like, 'Man, I'm going after it.' And I'm going for it, I'm boxing out my guy pretty good, and he's not getting it. And I'd end up with like three rebounds."
Those have been the shake-your-head moments for Bosh, occasions when the effort sometimes doesn't equate. Numbers may never lie. But when it comes to Bosh's play this season, they don't always tell the entire story.
"It's just a stat, and sometimes that will balance out," he said. "Hopefully, I have some momentum on the boards, because sometimes you have to have momentum. I always look for moments to be aggressive. I try to be aggressive when those two [James and Wade] are on the court. But when they're off the court, I really try to get going."
This season, the mission is to keep it going.