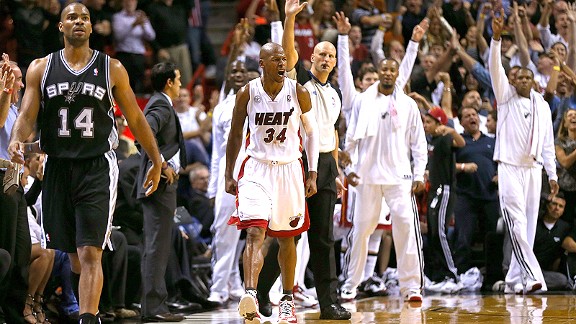 Mike Ehrmann/Getty Images
Erik Spoelstra wasn't cheering at this moment and it's easy to see why.
MIAMI -- The Heat should write a thank-you letter to Ray Allen, Gregg Popovich and David Stern for distracting everyone on Thursday night from this dumbfounding reality:
The Heat just gave up 100 points to a team that started Patty Mills, Nando De Colo, Matt Bonner, Boris Diaw and Tiago Splitter.
At home.
With four days' rest.
Against an opponent playing on a back-to-back and their fourth game in five nights.
Anyway you slice it, Thursday's game was the cupcake of all cupcakes, yet Miami's once-vaunted defense couldn't seem to slow down the Spurs' JV squad.
This is isn't just an outlier performance for the Heat either. The team's defense has been a hot mess this season, surrendering 103.6 points per 100 possessions to the opponent. That ranks 23rd in the NBA, behind defensive juggernauts like Detroit and Charlotte.
"We know we're capable of more," Spoelstra said Thursday of his defensive struggles. "There will come a time when we just have to do it, but we're much better than what we're showing defensively."
A postgame press conference after a win isn't the most opportune time to focus on a team's weakness, but there's certainly lingering disappointment there. The Heat are proud of their 11-3 record after a month and they should be. Those games are in the books and no one can take those wins away.
But the way they've gotten there? So far, they've taken the outscore-your-opponent maxim to its literal extreme, and that's not exactly the Miami Heat way. Traditionally, Pat Riley-led Heat have prided themselves as an Eastern Conference powerhouse with a grind-it-out, defensive-minded mentality. In fact, in five of the Heat's previous six seasons, their defense has ranked better than their offense according to NBA.com/stats.
But this season has been a fascinating departure from the Heat's modus operandi. Only six NBA teams have been worse this season on that end of the floor; none of them has a winning record. That's not the company that the Heat would like to keep. Not in years past anyway.
In many ways, Thursday night's nail-biter was a microcosm of the Heat's season: LeBron James carried the Heat offensively as the defense hemorrhaged points to the other team, then Ray Allen came in to save the day. On one hand, the Heat could take their 9-0 record in clutch situations and shove it in the faces of their harshest critics that claimed that they couldn't win close games. How 'bout them apples. On the other hand, those same critics could just shrug their shoulders and counter, "Talk to me when Allen comes back to Earth and those late-game shots start going the other way."
How much longer can Allen keep bailing out the Heat? At some point he'll have to miss, right? That's the big question. According to ESPN Stats & Info, after Thursday's heroism, Allen is now 3-for-3 on game-tying or go-ahead 3-pointers in the final 24 seconds of the fourth quarter or overtime. No one has more this season. No one else is 3-for-3. And to show how finicky those shots can be, consider that Allen missed all four such shots last season. If those shots don't go down, the Heat could just as easily be looking at a lukewarm 8-6 start to the season.
If Thursday's game was a microcosm of the Heat's season, then Allen is the face of it. Like the Heat, the 37-year-old's offense has been better than many expected, but his defense has been a disaster so far.
Take your pick of the staggering statistics. One trusted advanced metric even points to Allen as being a net loss because of his defensive liabilities this season. With a rate of 2.8 fouls every 36 minutes, Allen is being whistled for fouls more than ever, or at least since he was a rookie. SynergySports, a video-tracking service that NBA teams use, ranks Allen 105th among 114 qualified players on a per-possession basis defensively.
Or you can just watch him on film. Routinely, opposing shooting guards blow by him on the perimeter and he's forced to grab and swipe at his penetrating opponent. Allen has admitted that he doesn't think his ankle will be 100 percent again and you can see it on that end of the floor, especially when he's asked to move laterally.
But feed Allen the ball for a 3-pointer and ask him to rise up? No one has looked better. However, as good as he has been with that shot, it can't hide the fact that the Heat have allowed 109 points per 100 possessions with Allen on the floor and just 97 when he's riding pine.
Allen isn't the sole reason for the Heat's decline on that end of the floor. Dwyane Wade deserves some of the blame as well. Perhaps because of his sore foot, Wade has often taken his time "running" back on defense in transition and has shown only spurts of lockdown defense. And defensive specialist Joel Anthony continues to find himself on the outside looking in. There's plenty of time to improve, even if they've never struggled this badly on defense in the Big Three era.
Ultimately, the Heat will continue to be an elite team if they score the way they have. But it's worth wondering if Allen's clutch play is sustainable and whether they can get away with playing porous defense down the road in the playoffs.
So far, Allen has played the culprit and the savior for Miami's early weaknesses. And so far, it's working. How long will it last?