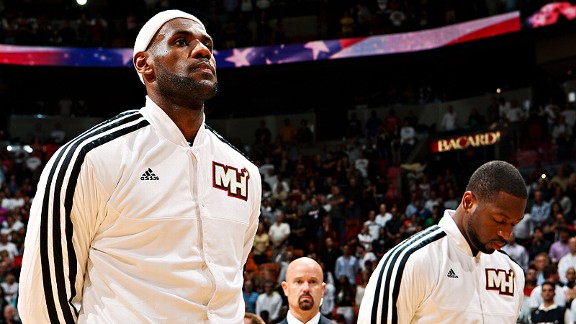 Issac Baldizon/NBAE/Getty Images
As LeBron James' public coronation continues, Dwyane Wade reminds us he's still Dwyane Wade.
MIAMI – The scene at the Miami Heat's practice facility on Monday was dripping in metaphor.
There was LeBron James on the Heat's practice court, fielding questions from a sea of reporters and looking into six TV cameras pointed in his direction. Everyone wanted to know how James felt on this day, how he felt after receiving Sports Illustrated's 2012 "Sportsman of the Year" award, how he felt about his year of winning.
"LeBron, could you imagine this all these things happening this year -- the championship, regular season MVP, Finals MVP, the Olympic gold medal, capped off by this -- it has to be magical, right?"
"LeBron, public-perception-wise, how does it feel to win this award after everything that happened in July 2010?"
"LeBron, Pat Riley calls you the Boat -- the Best Of All Time -- how does that make you feel?"
In the midst of all of this, there was Dwyane Wade, sitting in a chair off to the side all by himself, about an arm's length away from James. Wade was slumped over in his practice uniform, glancing at the hardwood floor as he clutched a post-practice bottle of water. Wade sat listening to the media shower his teammate with glowing praise. Wade waited for his turn to speak to the media.
Wade's patience, however, wore thin. As James talked about his impressive achievements of the past year, Wade rose from his seat and began jumping up and down behind James as if Wade suddenly found a pogo stick. Wade -- a two-time NBA champion, a former Finals MVP and a former NBA scoring champion -- literally was trying to steal the camera spotlight from his teammate.
Wade's harmless prank was met by soft laughter from the media, but James continued to deliver what felt like a coronation speech. Seeing that James hadn't been fazed by the antics, Wade returned to his seat and waited for James to finish answering questions.
"LeBron, when you look at the list of 'Sportsman of the Year' recipients -- Muhammad Ali, Arthur Ashe and other great humanitarians -- how does it feel to be included?"
As James answered that question, a shout could be heard from behind the reigning MVP.
"Great list!"
The voice was Wade's, the guy who received the same award in 2006 and is evidently a proud member of that list. Despite Wade's playful interjections, James continued to speak undeterred. And the questions kept pouring in about James' towering accomplishments.
Wade would have to wait his turn, but the 30-year-old's message seemed crystal clear:
Don't forget about me.
'Welcome to the club'
Many wondered how Dwyane Wade would react to LeBron James' inevitable ascension. How would Wade, the face of the Miami Heat franchise, deal with a teammate getting most of the spotlight, even if deservingly so?
Knowing James was three years younger and already a two-time MVP in July 2010, Wade probably understood that it was only a matter of time before James might rise above him on the totem pole. Not just in the eyes of the media, but possibly from Wade's own organization as well.
There are signs that times are changing inside the walls of AmericanAirlines Arena. In the offseason, the Heat not-so-discreetly changed the wallpaper of the entrance to the team's locker room to a gigantic photo of James' glaring face from his famous Game 6 of last postseason's Celtics series. Next to James' face is a quote: "Forged in the fire between a hammer and anvil."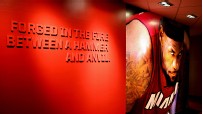 Issac Baldizon/Getty
The face looms in the hallway outside the Heat's locker room.
But this hasn't splintered the teammate relationship of James and Wade, because they're not just teammates. It has been said that Wade is like an older brother to James, an older brother that James never had. Wade and James' close friendship has been well-documented, and that bond seemingly has kept the inevitable power shift from splintering the team. Wade had a little fun at James' expense Monday, which is not an uncommon sight between the two since they became teammates. It's just something that a big brother does.
When Wade was asked about James' latest accolade Monday, Wade's response was telling. Just minutes after bouncing around behind James like a little kid, Wade's tone suddenly grew increasingly serious.
"Welcome LeBron James," Wade said. "We've been awaiting your arrival to the club."
After the introduction, Wade continued.
"I'm happy for him," Wade said. "That's a man that has learned from his mistakes. Whatever he did wrong, he said, 'I did it wrong,' and he moved on from it. That's a regular American. We all make mistakes. I'm glad that people are able to see he's willing to learn from his mistakes and correct them."
Wade didn't specify what he meant by James' "mistakes," but one can only assume he's referring to how James handled the move from Cleveland to Miami. Wade made it a point to stress that James is not perfect. He is human, just like the rest of us. Just like Wade himself.
After practice, Wade took it upon himself to tweet a photo of his SI "Sportsman of the Year" cover issue, along with the cover of James. Wade's tweet included a message:
"Welcome to the club @kingjames we have been expecting you... Congrats to my brother from another.."
Statement season
Though Wade was happy for James, it's easy to see why the timing might be a bit unfortunate for Wade.
The announcement of James' award came on the heels of Wade's best performance of the season. After being visibly hampered all season and missing time due to an assortment of leg injuries, Wade erupted for 34 points, seven assists and no turnovers on Saturday. Amazingly, it marked the first time in Wade's career that he had at least 34 points and seven assists without turning the ball over.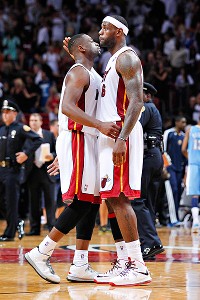 AP/Wilfredo Lee
Wade embraces "a brother from another"
Saturday's performance against the Nets was easily his finest game of the season, and it was characterized as a statement game for Wade. Before that outing, the doubt from the national media had begun to creep in as Wade was mired in one of the worst stretches of his career. Wade's struggles prompted TNT analyst Charles Barkley, who used to star in TV commercials with Wade, to remark on Thursday's telecast of the Spurs-Heat game:
"The toughest thing for Dwyane Wade is understanding that he's starting to lose his talent and now he has to learn how to play below the basket. That's the toughest thing when you're a great player or very athletic, when you can't jump over a building anymore, you have to learn how to play."
Reggie Miller, also on the broadcast with Barkley, mentioned that Wade had "taken a step back" this season. As if Saturday's play on the court wasn't enough, Wade made sure he got his point across at his locker after the game.
"Any time someone throws dirt on you, you always want to prove them wrong," Wade said. "I'll be fine, man. As much as people want to say certain things about me, I really can't listen to it. No one knows what we deal with. No one understands the sacrifice."
Wade's sacrifice is bigger than most people realize. Yes, Wade has allowed James to join his franchise and prosper in the Heat uniform, but the facilitation has come at the expense of Wade's minutes, shots and, as it was made abundantly clear Monday, time in the spotlight. Wade's minutes have been shaved from 37.1 minutes per game in 2010-11 to 33.2 last season and held steady at 33.8 this season. James, on the other hand, currently averages 37.3 minutes per game.
Though Wade's minutes haven't fallen again this season, his role in the offense certainly has been diminished. Wade has watched his usage rate -- a metric that estimates how many team possessions a player uses on the court -- plunge from 31.3 percent last season to 28.1 this season, which is the lowest mark since his rookie season. Though his shooting percentages roughly have been on par with last season, he's no longer as ball-dominant.
After Wade's game Saturday, James reflected on not only his teammate's adjustment with age, but his role, too.
"That's what happens with all the greats. A lot of people always doubt their ability as they get older or their roles change," James said. "So it's great when people say stuff about him. I'm glad he gets motivated and he can go out and prove that he's still the same D-Wade."
Saturday's postgame talk was all about Wade's redemption, but the focus quickly shifted back toward James Monday because of the Sports Illustrated honor. So it goes.
But the season is still young. Wade actually shot worse in his first 12 games last season than this season and still ended up with the third-highest Player Efficiency Rating at season's end. And as we saw in Game 4 of the Indiana series last postseason, Wade has a knack for bouncing back when the criticism is loudest.
As evidenced by his pogo-stick routine Monday, Wade isn't ready to fade into the horizon just yet. The spotlight may be dimmer with James' rise, but that comes with the territory.
And if Saturday's performance is any indication, Wade's play won't let us forget about him any time soon.