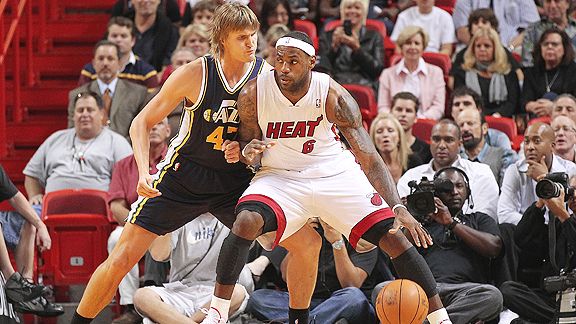 Mike Ehrmann/Getty Images Sport
Will LeBron James see more time at the power forward slot in a Miami small-ball lineup?
Playing the traditional power forward position is nothing new for LeBron James. He did it in Cleveland and he's done it in Miami.
Now with Udonis Haslem out long-term with a torn ligament in his left foot, expect more of it in the future.
"LeBron [James] and [James Jones] now will play some of [Haslem's] minutes when we play small," Erik Spoelstra said after Monday's shootaround.
"Defensively, [LeBron] will be able to play a lot of the small forwards," Spoelstra said. "Particularly tonight when they go with [Danny] Granger or [James] Posey at the four. That was one of the luxuries that we had [with Haslem]. People don't even really notice it until it's gone that U.D. can guard anybody -- a big 5, normal 5, normal 4, stretch 4, and he can even play 3. So that's versatility that can't be understated. Now LeBron can do that as well."
There's no doubt that Haslem's injury leaves the Heat shorthanded on the front line, moving 37-year-old Juwan Howard up the depth chart with no one in his shadow. The Heat could react by exploring the trade market but the Heat would be hard-pressed to come up with the assets to entice a potential trade partner.
So the Heat may actually be better off going the unconventional route and slotting LeBron at the 4 for extended minutes.
Now, LeBron at the 4 sounds nice. And it often is. But there's more to it.
The Cleveland Cavaliers found success deploying LeBron at the power forward, but only while he was paired with a mobile, defensively-focused big man like Anderson Varejao. The effect was lost when LeBron tagged alongside slumbering 5s like Shaquille O'Neal and Zydrunas Ilgauskas.
LeBron at the 4 in Cleveland
Data courtesy of basketballvalue.com
Evidently, the Cavaliers excelled with the duo of James and Varejao, beating opponents by about 28 points every 100 possessions. But that's not the case with Shaq and Ilguaskas, with the Cavs getting outscored on a per possession basis. (Side note: the Cavs had 12 more offensive possessions than defensive possessions, explaining the negative efficiency differential for Iglauskas' line).
While it's insightful to look at how Cleveland fared with LeBron at the 4, the situation in Miami is substantially different. The Heat don't have a player like Varejao who can run the floor, finish in transition and sufficiently defend opposing bigs without fouling them every time down the court.
The Heat will look for Bosh to fill that role at the center position even though he's been vocal about it not being his favorite one. He's not nearly as effective defensively against opposing centers such as Varejao was in Cleveland, but Miami will hope that Bosh's scoring will more than make up for it. The Heat have already experimented with the front line of James and Bosh on occasion, but with mixed results. So far this season, the Heat have been outscored 27-26 in the approximately 12 minutes that they've played together in the frontcourt. Good to know, but that's not nearly enough time to start draw conclusions.
So what changes when LeBron moves to the 4? The normally slow-footed Heat will look to run and attack from the perimeter with Eddie House and Jones flanking the Big 3.
"Offensively, you can get another shooter on the floor," Spoelstra said about the unconventional lineup. "In terms of what we'll run when we do go small like that, probably a lot of our sets with [Jones] will be at the 4 and LeBron still doing what he does so well."
Of course, Jones won't be playing the block like a traditional power forward; he has no business bodying up anyone in the post. Instead, when Spoelstra says James will play at the 4 offensively, he means that he'll play off the ball in the corner like he normally does, waiting for the defense to collapse on him (and Wade when he's healthy enough to play). Potentially, we'll be seeing a lot of the four-out system that head coach Stan Van Gundy has implemented in Orlando, with Jones playing the sharpshooting role of Rashard Lewis beyond the arc.
But here's the big difference: Bosh isn't Dwight Howard by any stretch of the imagination. The Heat will have to pick their spots when fielding a small-ball lineup since Bosh is already undersized at center. Playing bigger as a unit will be an even larger point of emphasis if the Heat choose to slot LeBron at the 4. Rebounding the basketball, which was already a weakness of this team, will be a veritable concern if they go small.
"Our commitment [to rebounding] has to start individually," Spoelstra said. "That's what we talked about today. Each individual guy on our team has to make that change. We can't expect our collective numbers to change if individually you're not making a difference on your own. I want to see our per-minute numbers going up for each individual player."
James' rebounding totals have been the early source of criticism this season but at 260 pounds, he's big enough to bang down low. It's easy to forget that LeBron has nearly 30 pounds on Haslem. But LeBron's low number of boards has more to do with his orientation on the court than his desire to grab the live ball. He won't have any excuses if he's playing more around the rim. Expect his rebounding numbers to climb as he gets more defensive assignments in the paint.
All things considered, the injury to Haslem certainly won't be a net gain for the Heat going forward. But if there's a silver lining with the torn ligament, it's that it forces the Heat to get creative and unlock James' versatility.