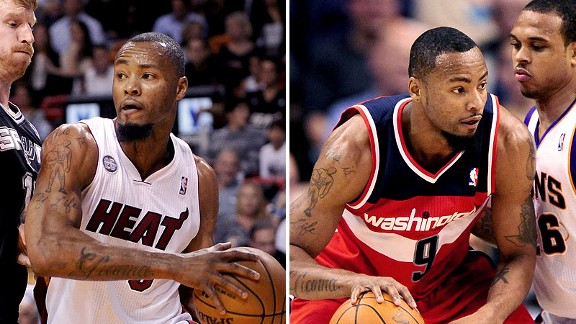 USA TODAY Sports
After struggling mightily in Washington last season, is Rashard Lewis a most-improved candidate?
In another installment of the Heat Index's 3-on-3 series, our writers give their takes on the storylines before the Heat visit the Wizards on Tuesday and aim to improve to 13-3.
1. Fact or Fiction: Former Wiz Rashard Lewis is a legitimate Most Improved Player candidate.
Tom Haberstroh: Fiction. Anderson Varejao. Omer Asik. Jrue Holiday. James Harden. It's a tough crowd for Rashard Lewis, who already has matched his made 3-point field goal total from last season in Washington despite more than half as many attempts. As improved as Lewis' shot has been since last season, others have improved in more areas than just one. He has been a revelation for Miami, but an uptick in rebounding and defense will be required to legitimize his status in this race.

Michael Wallace: Fiction. Lewis is on course to be a really solid find off the scrap heap for the Heat. Despite starting right now for the injured Shane Battier, I don't believe he'll get the consistent minutes or scoring opportunities to register among the most improved. He'd be better pegged as a comeback player of the year candidate if one existed among the NBA's awards.
Brian Windhorst: Fiction. I could dive into this topic, examining Lewis' remarkable turnaround in 3-point shooting and etc., but there is no point. As of now the Most Improved Player is a one-man race: Anderson Varejao. Check back later to see if things change but there is no other candidate thus far as far as I'm concerned.
---
2. Fact or Fiction: LeBron James deserves November Player of the Month.
Haberstroh: Fact. Knickerbockers fans may be calling for Carmelo Anthony's candidacy, but let's be serious. LeBron's team boasts the East's top record, he's the NBA's most productive player by PER and he played in every one of Miami's 13 games last month. Need I say more?
Wallace: Fact. He has led the Heat to the best record in the East, and he also won the weekly honor twice in November. It's getting to the point where the league is really working hard to find someone else to give these awards to just to break up the LeBron James weekly announcement.
Windhorst: Fact. I would argue, however, that LeBron probably deserved to be the Player of the Month in the East every month for the past several seasons and probably for the next several seasons into the future as long as he's healthy. He has no peer. Derrick Rose won the MVP in 2010-11 and he had a great year but LeBron lost it mostly because of political reasons. He also probably should've won the MVP in the 2007-08 season; the Cavs struggled with injuries that season, but he was the most dominant player then too. He has been the league's best, most consistent and most dominant player at both ends since then and he has only been getting better.
---
3. Fact or Fiction: With Knicks on tap, this is a trap game for the Heat.
Haberstroh: Fact. The Wizards have been bad, really bad, but they have been the recipients of some really bad late-game luck this season. Their point differential suggests they should be closer to 3-11 rather than 1-13. Playing an "underrated" team on the road with the Knicks coming into town in a few days? Sounds like a trap game to me.
Wallace: Fact. Only because they've all become "trap" games. Whether it's a red-hot Brooklyn squad or a deeply depleted Spurs team, Miami is specializing in playing up -- or down -- to the level of competition. The Heat also is finding different ways to overcome the doldrums just in time to win despite the nightly challenges. At this rate, I expect nothing less than the lowly Wizards to push the Heat to double overtime.
Windhorst: Fiction. The Wizards couldn't spring a trap if they wanted to. Considering the state of the Wizards' roster and the health of the Heat's roster (that is, they have their three All-Stars healthy and playing), there is no excuse for the Heat to lose. Even operating at half attention, the Heat should win. That's not a guarantee that they will, because this is the NBA and unpredictable things take place all the time. But there is no excuse for it to happen, especially who may be next on the schedule.