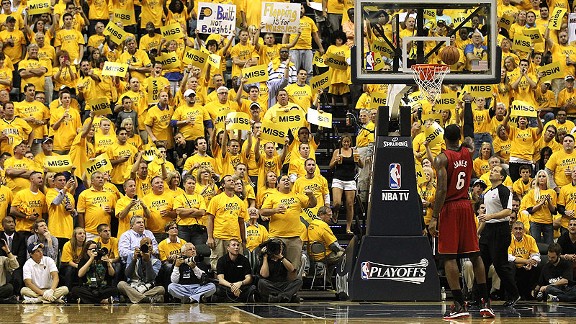 Jonathan Daniel/Getty Images
LeBron James has managed to fix every weakness in his game except for one: free throws.
MIAMI -- LeBron James' weaknesses paragraph has been reduced to a sentence.
Not too many years ago, the league's "book" on James documented several shortcomings in his game. Not good going left. Doesn't attack as much from left side of floor. Inconsistent midrange jumper. Below-average 3-point shooter. Can be pushed out of post with little effort.
"Not anymore, he's basically down to one," said an Eastern Conference advance scout who has recently tracked the Miami Heat.
"Free throws."
James was just named player of the month for November. He's shooting a career-high 53 percent from the field, a career-high 42 percent from 3-point range and averaging a career-high 9.1 rebounds. He has never been more proficient in playing from the post. His case for a fourth Most Valuable Player Award is already being built.
But there's one hole and it's actually growing a little. James is having the worst free throw shooting season of his 10-year career. He's at just under 65 percent through 16 games, a stunning 12 percent drop-off from last season and 10 percent off his career average.
It happened to manifest itself in the Heat's 105-101 loss to the Washington Wizards Tuesday night. With two minutes to play, James missed two important free throws in a four-point game. It wasn't the direct reason the Heat lost, but it was a contributing factor.
More importantly, it seems that James' struggles at the foul line could be having a negative impact on his overall offensive game. James is going to the foul line significantly less than in years past. So far this season he's making just 5.7 trips a game, which would be the lowest average of his career. This is a drop of nearly three attempts per game from last season. Not only that, it's roughly half as many as his last season in Cleveland.
This is an unusual and unexpected development. As James has appeared to hit his prime over the past few seasons and his all-around game has been honed, all of his numbers and execution have only been on the rise. This is the first significant regression in a while and the opposition is already starting to notice.
It might not be long before strategies get altered and teams start putting James on the line in an attempt to slow his effectiveness.
James is taking an expected position on the matter, which is that it is just a phase.
"I just need to go up there and make them," James said. "Just go up there and figure it out."
But James has been wavering a bit on free throws for some time now. Last season he shot 68 percent on so-called "clutch" free throws, shots taken in the last five minutes with a game within five points. It was the first time he had shot below 80 percent on those key free throws since the 2007-08 season. In his first season with the Heat in 2010-11, for example, he shot 84 percent on "clutch" free throws.
If there was one bobble James had during the playoffs last season it came as a result of free throws. In the Heat's Game 2 loss to the Indiana Pacers in the second round, James missed two important free throws in the final minute. This infamously led to Pacers reserve Lance Stephenson flashing a choking sign that became a touchstone for a physical and testy series.
No player will make them all; not even James can be held to that standard. But in the final possession of that game against the Pacers, James appeared to pass up a chance to drive with the Heat down two points. Coach Erik Spoelstra said at the time fatigue may have played a factor. James said he was attempting to get a better shot, which turned out to be a miss by Mario Chalmers. But it left the impression that after the free throw misses, James may not have wanted to go to the line again under pressure.
All in all, this was but a blip in a magnificent playoff run for James. But it was still there.
"The only weakness in his game right now is at the line," the scout said. "There is basically no way to defend him, he will beat every look and every system. But if there's a chink in the armor, and it's a small one, it's at the line."
James struggled for consistency at the line early in his career. Over his first few seasons he went through what seemed like an unending stream of routines. He tried not dribbling. He tried deep knee bends. He positioned himself at different angles to the rim.
After shooting just 69 percent from the line during the 2006-07 season, he started working regularly with then Cavs assistant coach Chris Jent. Now an assistant at Ohio State, Jent worked to get James into a routine that he trusted while making adjustments to improve his balance. Within two seasons, his average had shot up to 78 percent.
James had been a reasonably consistent shooter at the line ever since, usually shooting in the high 70s, and usually in the 80s under end-of-game pressure.
Perhaps James is indeed just going through a bad phase. Perhaps all the basketball over the summer with the Olympics caused him to slack a bit on his fundamentals heading into the season. Perhaps this slide won't even be remembered when the spring comes.
But with the quarter mark of the season in sight there is no doubt it is becoming an issue, one James will probably have to address.