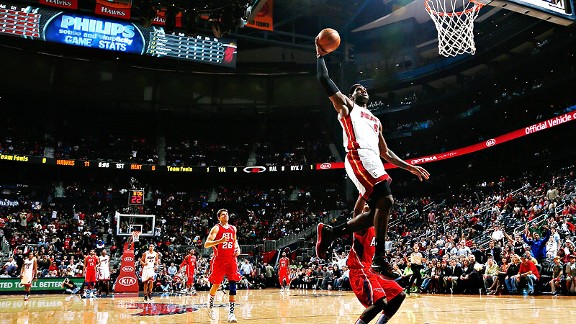 Kevin C. Cox/Getty Images
LeBron James and the Heat look to rise against the surging Hawks.
In another installment of the Heat Index's 3-on-3 series, our writers give their takes on the storylines before the Heat host the Hawks on Monday and aim to improve to 14-5.
1. Fact or Fiction: The Hawks will be the No. 2 seed in the East.
Tom Haberstroh: Fiction. Really want to put "Fact" here because I think the Hawks are legit. Trouble is, I think the Knicks are also legit so I'm going to pencil in Atlanta for the No. 3 slot. With their super-quick ball handlers, the Hawks will be the biggest test of the season for Miami's porous perimeter defense.

Michael Wallace: Fiction. The one constant about the Hawks is that they always manage to disappoint you. In both good and bad ways. You expect them to stay consistent and reach their potential, and the bottom falls out. Count them out of the race, and they're suddenly on your heels. That makes them a solid No. 4 seed year in and out.
Brian Windhorst: Fiction. Some are surprised by the Hawks' strong start and some, who liked them post-Joe Johnson trade, aren't. Either way, despite some early doubts, I think they've proven over the first quarter of the season that they're a playoff team. They have proven they are a good defensive team and that will probably carry them. But I'd be surprised if they got to 50 wins, much less the No. 2 seed.
---
2. Fact or Fiction: Josh Smith is still a Hawk next ATL-MIA game (Feb. 20).
Haberstroh: Fiction. I have no inside info on this one, but I have a sneaky suspicion that new GM Danny Ferry will flip Smith for assets a la Johnson and continue building around Al Horford. Midseason trades are always more difficult to pull off, but I'm not sure the Hawks want to give free-agent-to-be Smith a max deal after what happened with Johnson. Dealing Smith would ensure they get assets to re-tool with rather than letting him walk this summer for nothing.
Wallace: Fact. Especially if the Hawks somehow keep this successful ride going well through the All-Star break. Smith is probably the second-biggest available trade chip out there behind Pau Gasol. But he seems to be just as valuable if he stays. If the Hawks keep him, he's a free agent after the season and they could have even more cap space. So Atlanta's in a good spot either way.
Windhorst: Fact. Smith has been the subject of trade rumors for a few years, but there's a reason he's still there. He enables the Hawks to swing from playing big with him at small forward to playing small with him at power forward. He's also reasonably effective at both ends. He's also not quite an All-Star. These factors make it hard to judge his value, which is why it is hard to both find a trade for him and hard to want to trade him.
---
3. Fact or Fiction: Udonis Haslem should start for rest of season.
Haberstroh: Fiction. The key is getting Joel Anthony more minutes. Spoelstra wants the defensive ace in the rotation to help stop the bleeding on that end of the floor, and this is one way to do it. But Haslem's shot has declined so badly -- he's shooting an abysmal 21 percent on jumpers this season -- that he's no longer a big upgrade offensively over Anthony. To me, this feels like a temporary solution. Once the defense starts to pick up, I expect Spoelstra to go back to Shane Battier in time for the playoff run.
Wallace: Fiction. Erik Spoelstra proved he's adequate at making the proper adjustments for the long-term success of the team. The fact that he's flexible and unpredictable with lineup tweaks is a good thing because no one's ever out -- or in -- the rotation for long beyond the top four players. So if Haslem is the man for the job now, so be it. But things can change again in a hurry.
Windhorst: Fiction. I'm rather bored by "starter" stuff because I simple don't care who starts unlike most players and many fans. The bigger question is: "Should the Heat be as committed to playing small ball as they were at the start of the season?" I'm not sure we have an answer to that yet. The negatives have been obvious defensively and Spoelstra is clearly evaluating whether he should play a little more conventionally. It seems, for now, like he's going to and that means starting Haslem and playing Joel Anthony.