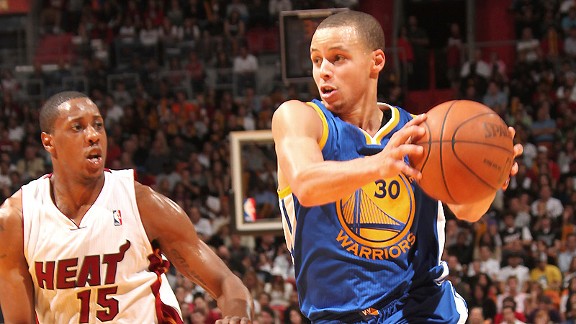 Victor Baldizon/NBAE/Getty Images
Will Warriors guard Stephen Curry join Miami's Big Three in the All-Star Game?
In another installment of the Heat Index's 3-on-3 series, our writers give their takes on the storylines before the Heat host the Warriors on Wednesday and aim to improve to 15-5 on the season.
1. Over/Under: 3.5, number of 2012-13 All-Stars in tonight's game.
Tom Haberstroh: Over. Save a spot for Stephen Curry! The all-world sharpshooter isn't just a sharpshooter. He's averaging 20.0 points, 6.5 assists, 4.0 rebounds and 1.7 steals while lighting it up from downtown. If he and the Warriors can keep it up, I don't see why he shouldn't make it along with Chris Paul, Russell Westbrook and Tony Parker. It's fitting that Curry, the closest thing we have as a shooter to Steve Nash, could take Nash's spot in this year's All-Star Game.

Michael Wallace: Over. And that's probably being a bit generous. On the surface, you have to figure LeBron James, Dwyane Wade and Chris Bosh are locks -- even under the new format that eliminates the "center" designation, which could adversely affect Bosh. Beyond that, Stephen Curry should be an All-Star if he keeps this up. But he could be impacted by "Linsanity" with the game being played in Houston, which Jeremy Lin calls home -- and he will get significant global support.
Brian Windhorst: Under. This is really a question about whether Stephen Curry or David Lee are All-Stars. The Warriors are one of the best stories going early on, but I'm not ready to say either will be in Houston. There's too much talent in the West at both positions.
---
2. Over/Under: 22, Dwyane Wade's PPG at end of season (last season: 22.1).
Haberstroh: Under, but juuuust under that. And Wade and the Heat should be thrilled with a 21-point scoring average considering he's coming off knee surgery. Currently, he's sitting at 20.2 points per game, so he isn't far off. I could see his efficiency improving as his knee fully heals, but I also see Ray Allen's presence allowing the Heat to manage Wade's minutes down the stretch. Wade isn't the player he once was, but did we expect him to be?
Wallace: Over. While Allen's addition will take a couple of points away from Wade's average and add an assist or two to LeBron's per-game numbers, there are plenty of 25-point-plus games left in Wade this season. He's still a lethal scorer. And as his legs continue to get stronger, he'll get to both the basket and free throw line a few more times each game to increase his scoring average.
Windhorst: Under. I know everyone is fired up about Wade and his mortality, etc. But let's be dead honest about this situation: Wade is not the player he was two or three years ago. Guards, for the most part, are not in their prime after age 30. Especially guards who have had three knee surgeries. But this doesn't mean Wade still isn't a great player and it doesn't mean he can't play a huge role on a title team. It's not mutually exclusive -- a guy can be somewhere between great and washed up. I expect his scoring average to stay around 20, especially with Allen on board this season.
---
3. Over/Under: 5.5, the Warriors' eventual seed in West (currently 5th).
Haberstroh: Over. A 6-seed in the West sounds about right, and they should be ecstatic about it considering how things have gone over there in the Bay recently. With Ricky Rubio and Kevin Love rounding into form in Minnesota and the veritable upside in Utah, I don't feel good about penciling the Warriors into the 5-seed or better. And that's before we consider Andrew Bogut and Stephen Curry's legitimate health concerns.
Wallace: Over. And by that I mean that they'll probably slip somewhere between the 6-seed and the 8-seed. I'd be surprised if a team that starts two rookies right now can sustain this remarkably surprising start. I eventually see the Lakers and maybe the Jazz catching the Warriors in the standings. But I do have Golden State making the playoffs, which is a credit to Mark Jackson's coaching and Stephen Curry's leadership.
Windhorst: Over. The Warriors have a great chance to make the playoffs, and that's no small feat. They've made the playoffs exactly one time in 18 years -- that's not a typo. Just getting in is a huge accomplishment. I expect them to slide back a bit while some teams behind them, namely the Lakers, move up.