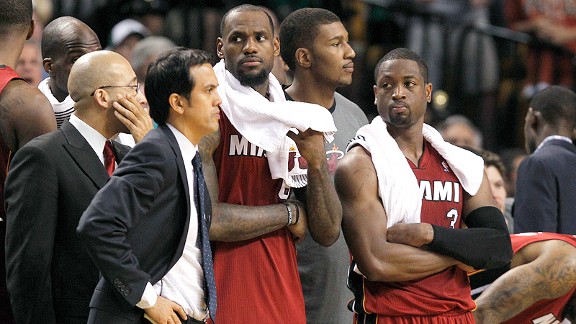 AP Photo/Elise Amendola
LeBron James and Dwyane Wade are getting more say in Erik Spoelstra's rotation shuffle these days.
MIAMI -- Erik Spoelstra hinted this was coming.
Two weeks ago, the Miami Heat coach essentially warned his players – and anyone who follows the team closely – to expect the unexpected.
He said to be prepared for opportunities to come one game, and flee the next. He cautioned to brace for sudden change.
"I don't know exactly how I'm going to go for the next 10 or so games, but I do want to look at some things," Spoelstra said earlier this month. "It's not necessarily tinkering. But I'm trying to get our lineups consistent where it's a consistent wave of production and efficiency."
That search for continuity continues as the Heat (14-6) try to smooth out a turbulent stretch that has included three losses in five games entering Saturday's visit from the Washington Wizards. In fact, it was a stunning loss to the then one-win Wizards on Dec. 4 in Washington that exposed the Heat for their inconsistent play this season.
But even before then, a combination of injuries, defensive lapses and sluggish starts has led Spoelstra to change his starting lineup five times in the past eight games and juggle his rotation as he patiently waits for the defending champs to rekindle the playoff chemistry of last season.
The Heat have 10 players averaging between 14 and 38 minutes this season. But none except LeBron James, Dwyane Wade and Chris Bosh really knows what sort of role to expect – or how long it'll last – on a given night.
"We know who our top 11 or 12 [players] are," Spoelstra said of trying to settle on a specific rotation. "Things could change. But that will really be based on how we're playing and what we like and don't like."
In recent games, Spoelstra has liked a starting lineup that looks quite different than the one he prefers at the finish. Udonis Haslem has replaced Shane Battier as the starting power forward and Mario Chalmers continues to start at point guard despite his recent struggles on both ends of the floor.
But there has been a different set of closers on the floor alongside James, Wade and Bosh late in the fourth quarter. Battier, Ray Allen, Norris Cole and Joel Anthony have been among the finishing options lately.
A clear sign that Spoelstra is still searching was revealed late in Wednesday's 97-95 home loss to Golden State, when the Heat effectively used Cole instead of Chalmers in the second half to slow down Stephen Curry. But Spoelstra replaced Cole with Allen in the final minutes and curiously stayed with Allen after a timeout with 11 seconds left when the Heat needed a defensive stop. The Warriors scored on a backdoor layup with a second remaining after a defensive mix-up between Battier, Allen and Bosh.
After taking the day off Thursday, the Heat went back to work Friday to regroup. It's a continuous process, and Spoelstra has involved his star players in the process as he experiments with different lineup combinations.
"When things are going good, you don't need to voice your opinion that much," James said. "When things out on the floor are going well and you see a rotation that looks good, you want to stick with that. When you're deep, you go through a couple of phases in the season where you try to find the best combination of lineups, offensively and defensively … and you just go from there."
James said he's gradually become more vocal over his three seasons in Miami about which players work best around him during certain moments in games. He doesn't dictate the Heat's substitution patterns in games, but he does approach Spoelstra with recommendations in meetings.
"I take on a lot of roles," James continued. "Hopefully, I'm in a lot of those combinations. I feel that my voice ... that my opinion means a lot. Being out there, it's a fine line. You want to be able to score, but you also want to be able to defend. There's going to be better lineups offensively. And there's going to be lineups that are better defensively. As a coach, you try to find the one that fits in the middle."
Wade said his suggestions to Spoelstra during challenging times are a bit more personal. They discuss ways in which Wade can be used more effectively and efficiently, considering he's still working his way back to full strength following offseason knee surgery.
Wade's performances this season have been as sporadic as those of his team. His scoring average (19.8 ppg) is the lowest it's been since his rookie season, but his field goal percentage (50.4) is currently at a career-high level.
"So far in the early season, for me, it's been me suggesting what I feel I can give or how I can help myself to help the team," Wade said. "We're still trying to figure out and find out the way we want to play. It's still early in the season for a lot of teams. This is the time of year where you pick up wins while you're still figuring your game out."
For Spoelstra, it's also about finding combinations that fit. Last season, that search continued well into the playoffs until he developed a small-ball rotation dynamic that fueled the Heat's push to a championship.
So it's still way early in the process.
"You don't just want guys to say, 'Yeah, well, I'll just sit over here. I don't want to play,'" Spoelstra said. "But our guys understand the big picture. They understand we will need all the guys and it's a long season. It's a luxury that we have that versatility. If everybody has the right mindset, then we can use it to our benefit. If guys get sideways in the mind, there's no point in even having that versatility."