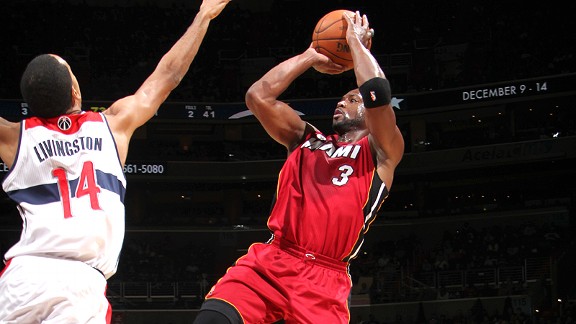 Ned Dishman/NBAE/Getty Images
Ahead of Saturday's game against Washington, is Dwyane Wade an all-time top-three shooting guard?
In another installment of the Heat Index's 3-on-3 series, our writers give their takes on the storylines before the Heat host the Wizards on Saturday and aim to improve to 15-6 on the season.
1. Fact or Fiction: Wade is the third-best SG of all time, as Mark Jackson said.
Tom Haberstroh: Fiction. This is a classic case of production versus projection. Right now, Wade hasn't produced enough at this point to be slotted right behind Michael Jordan and Kobe Bryant. But if we reasonably project his career past the present, he has a good case for the third slot. One day, he'll likely be the third-best shooting guard ever, but not at this moment.

Michael Wallace: Fiction. Even Wade admitted he still has a little more work to do to justify that top-three distinction. That list, for now, is Michael Jordan, Kobe Bryant and Jerry West. Another title or two for Wade as a primary contributor pushes him past West.
Brian Windhorst: Fiction. I'm not saying that out of a lack of respect for Wade, but more out of respect for other great shooting guards. In this argument, obviously Jordan and Kobe are 1-2, respectively. Then you could have a real debate with Jerry West, George Gervin, Clyde Drexler and Wade. Some would include Allen Iverson depending on what you think his true position was. Wade can make a case, of course, perhaps the strongest case. Wade's advantage: His career isn't over and he's already got two titles.
---
2. Fact or Fiction: The Wizards loss was worse than the most recent Knicks loss.
Haberstroh: Fact. Though the Knicks blowout might have resonated more because they Heat got undressed on national television, the Wizards loss was far more embarrassing. The Knicks without Carmelo Anthony might be a .500 team, but the Wizards are 3-17.
Wallace: Fact. Quick, name the Wizards' starting five. In fact, just name five Wizards on the roster in general. Can't do it off the top of your head, can you? It's OK. You're not alone. Anything can happen on any given night in the NBA, but a loss to a one-loss, depleted Wizards team is as embarrassing as it gets in the regular season.
Windhorst: Fact. The Heat's demeanor in that game, especially defensively, was quite poor. They also got mocked for a good 48 hours over it. The Wizards have been one of the league's worst teams for the past three years, but they have a winning streak against the Heat.
---
3. Fact or Fiction: The Heat will be more active on the trade front this season than in recent years.
Haberstroh: Fact, but that doesn't mean a deal is likely. They like the group they have, and Pat Riley values loyalty more than maybe most decision-makers, but the punitive luxury tax hits are drawing nearer. That might make them pick up the phone more, but it probably won't lead to more actual transactions. If nothing else, they have more shooters on the wings than they know what to do with. Teams will be calling.
Wallace: Fiction. The past two trade deadlines have come and gone without key movement from the Heat. Pat Riley prefers the free-agency route, and that includes the post-trade deadline market when players are released as part of larger trades. Barring a major injury that affects one of their top-five players, I'd be surprised if the Heat shake things up midseason.
Windhorst: Fiction. The Heat rarely make trades, and in-season trades are even less likely. They do have more assets to offer than they did in the past couple of years. But best bet is another midseason free-agent pickup.