L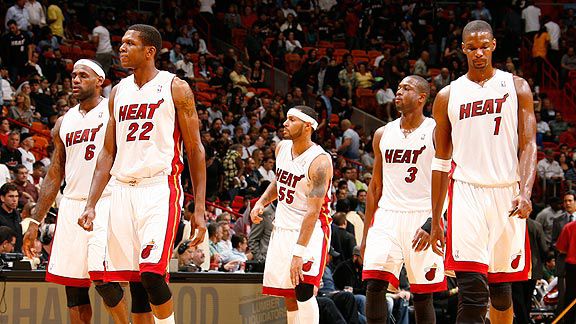 Issac Baldizon/NBAE/Getty Images
The Heat's body language said it all during their loss on Monday to Indiana.
MIAMI -- Despite how murky this cloud is that's hanging over the Miami Heat right now, let's be crystal clear on a couple of things. First, no more excuses.
Yes, it's still too early to push the panic button on the Heat -- even after the latest, lackluster and lethargic effort they showed in Monday's 93-77 home loss to the Indiana Pacers. But it's certainly appropriate right now to refer to the product the Heat are packaging as pathetic.
Excuse the alliteration in that last paragraph. Don King, who had the most inspiring presence in the building on Monday, was on hand to promote his boxing event scheduled for Dec. 17 at AmericanAirlines Arena. At this rate, that might be the next time you see any real fight in this venue.
The Heat certainly aren't putting up much of one on a consistent basis. Miami demonstrated why it's the most disappointing team in the NBA, based on what was advertised and what's presently being delivered. What was supposed to be dynamic looks disjointed. And instead of superior production, the Heat are turning in sporadic performances.
In other words, this outfit led by LeBron James, Dwyane Wade and Chris Bosh is not much more than a mesmerizing mess through the first 14 games of the season. The scene that best captured the moment Monday night was the snapshot of Heat players leaving the court after falling to 8-6 and watching Indiana's Danny Granger and Josh McRoberts lunge into one another with a celebratory chest bump.
It was eerily similar to the celebratory chest bump involving Zach Randolph and Rudy Gay the other night after a loss in Memphis. There's no more denying it, disguising it, defending it or dismissing it -- there are some major problems with this program.
"We're here," a dejected Bosh said as he attempted to explain away another demoralizing defeat. "We're just going to have to deal with it. Find out what's we're doing wrong and change it."
Change. Yes, change would be good right now. And no, not necessarily the change many Heat fans were calling for as they filed out of the arena Monday night. Those "We want Riley" chants that began midway through the third quarter and continued well into the fourth as the stands emptied are a bit misguided. This isn't coach Erik Spoelstra's fault.
How can it be on Spoelstra when it's proving nearly impossible to keep the key players healthy? How much blame falls on the coach when grown, professional players making millions of dollars can't make free throws? Yes, Spoelstra can alter the offense, press for more commitment on defense and change up his rotation as frequently as Heat defenders get broken down off the dribble.
But what can he do when James appears to repeatedly break off plays to do his own thing? How many more ways can he try to convince Bosh that the painted area on either end of the floor isn't some form of quicksand? And what can any coach do about Wade's health?
"I told them I'm not going to feel sorry for them," Spoelstra said. "I'm not going to feel sorry for myself. We need to look at ourselves individually, get to work and get better. We need to dig ourselves back. Trust each other. Trust the system. [Monday] was nothing I recognized."
That was not the first time Spoelstra said he's coaching a team on game night that he doesn't recognize. But this isn't about coaching. It's about chemistry. It's about cohesion. It's about coming together.
James, Wade and Bosh proved last summer they were essentially the most powerful individuals in the entire league. They commandeered the free agency process, charted their course, came together in a calculated fashion and coined a catchy slogan: Yes. We. Did.
But any honest evaluation of this team starts with asking the question: What exactly have they done?
James was asked after Monday's loss to describe what precisely is wrong with the Heat.
"What we're lacking are two things: That is fun and a little bit of swagger right now," James said.
There was talk that Heat players and coaches exchanged some emotional and angry words in the locker room after Monday's loss. But when they emerged from behind closed doors, there seemed to be a disconnect about how effective that angry approach can be at this stage.
"Getting angry isn't going to do anything," Bosh said. "We can debate and talk all night. Only thing that can fix it is court time."
Needing more time might be a fair request from this team but not for much longer. The Heat will play their 15th game of the season Wednesday at Orlando. Pretty soon, Miami will be approaching that 20-to 25-game window that Riley likes to use before he truly evaluates a team.
Truth is this team won't be whole for a while longer. Mike Miller, who has yet to play a game for the Heat, won't return from thumb surgery until late December or January. Udonis Haslem, who is set for foot surgery Tuesday, won't be walking back into the lineup anytime before late February.
We might not see what this Heat team is truly about until 50 games into the season. What we saw Monday night was a disaster. There's not other way to describe it. This star-studded Heat team is beaten, broken and bewildered right now. It is losing to teams that have no business beating it.
The Pacers essentially put the Heat away with a lineup of players they've been trying to dump the past two seasons. T.J. Ford. Mike Dunleavy. Brandon Rush. Not exactly the Big 3. James Posey, who won a ring on the 2006 Heat championship team, also played a role in torching his former squad.
"You can see that they're still trying to figure each other out," Posey said of the Heat. "It's rough for them right now. To have that swagger is one thing, but you have to be able to get the job done. You have to do both. When I was here, when we won it, we had that swagger."
In the past two weeks, Boston's Glen Davis has questioned the Heat's toughness, Utah's Raja Bell has questioned the Heat's teamwork and Posey questioned the Heat's swagger.
It's still way too soon to write off the Heat. But right now, this team is defective.
"It's not the end of the world," Wade insisted Monday night.
No, it's not. But you can almost see it from here.