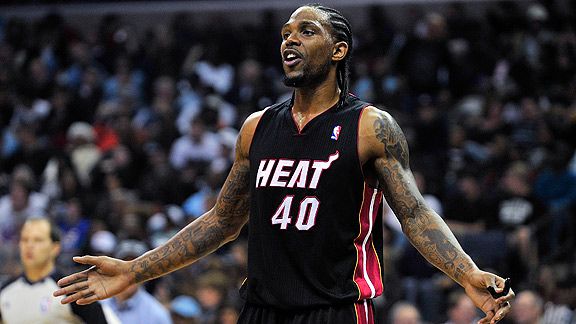 Grant Halverson/Getty Images Sport
Without this guy, the Heat bench was a nonentity on Monday.
We knew the Heat bench would look thin when Udonis Haslem went down with a torn ligament on Saturday night. But after the Heat's 16-point embarrassing loss to the Indiana Pacers on Monday night, describing the Heat bench as transparent may not fully capture its thinness.
It's hard to find a worse bench in the NBA than the current one in Miami.
On a night when the Heat were suffering through an injured Haslem and a hindered Dwyane Wade, the Heat needed their reserves to pick up the slack against the Indiana Pacers. But instead, the bench answered the call with one of the most unproductive performances in Heat history.
Look at the box score and a number of Heat factoids immediately jump out from the page, but few pack a punch quite like this one:
The Heat bench played a total of 74 minutes on Monday night and scored a whopping 4 points. The last time they did that? Nearly a decade ago, when the Heat bench mustered only two points in a January 2001 loss against -- guess who -- the Indiana Pacers.
"At times, the guys on the bench competed and gave us energy defensively," Heat head coach Erik Spoelstra said after the game. "But offensively, there's not too many things I can point to that we did well."
Oh, it gets worse. Spoelstra exhibited so little confidence in backup shooting guard Jerry Stackhouse that the 36 year old didn't even get off the bench, despite Dwyane Wade's injured wrist and appalling shooting display. If there was a situation dire enough to give Stackhouse some run, this was it. Keep in mind, Stackhouse started for the Heat just two days ago in Wade's absence.
And Joel Anthony? He didn't play either. Anthony has fallen so far down the Heat depth chart that he's battling for minutes with Rony Seikaly. Yes, this is the same Anthony whom the Heat were so eager to lock up that they handed him a five-year deal over the summer.
It was a cold shooting night for players who can ill-afford to go cold. As long-range specialists, Heat reserves James Jones and Eddie House offer such narrow skill sets that they instantly become liabilities if their shots don't fall. And tonight was one of those nights -- the pair went 0-for-7 from the field and earned zero free throws. All in all, House and Jones combined for two rebounds, an assist, a block, and two turnovers in 44 minutes of playing time.
Above all else, the Heat severely lack a shot creator outside the Big 3. No one can provide instant offense if Wade, LeBron and Chris Bosh aren't running on all cylinders. Stackhouse was supposed to be that presence but he's shown his age so far, shooting just 25 percent in limited minutes.Wade and James have shouldered much of the blame for the offense's stagnation but the roster is so dependent on them to penetrate and draw defenses that standing around becomes inevitable. The only bucket the bench made tonight was a tip-in from Jamaal Magloire.
But maybe we should have seen the lack of depth coming. When Pat Riley gutted the roster to pave the way for the Big 3 to sign in Miami, it was well-understood that there would be only a few pennies left over to fill out the rest of the 15 slots. A sliver of cap space went to Anthony, Mike Miller and Udonis Haslem. The rest? Nothing but veteran minimum contracts to the game's seniors. Carlos Arroyo, Zydrunas Ilgauskas, House, Magloire, Stackhouse, Juwan Howard, and Jones were all signed for the bare minimum. As a veteran minimum player, Erick Dampier should fit right in when he's expected to sign on Tuesday.
The Heat had to be aware that they were two injuries away from featuring the Big 3 and a collection of players picked off the scrap heap. This was a distinct possibility. And now that dreaded scenario has become a painful reality with Miller and Haslem each sidelined for months in the early going.
Wade, LeBron and Bosh will receive the brunt of the criticism following a listless performance at home against the Pacers. After all, they made this bed with all the summer's pyrotechnics, flexing and championship guarantees -- and now they have to sleep in it.
But this is a team game. No matter how much blame is placed on the Big 3 receive for tonight's loss, the truth is that the roster remains emaciated without Haslem and Miller healthy.
And it won't get better any time soon.