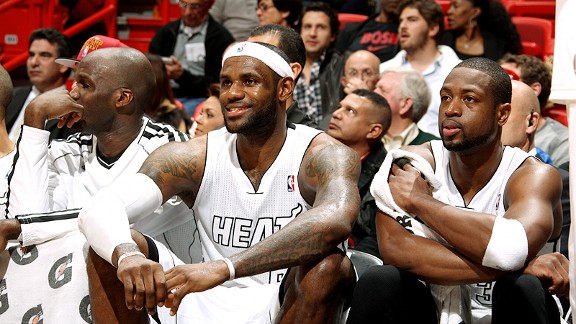 Issac Baldizon/NBAE via Getty Images
The Heat can be fairly confident their approach is rounding into form in time for a Finals rematch.MIAMI – It wasn't necessarily a full-fledged identity crisis.
The defending champion Miami Heat knew exactly who they were amidst those early December doldrums. They just didn't always apply the effort and focus each night to match the lofty standards they set toward the end of last season.
In other words, they forgot what got them here.
But after watching his team win its fourth straight game Saturday by a double-digit margin, fueled by steady doses of dominant defense, coach Erik Spoelstra feels the Heat are gradually regaining their championship characteristics.
And for Miami, it's all coming together just in time for a Christmas Day showdown against an Oklahoma City team it defeated last June in the NBA Finals. On the heels of Saturday's 105-89 victory against Utah, the Heat will carry a four-game winning streak into Tuesday's high-profile matchup with Kevin Durant and the surging Thunder.
And spearheaded by a defense that jumped from the bottom third of the league's rankings two weeks ago to currently just outside the top 10, Miami also carries something else into their most anticipated game of the season: familiarity.
"Now, it's about consistency," Spoelstra said of the Heat, who have won their last four games by a combined 72 points. "But at least we look like a Miami Heat basketball team, in terms of defending and being committed to that end and not just trying to outscore teams."
The four-game sample size has seen the Heat take care of business in dominant fashion against undermanned teams they should have dispatched, such as Washington and Dallas. But the streak has also included wins in which Miami had to dig deep and overcome disadvantages.
On Thursday, that meant pulling away from Minnesota and its massive frontcourt despite being outrebounded 53-24 on the way to an 11-point victory. An already undersized Heat team was even smaller Saturday against the Jazz, with starting center Chris Bosh remaining at home with the flu.
But what Miami had Saturday was the same level of energy, aggression and athleticism it plays with when at its peak. It led to the Heat scoring 26 points off 20 Jazz turnovers and holding Utah to 41.1 percent shooting from the field. When Miami is committed defensively, they put teams away much like it did Saturday when the Jazz saw a four-point deficit at the half grow to 20 points in six minutes.
Earlier this month, a frustrated LeBron James talked about how his team needed to remove the stench and sting from losses to Washington and New York by stringing together not one, not two, not three games but a month of solid play.
James offered a progress report of sorts Saturday night.
"We're in the right direction," James said Saturday after he finished with 30 points, nine rebounds and seven assists. "We're making a huge step right now, and we don't want to go back. There are going to be some games where you don't play to the highest level. For the most part, we're doing it at a high level right now."
Their play of late has been similar to what they displayed in the playoffs last season, when Spoelstra effectively adjusted his rotations. James was overwhelmingly efficient on both ends, and the Heat's defense set the tone.
"We defend and then everything else takes care of itself," James said. "That's who we are."
Yet the Heat are still evolving. After tinkering with the notion of playing at an even faster pace this season, Spoelstra has quickly and quietly altered that approach.
Miami's current streak coincides with changes in the rotation that have seen rugged rebounder Udonis Haslem move into the starting lineup at power forward, with perimeter shooting specialist Shane Battier now coming off the bench. Another tweak has involved Spoelstra going with defensive-minded guard Norris Cole longer late in games ahead of starter Mario Chalmers. And shot-blocker Joel Anthony has reemerged in the rotation while the Rashard Lewis experiment has been tabled – for now.
"Our defensive commitment has been better," Spoelstra said. "I think everybody is seeing that. And what you're seeing is also more consistent 48 minutes, with less lapses during the course of the game. Our starters have been able to set the tone for us. And when our bench comes in, they ignite that [second] unit. And we just have to continue."
When the Heat gather to watch game film these days, they no longer see strangers. They see a team they recognize.
"It just took a little longer than we wanted it to," Haslem said. "But we're getting there. We're starting to grind it out.
We're not all the way there yet. But these last couple of games, it's starting to come together."
And it's starting to feel normal again.
Like Miami Heat basketball.
"We know we still have some work to do, and that's a good thing for this team," guard Dwyane Wade said. "But we feel a lot better than we did a week ago."
The Heat stopped short of suggesting they've hit a stride.
For now, they're on the track and in the starting block.
And finally feeling like they're pointed in the right direction.