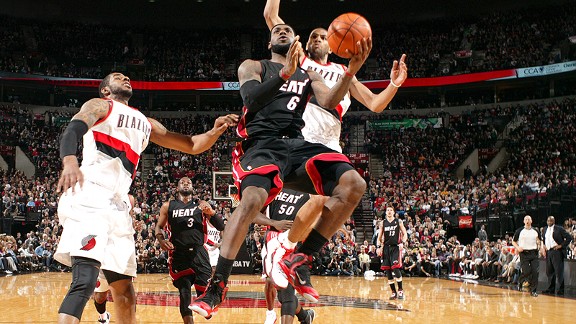 Cameron Browne/NBAE/Getty Images
LeBron and the Heat will try to snap out of their funk in Portland, where the Blazers are tough to beat.
In another installment of the Heat Index's 3-on-3 series, our writers give their takes on the storylines before the Heat face the Trail Blazers on Thursday.
1. Agree or disagree: Rebounding is Miami's biggest problem.
Tom Haberstroh: Agree, but I think it's way overblown. Here's something that doesn't get mentioned nearly enough: Ray Allen, Shane Battier and Mario Chalmers have shot 24 percent in the Heat's last four losses. If any of Miami's shooters had gotten hot in any of those games, we probably aren't asking this question.

Michael Wallace: Agree. It's gotten to the point where it would be irresponsible to dismiss or downplay these recent disturbing results on the boards. That said, a point can be made that turnovers and poor shooting doomed the Heat in Indiana as much -- or more -- than giving up a season-high 22 offensive rebounds to the Pacers.
Brian Windhorst: Disagree. The Heat's biggest problem is motivation. The way they have chosen to play requires a significant amount of effort. It's tiring mentally and physically to trap pick-and-rolls and sprint back to recover. It wears you out to have to rely on toughness and technique instead of size to rebound. Always playing against bigger opponents is draining. With no one gaining on them in the standings really, that's a hard sell every night in December and January -- probably February too.
---
Haberstroh: Disagree. LeBron vents frustration by doing postgame workouts; Bosh says the sky is falling. Two different people, two different methods.
Wallace: Disagree. I understand the case Bosh was trying to make, but it was one of the few times the most cerebral star on the team seemed to lose perspective. It's a different level of urgency in the playoffs. The Heat have proved that when they're locked in, they easily overcome their shortcomings in the postseason.
Windhorst: Disagree. Wholeheartedly. Someone needs a hug.
---
3. Agree or disagree with LeBron: Damian Lillard is the Rookie of the Year.
Haberstroh: Agree. If Andre Drummond got the playing time he deserves in Detroit, this would be a closer race, but Dame's the name. Lillard's the reason Portland is 19-15 despite being outscored this season; he wins seemingly every neck-and-neck game. Lillard is three years older than Drummond and Anthony Davis, which makes his performance a tad less impressive, but holy smokes has he been good in Year 1.
Wallace: Agree. Lillard certainly has the endorsement of the Heat's Big Three. You'd be hard-pressed to find another rookie having more of an impact on a team in playoff position than Lillard. His scoring, on-court demeanor and leadership make Lillard seem like he has been in the league for four years instead of four months.
Windhorst: Agree. Have you seen what this rookie class has been doing? Not exactly a lot of competition. Anthony Davis, now healthy, is finally giving Lillard some challenge. All I'm going to say is Bradley Beal won East Rookie of the Month in December when he shot 18 percent from 3-point range as a member of a horrific team -- and nobody thought he was the wrong choice.