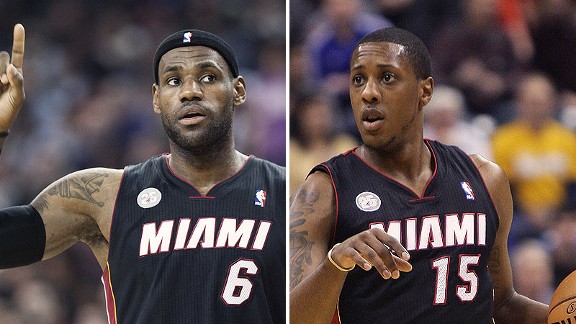 USA Today
LeBron returned to the site of his NBA debut while Mario Chalmers made history of his own.
SACRAMENTO – At age 28, LeBron James is on the verge of becoming the youngest player in NBA history to reach 20,000 points in his career over the next few games.
But James' mind drifted to another defining moment in his career when he entered the Sacramento Kings' arena Saturday night: The first two he ever scored.
Suddenly, 10 years flashed before James' eyes.
"Every time, I kind of have … déjà vu walking into this building," James said of what was then Arco but is now Sleep Train Arena. "I was an 18-year-old kid. It all started here. This is where it all started."
If Saturday's game was James' last performance in Sacramento, he left Kings fans with a highlight-reel dunk in the first quarter and a few other dazzling moments. But the rest of the night belonged to Mario Chalmers, who tied a Heat franchise record with 10 3-pointers to finish with a career-high 34 points in Miami's 128-99 victory.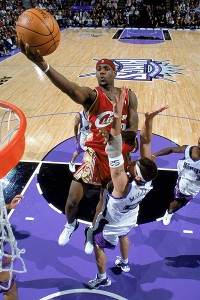 Andrew D. Bernstein/Getty
LeBron James started his NBA career
in Sacramento on Nov. 29, 2003.
Leading into the game, James reflected on his NBA regular-season debut back on Oct. 29, 2003 against the Kings. With the franchise reportedly in negotiations to be sold and likely moving to Seattle, Saturday's stop in Sacramento took on even more meaning for the Heat.
Somewhere between James' nostalgia over revisiting the site of his first game and Chalmers having the best one of his career, the Heat tuned up an offense that had sputtered recently and gave their struggling bench a much-needed opportunity to shake out of the doldrums.
The Heat also got their first win on a six-game road trip that started with losses to Indiana and Portland, and wraps up against the Jazz, Warriors and Lakers next week.
James' latest game in Sacramento was as well-rounded as his first. He had 20 points, seven assists, five rebounds, five steals and two blocks in 29 minutes on Saturday, with the Heat pulling ahead by as many as 38 points. His stat line from 10 years ago in the same building as a Cleveland Cavaliers rookie was 25 points, nine assists, six rebounds and four steals in a loss to the Kings.
"I remember being nervous, excited," James said as he revisited emotions from his first game. "It was like a dream come true for me. I couldn't sleep the night before. I didn't get a nap that day. Everyone was waiting to see what I was going to do. It was like a damn zoo. I have no idea how I played that game at a high level. I do remember my first bucket, and I made it. That helped me out a lot."
James' first official NBA basket came on a jumper, although he mistakenly remembered it as a dunk. Now, some 19,948 points later, James' effort Saturday moved him to within 50 points of 20,000 –- and replacing Kobe Bryant, who was 29 years and 122 days old when he hit the mark, as the youngest ever to reach 20,000.
Chalmers was motivated by a different set of circumstances when he arrived in Sacramento still bumming from Thursday's loss in Portland, where he missed a potential game-winning 3-pointer in the Heat's 92-90 loss.
Two nights earlier, Chalmers was a forgotten man in the offense. Before he missed the final shot, he sat on the bench the final three minutes of the third quarter and nearly all of the fourth before he checked in with 10 seconds left.
Immediadtely after the loss to the Trail Blazers, Chalmers told reporters he was put in a tough situation as a shooter and was cold when he entered the game after sitting so long. But after regaining his stroke early against the Kings, Chalmers never allowed the game to get away from him.
"That Portland game was still on my mind from the beginning," said Chalmers, who matched the team's record for 3-pointers set by Brian Shaw in the 1992-93 season. "I felt I needed to have my shot going to redeem myself."
In essence, James and Chalmers were linked from the start.
There were plenty of sentimental moments for James throughout the Heat's two-day stay in Sacramento. After the Heat's practice on Friday, James attended a children's fundraiser hosted by the city's mayor, NBA legend Kevin Johnson. At the event, Johnson playfully informed James that the city just happened to have an NBA team up for sale.
James responded by asking his business manager whether they brought his checkbook to the function.
The reported asking price for the Kings? $500 million.
Asked Saturday if he ever found his checkbook to make the purchase, James responded: "Nope. I lost it."
He did give fans their money's worth early in Saturday's game when he caught a lob from Dwyane Wade in transition, shifted in mid-air and executed a reverse dunk. James said he wanted to do something special because his teammates complained that his dunks were getting boring.
"They always tell me I do the same dunks over and over and over," James said. "They always tell me to do something different. They're tired of seeing the same dunks. D-Wade threw it up there and I didn't have much time to think. But I decided to do something different. If this is my last game here, it's a lot of memories."
James was resigned to the possibility he might have said goodbye to the place where his career was launched.
Meanwhile, Chalmers might petition to keep the Kings and their building in the league for a few more seasons.